After constantly watching for new planning threads during my whole planning process, I'm so excited that I finally get to do my own! Plus, today is our legal day, so what better way to celebrate??
A great majority of what I've done would have not been possible without the help and support of my Dreams PC and April brides, along with the countless ideas I got from tons of other ladies on the forum.
My FI and I got engaged on Valentine's Day in 2009, although we'd never really celebrated the holiday before. Apparently the ring was taunting him so he got up early and had his daughter wake me up and get me to come to the living room. With me half-naked in my PJs and the dogs barking at the back door, he asked me to marry him!
My engagement ring and wedding band:
FI's bands:
Black tungsten from overstock.com
We also flew our fantastic wedding photographer in to take engagement pictures… here's a link to that thread:
Best Destination Wedding Forum ~ The Ultimate Destination Wedding Resource
Photographer:
Stephany from EyeSpy Photography (
|| EyeSpy Photography || high fashion seniors || fine art animals || commercial ||
). She has become a friend throughout this whole process and I only came across her name because another BDW bride (tvt… thanks Tara!) had posted a review.
Video:
I'm also bringing a videographer who is good friends with my photographer. His name is Nick Kesler and he's the owner of Clam Lake Films in MN. If you go to the eyespy blog (
eyespy photography
) he made the promo video at the top!
Monogram:
the amazing Becks did ours (my avatar) and went above and beyond to include our theme of the stargazer lily.
Invites:
Since we were only planning on inviting close friends and relatives, and they already knew about the date, etc., we didn't send STDs, but just did our DIY boarding pass invites:
http://bestdestinati....details-44417/
Location:
Dreams PC… we picked an island and the resort pretty quickly. I was very happy with how easy that process was!
Wedding Dress:
Nicole Miller… this picture is from the first time I tried the dress on and picked it out.. almost exactly 14 months ago! Since then we added a halter neckline (starting in the middle of the bust line, looping around my neck and coming back to the same spot). We did this just because the dress is pretty low cut and sweetheart necklines are tricky if you are "generously-sized" in the bust area! I absolutely love my dress though, and it's now my own custom gown!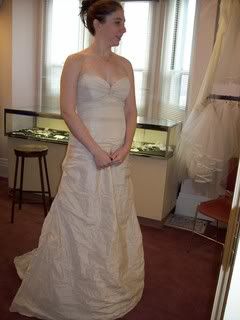 Wedding Shoes:
Bought these from Express last year… our ceremony is on the beach so no heels for me!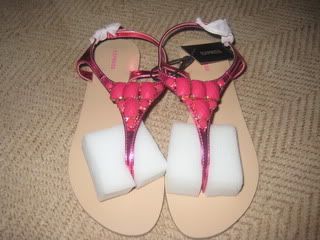 Wedding Jewelry:
Since we added the halter strap to my dress last minute, I decided to ditch my necklace and just wear earrings. I bought these Briolette Cluster earrings from Etsy seller lulidesigns:
Etsy :: BRIOLETTE CLUSTER Earrings (Golden Shadow)
Hair:
My MOH left life as a CPA and went to cosmetology school just in time to do my hair and makeup for the wedding! I told her what I wanted for hair and she came up with this "boho chic" type look with an off-center, low bun and braids coming from both sides.
Hair pieces:
My photographer also has a company that creates custom hair pieces (posh | rebel…
www.poshrebel.com
) so she made me one for the ceremony and one for the TTD. I can't wear a veil for the ceremony since the beach can be windy, so we decided to use that one for the TTD instead. (TTD shoot will be ½ on the beach and ½ in a small town about 40 minutes outside of Punta Cana called Higuey)