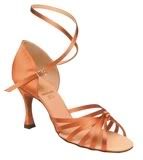 Hello Ladies!
I just ordered these shoes from Worldtone Dance--
WORLDTONE DANCE - The Best Dance Shoes from Around the World. We Know Dancesport.
. The manufacturer is called Supadance Shoes -- very popular among dancers. These are the official shoes of Dancing with the Stars. These are supposed to be very comfortable and will help prevent achy feet.
The website doesn't have the ivory color but when you call them at 1-866-983-2623 to order they have them in ivory. The shoes have rhinestones and suede soles.