Quote:
Originally Posted by TonyandTricia

Hello fellow MP brides!!

I will post a very detailed review when things settle down a little, but just wanted to drop a quick note to tell everyone that our wedding was PERFECT!!!! I am so happy with how everything went and couldn't have dreamed it any better. My cheeks ached from smiling so much. I had such a good time and I know all brides come back and say it, but really...stop stressing!!!! It was all so perfect and so easy. Deets to follow!! Also here's a few pics...
And for the girl on here who was stressing out about the wrist bands...you probably won't like this too much, but this is what it's all about...F-U-N!!! Futuremsmoulton and I's wedding party had a beer chugging contest at the pool and when it was the bride's turn she totally beat me. Haha!!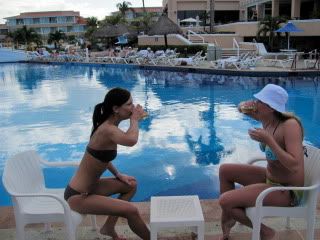 ooooo FUN! Congrats girl!