Wow! Our flight leaves in about 12 hours...holy cow! I can't believe it is here...I really don't think it has hit me yet. Ok here goes...
I would have been lost in my planning without this site and all of you wonderful girls (and guys). So thank you Tammy for creating this amazing site and thanks to everyone who offered condolences, inspiration and advice to me and every other bride to be! Here goes!!
~~~~~~~~~~~~~~~~~~~~~~~~~~~~
Will and I met in March of 2005 and began dating on May 1st of that year. Three years from that date, he asked me to be his wife.
Our Engagement
From
Our engagement pictures by Heather at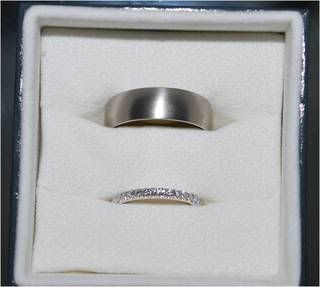 We purchased our wedding bands from Diamonds Direct South Park as well.
...more to come...