I have a few things to sell. I just started buying stuff a year ago whether it was what we needed/wanted or not. So maybe you girls can find some use for them!
I have 17 beach mats (8 red, 2 pink, 3 green, 4blue) I bought them at Big Lots for $1 each. They aren't fancy or anything just plain ol' beach mat. They are about 2 1/2' by 6' long. I'm asking .50 cents for each + shipping.
6 small bags. I bought these from Amanda thinking they would be great for my BM gifts, although I forgot how much stuff I had bought for my BMs!!! So they are too small and I really don't need to bring more stuff w/ me! I can't remember what I paid her for them, but I'll sell them for $1 each + shipping
80 blue dot placecards (2 packs of 40) we have decided to do different placecards. I'm asking $5 for both packs or $3 for each +shipping
I have one pack of these table lanterns. I bought them thinking about using them for centerpieces but we changed our minds (again!) There are 2 lanterns, pink, they're 9" tall and the LED light is included. $5 + shipping
I have 3 packs of Martha Stewart Seaside Beverage Labels. there are 12 labels in each pack. Asking $10 for all 3 or $4 each + shipping
2 BM dresses from DB. We paid $80 each for them. There are no alterations or anything done to them. One is a size 8 and one a size 10. Asking $50 each FREE SHIPPING.
And of course my 1st dress is still for sale. It's perfect for DW or TTD. Its a size 10. my measurements when this pic was taken were Bust: 36 waist: 31 hips: 41 It ties up half way up the back. I wear a 34DD and of course don't have a bra holding them up all the way but you can get an idea i guess. There are no alterations to the dress and tags are still attached. I paid $400 for the dress, I'm asking $250 FREE SHIPPING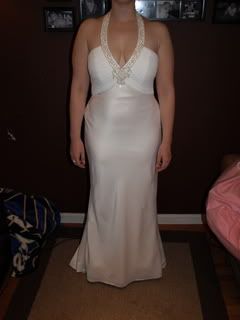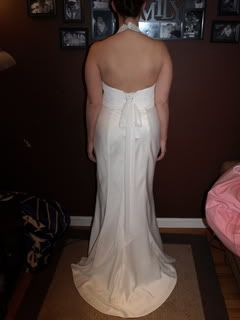 Please post on here first what you are interested in. I want to make sure the first person who asks gets the chance and I don't want to have to shuffle between what time someone posted and someone just PM'd. Thanks ladies!