Ok everyone, here it is! My super long, pic heavy review of the Paradisus Riviera Cancun.
Airline~ American Airlines~ Our flights both ways were uneventful. The only negative thing I have to say is that I was really disappointed that they could care less that I was getting married. I know that this was just me being a sensitive bride and they probably have lots of brides on their flights, but it wasn't acknowledged at all (and I had on my Bride tank top lol). I attempted to upgrade to business class (the highest offered on the flight) several times and was denied each time. We were willing to pay for it and they still wouldn't allow it. There were seats available, but they said that because we had paid such a low airfare through a group booking they couldn't calculate the rate for us to upgrade. I was really disappointed. When we got on the plane they did allow me to hang my dress in the business class closet without a problem. I was still hoping that the flight attendant might offer to move us up, but it didn't happen.  There were only 4 people even sitting in business class. It was a bummer. But, we got what we paid for. Curbside check in at JFK was a breeze. One of the employees got us all set in about 10 minutes and he took care of all of our baggage without charging us for a heavy bag. On the way home the Cancun airport was not bad either. It was about an hour wait in line to get our return tickets and check our baggage. We did have to pay for the heavy bag this time, but we expected it.
Weather~ the weather during the first half of our trip was great. It was bright and sunny by about 6am everyday. It was warm enough to layout that early in the day also. By about 1 or 2 in the afternoon it would get a little overcast and cool down, which was actually perfect for afternoon weddings. The second half of the trip it rained. A lot. It was still warm, but it gets a little boring after a couple of days. It was still way better than being here in CT where it was about 8 degrees that week.
The sun outside our room early am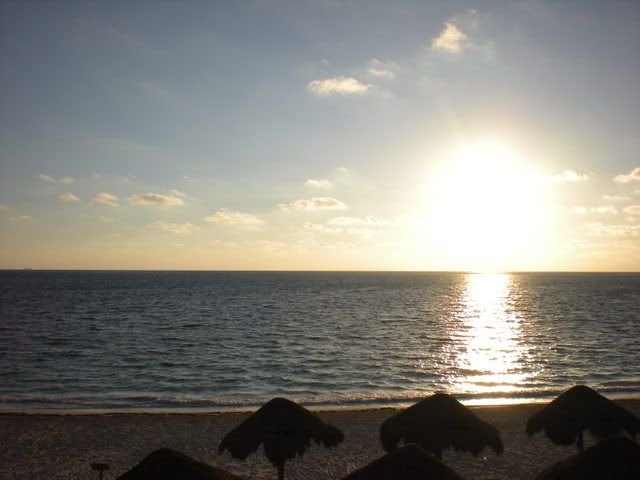 Resort~ The resort is gorgeous! Every one of our guests commented on how beautiful it was. Everyone loved it. The roofs/ ceilings are very impressive. The pool is amazing and huge! There are plenty of lounge chairs at the pool whether you want sun or shade. If you want one of the beds at the pool you have to get up really early. We were up around 6:30 some mornings and people already had their stuff on them so no one else would take them. Personally I never wanted one, but it was a little ridiculous. I'm pretty sure some people put stuff on them the night before and some days I never even saw the people use them. But whatever, it didn't affect us at all. We also commandeered the far end of the beach some days, near where the water sports are offered. It was nice and relaxing, but a little far from a bar. Luckily, someone in our group was always willing to take a walk for a few drinks! The first week we were there it was fabulous and not busy at all. The second week there were at least twice as many people there and things got a little slower. Service was slower everywhere, from the buffet to the bars to getting someone to answer the phone when we called down to royal service for something. It wouldn't have been noticeable if it had been that busy the whole time, but since our first week the place was pretty empty we noticed a difference. Also, the first couple of days they forgot to refill the minibar. But a quick call to the desk and someone was at our door within 5 seconds to take care of it. After the first 2 days there weren't any problems. It was always filled without us asking.
The lobby bar area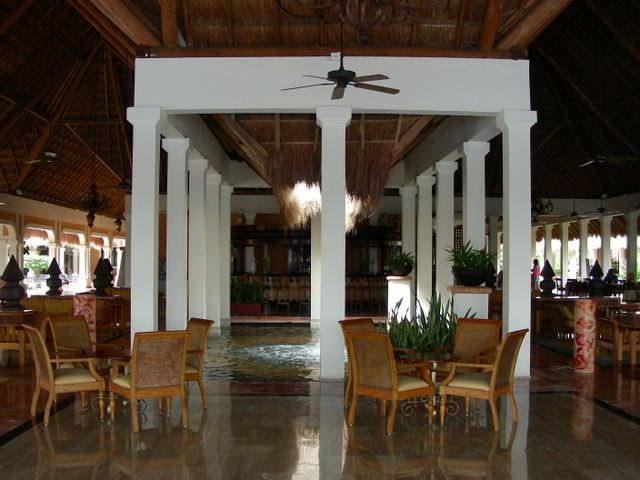 View of the pool from the lobby bar area with the beach behind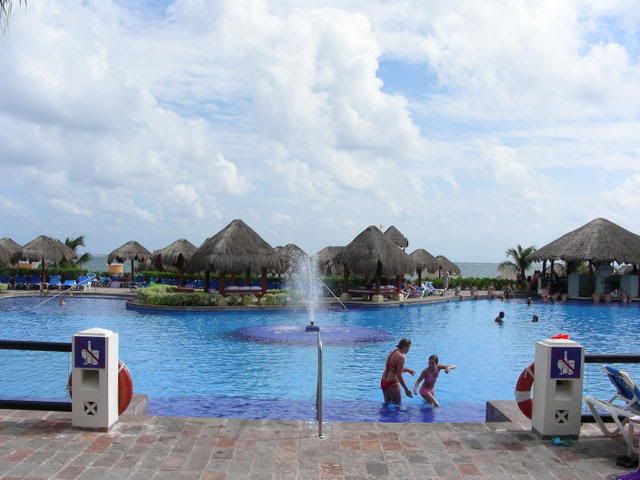 Pool bar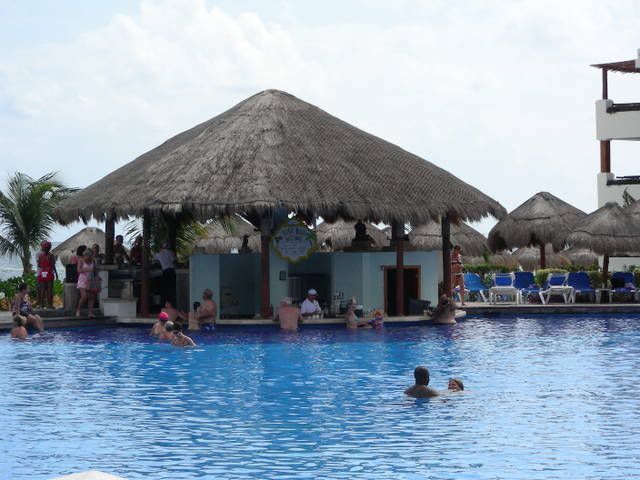 more...