This is ridiculously long-winded, which is typical for me! Just read what might be helpful to you and skip what you're not interested in. For those of you who have no interest in Cabo, I'll just say that our site visit was great and we are very happy with Dreams. That's it in a nutshell!
Anyway...
My Dreams Cabo Site Visit Review.
Flight
: We flew Delta to Cabo, Detroit through Atlanta and arrived without incident. Our flight from Detroit to Atlanta was 2 hours, and we had a 2-hour layover before our 4-hour flight to SJD. The in-flight movie was nice to help pass the time, and something that not all airlines offer.
Arrival at SJD airport
: We were fortunate to be able to be one of the first people to exit the aircraft since we were in the back and the front doors weren't working. We, along with about 50 other people) literally ran to the doors to get in line for customs because we were told the lines were running slow. They were right. There were 2 large planes that arrived at about the same time, and there were TWO lines open. It was ridiculous. We got through the line in about 30 minutes, but I am sure the people toward the back of the line waited at least an hour or two.
After proceeding through customs, we picked up our luggage and waited in line to go through security. While we were waiting in line, I got our rental car (see below). Once again we got through with a green light and didn't get searched- yay! I hope this luck continues.
After getting through security, we were ACCOSTED by at least 5 different time share people claiming to be our rental car company. I realized later, that I was holding the rental slip in my hand, so they were just trying to use that tactic to get my attention. It was unreal though- one guy said "Payless, you looking for Payless?" I asked him what his name was since I knew the Payless representative I was looking for, he obviously gave me a different name and I gave him a dirty look and walked on. We finally met our Payless representative outside the airport, wearing a Payless shirt, and as we were driving away, the person who I had asked his name flipped us off as we drove by! Unbelievable…
Rental Car (Payless)
: While we were waiting in line to get through security, I had Jeff hold our place and I went to get a rental car. All of the companies had kiosks in the luggage claim area, and I had researched some prices online before we left, but did not have a reservation. I saw that there was someone in the Payless kiosk and since we had such a pleasant experience with them last time, I just ignored the 8 other people YELLING at me to come rent from them and walked straight to Payless. I told the gentleman I needed a cheap car for 2 days, what could he get me? He quoted me a price of $72 for 2 days and since I was tired and not in the mood to barter or look around, I just went with it. This was comparable to what I had seen online the day before when price shopping.
When we finally got to our Payless shuttle outside the airport, we were greeted pleasantly and taken to the Payless store. The counter salesman told us they didn't have the class car we had requested (huh- we just booked it?!) but that they would upgrade us for free. Well, it wasn't free- it ended up costing us a total of $84 including tax, so I think they charged us an additional $5. At that point, I really didn't care, just wanted to get my car and get on my way! We ended up with a Nissan Sentra, automatic with air. The car was fine.
Mega Store
: Our first stop was to the Mega store at the end of toll road highway 1, and when you arrive in San Jose del Cabo. For those who don't know, this is kinda like a super Walmart- with food and household goods. We were primarily looking for d©cor options and OOT bag stuff. All convenience products (lotion, sunscreen, meds, etc) are more expensive in Cabo. I will bring my own because I have few bags to make and don't mind transporting 10 OOT bags worth of stuff. For example, the small Banana Boat or Coppertone sunscreen- the cheapest one was 114 pesos, or about $11.50 USD. Chips and snacks were a good price and they had US stuff like Fritos, Doritos, etc, so we will plan to stock up on that kind of stuff for out guests. Bottled water is similarly priced to the US, and the best deal is the HUGE bottle for like $1.50USD. I think it was like 3 gallons. We might buy one of those for each of our guests' rooms, even though Dreams provides water, they can use it for making coffee, etc.
TammyM- they didn't have blue tequila.
Something else I found useful was their glass bowls. They had the large brandy-glass shaped bowl (probably a foot tall) that we want to use for our centerpieces. We want to do the underwater roses with river rock on the bottom. Mariana said she could rent these for $10, and that's about how much the cost to buy. So, at least I know they can be found for cheap if Mariana can't get them. The only scary part is relying on Mega to have them in stock…but, they had several glass bowls in varying shapes and sizes that Jeff & I decided that if we don't like the prices Mariana gets us for stuff, we'll just make our own with whatever we can find when we get there in May.
Dreams
: Wow- I don't where to start, this place is amazing! Let me just say right at the beginning that if we had any doubts about whether or not Dreams was the right place, this visit took care of them all. It was a phenomenal experience from check in to check out and everything in between.
Check-in and room
: We pulled up to the entrance and were met by a bell boy who immediately gave us chilled scented towels, took our keys, and directed us to the front desk. My name was on the welcome board, and he took our picture for us. We were informed that we were being upgraded to a honeymoon suite (woohoo!- and this was our FREE site visit!). We were given a glass of champagne and directed to our room, which was wonderful. We had a bottle of chilled champagne and fresh fruit on the dining room table, incense burning, and soft music playing in our room. It was such a romantic atmosphere. The room was clean, very spacious, and we were planning our evening parties with our guests as soon as we got there! Throughout our 2 day stay, the minibar was always replenished with the soda, water, and beer, the bathroom was always clean, the bed always made, and the convenience products (shampoo, lotion, body wash, sunscreen, shower cap, sewing kit, shoe polisher, toothbrushes, comb, razor, toothpaste, and soap) were always replenished. I'm not sure if all the rooms include all of these convenience products, but it was really nice- I will pack MUCH less next time!
Food and Service
: We visited each restaurant while we were there, except the Japanese restaurant Himitsu, which we have no interest in. At every bar, every restaurant we felt like the wait staff was extremely attentive and happy to please. There was only one bartender at the lobby bar who didn't always have a smile and sometimes seemed a little too busy to be bothered, but in all we were very impressed by all the staff we encountered. The buffet breakfast was good- not A+ excellent, but we left full and satisfied each morning. The omelet bar was fantastic. Lunch at the seaside grill and oceana were very tasty. They had a delicious tortilla soup, and the shrimp tacos are great! Dinners at Portofino and the Seaside Grill were also fantastic. This is the 4th AI hotel we have stayed at within the last year and a half, and this has by far the best food and service. Drinks were good too- not watered down, and they had a good selection. The waitresses quickly learned what we liked and kept the drinks coming (ahem- I drank a little much on this site visit!). They also would bring us shots, which I've not been able to get at other AI's. If anyone has specific questions about each restaurant, please let me know- I also have pictures of all of them so PM me if you want more details.
Entertainment
: We were there for Casino night and Karaoke night. Casino night looked like fun, but it was the night we arrived and we were exhausted. Karaoke night was typical karaoke, but there were 2 large groups at Dreams and they had been drinking a lot, so it was quite entertaining. We decided not to pay for any additional entertainment or private functions since it was so much fun joining in with the group. We may do a beach bonfire one night, but that's it.
Meeting with Mariana
: Tammy (host), I told her you said hi, and she said Thankyou! She commented on the forum and how much it has helped brides especially with getting good deals on stuff. We discussed the plans for my wedding and she was very accommodating to my ideas, and offered great suggestions of her own.
We tasted food for our reception menu and I have to say that everything was absolutely delicious and as well presented as I have had in very expensive restaurants in the US. All of the food was served with great embellishment and pride. We decided on the broccoli and cheese soup and the Portobello mushroom in a puff pastry shell for the beginning of our dinner and the "surf and turf" for the main entr©e. The lobster and filet mignon were excellent, and the chef came out to greet us and inquire about our meal. He made the filet with a sweet and sour sauce that was very different than anything I've had before, but it was absolutely to die for. He will recreate it for our reception. The tres leches cake was very good as well, and we negotiated to decrease the price of our reception to $40 from $42 and eliminated the regular dessert in lieu of wedding cake. We will also be paying $6 per piece of cake above 10 (the included amount in our package), and we are paying for a cake for 30. Cake isn't a huge deal to us, so we decided to save $$ and go with the dreams cake as opposed to hiring an outside baker.
After our meal we went to the gazebo and decided on the placement of our chairs, decided on the placement of the cocktail hour (at el Patio restaurant), where I will walk down to the gazebo from (along the stream at el Patio to the gazebo- she will clear all the tables and chairs away) and the timeframe for events. We then went to the Oceana terrace where our reception will be and decided on the placement of our one long table, cake table, table for IPOD (she will rent us sound equipment for the IPOD for $145 for the NIGHT, we will not have any for the ceremony, not necessary for our small group), and dancing area. We also will be doing luminaries around the pool and trees; she suggested I bring around 80, and said I can bring my own candles or she can provide them for $1 each. I might just go the expensive route and have her get them for me then I have less to drag down to Cabo. There was a reception set up at Oceana for a wedding that night. Her d©cor was nothing fancy at all- just some shells scattered on the table and a candle centerpiece (plain) but it still looked great simply because of the surroundings. Lesson learned girls- don't obsess about the small stuff- everything looks great in Cabo!
Trip home
: Our return flight was a disaster, which I'm learning is a common thing in Cabo. We were delayed for TWO HOURS leaving Cabo which gave us exactly 30 minutes in Atlanta to get through customs and get to our connecting flight. Jeff & I along with about 20 people literally ran out of the plane, down to customs where they had probably 20 lines open (there is a God!) and where I had an asthma attack and couldn't breathe, causing the customs officer to make non-helpful statements about me having "bird flu" yada yada…It was pretty funny now that I look back, but at the moment, not so much! I waited in the security line while Jeff got our luggage (I swear my suitcase was THE LAST piece of luggage to get off the plane) and we rode the train from concourse E to concourse T- the two farthest points of the airport. We were down to about 8 minutes to take off by this point. We were departing from the FARTHEST gate in the concourse, so we were literally running through the airport, just to get to our gate to hear an announcement that the flight was delayed 30 minutes (we had 3 minutes to spare!). So, it turned out fine, but was almost another missed flight. The same thing happened to us last fall. Then when we got to Detroit (over an hour late) they had lost my luggage, it never made it onto the plane in Atlanta, and I still don't have it right now- oh well, at least we got home and didn't have to stay in Atlanta!
Biggest lessons learned from this trip:
Dreams is gorgeous and now that I have stayed at both places, I can rate it WAAYYYY above Riu for my needs. Riu is great if you want to party. But, if you want great service, relaxing atmosphere, and romance, Dreams is the place to be. We found ourselves saying over and over how happy we were that we picked Dreams over Riu, not that Riu is bad- we would definitely go back for a vacation, just not for our wedding, and not with our group of guests.
Don't sweat the small stuff, and don't go overboard on d©cor, planning excursions and private activities for your guests at Dreams. There is so much to do, so much already planned, and so much natural beauty that it really isn't worth the hassle. The beach wedding I saw while I was there was simple and gorgeous. She probably didn't plan a tenth of what I've been doing, and you know what? It still looked great.
Get a nonstop flight or make sure you have more than a 3 hour layover on your return flight. This is now the second time our flight has been delayed in Cabo, and it sounds like this is a common occurrence. Too scary!
If anyone has any specific questions, please let me know. I'll try to post some more pics later, but if you want to see anything specific please tell me!
My name on the Welcome sign (hehe)
Our surf & turf dinner (sorry it looks a little abused- we already took a couple bites!):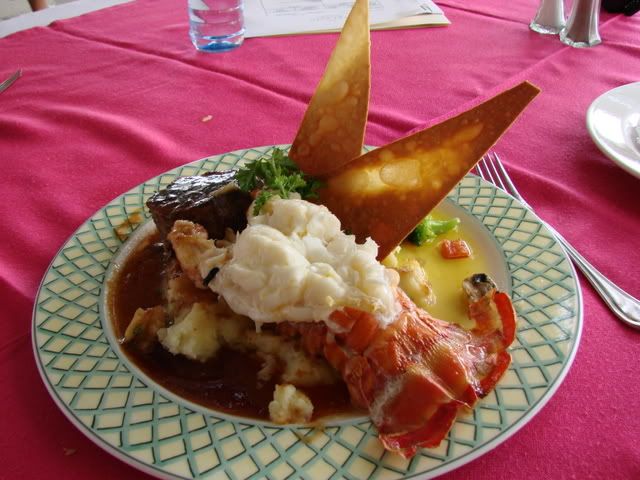 Cupid on Valentines day! He was really funny...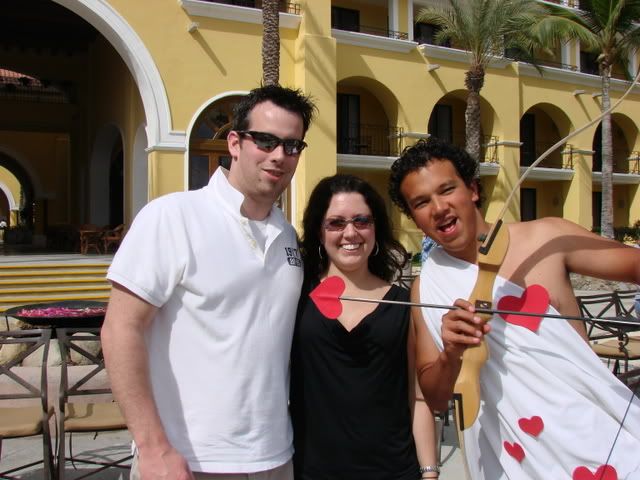 The gazebo (just can never have too many pics of this!)