Yesterday my 3 current BMs and I went to try on the dress I chose for them one last time to make sure everyone was happy with it! The girls all loved it so they were measured and their orders are in! Yay!
Well my mom came with us because I wanted her opinion as well before I ordered them. (She liked the BM dress as well).
While we were waiting for a dressing room to open up we started looking around for a Mother of the Bride Dress. After being directed to the Mother of the Bride section we found that the styles really were not her (or our wedding) plus they were freaking expensive! So then we switched routes and started looking for a BM dress that would work. (She wanted more of a tea-length with some sort of straps). Well the first one she tried on, she loved! But now we have no clue what color to go with.
The BM will be in hot pink/fuschia (see pic below) with hot pink/orange flowers. My FI will be in a tan/khaki suit. The GM will be in matching khaki pants to my FI and a short-sleeved white button up shirt (faint tropical pattern). My dad also has matching khaki pants to my FI but hasn't bought a shirt (waiting for my mom to choose).
I don't want her to be matching (hot pink) to the BMs... but I want her to be in a color that will compliment the current outfits. I am having both her and my dad walk me down the aisle. Plus, my 2 sisters are BM and my brother a GM... so I want family photos to look nice.
So anyways... what color do think for mom? She pointed out that she liked the turquoise and coral.
Moms Dress-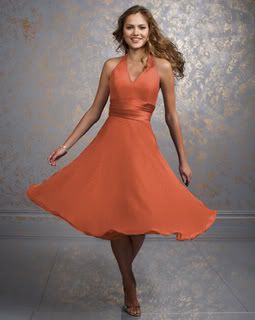 Chocolate... Grape...
BM Dress in fuschia: Flowers: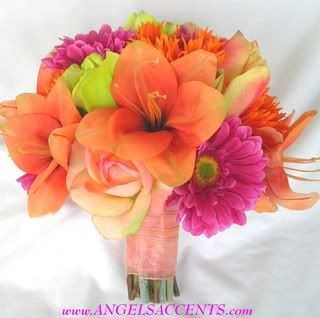 Any thoughts/ideas?