Quote:
Originally Posted by DanielleNDerek

okay okay, i posted my pics on this thread: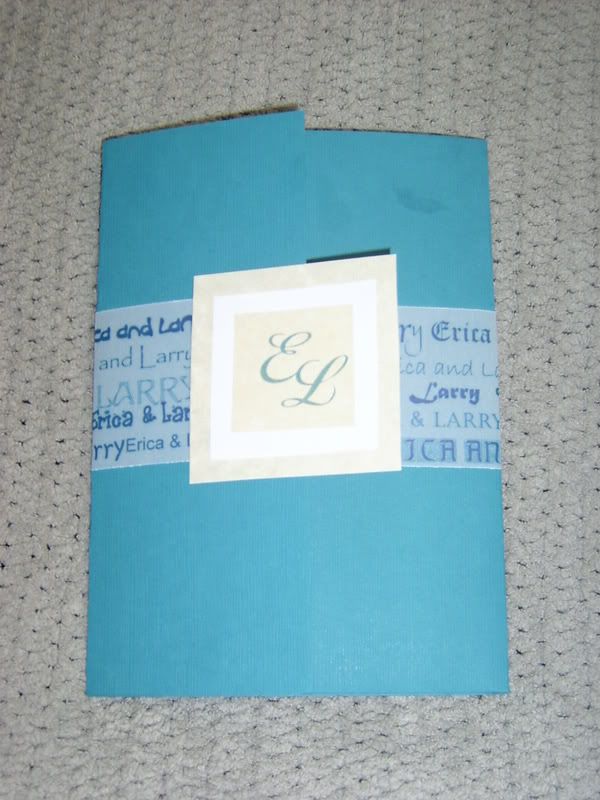 Here's the inside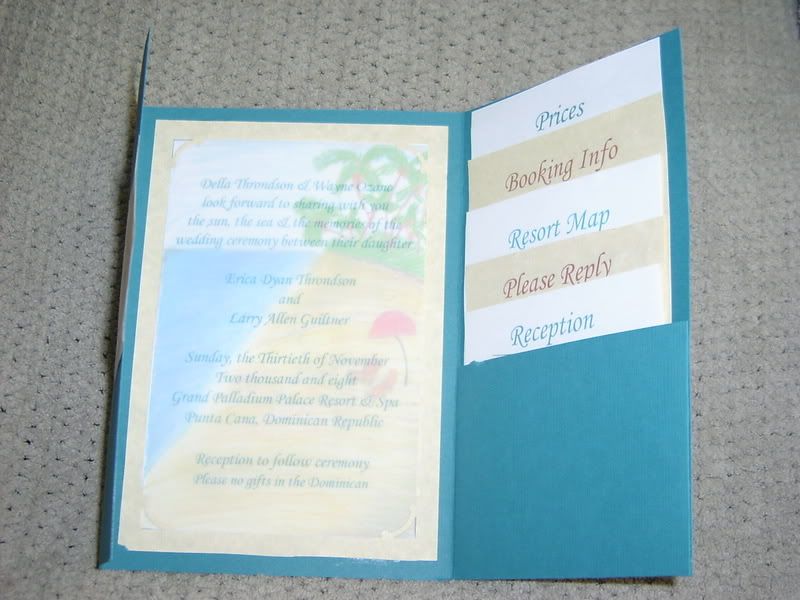 The pic behind the writing was done by my FI's little cousin.
The inserts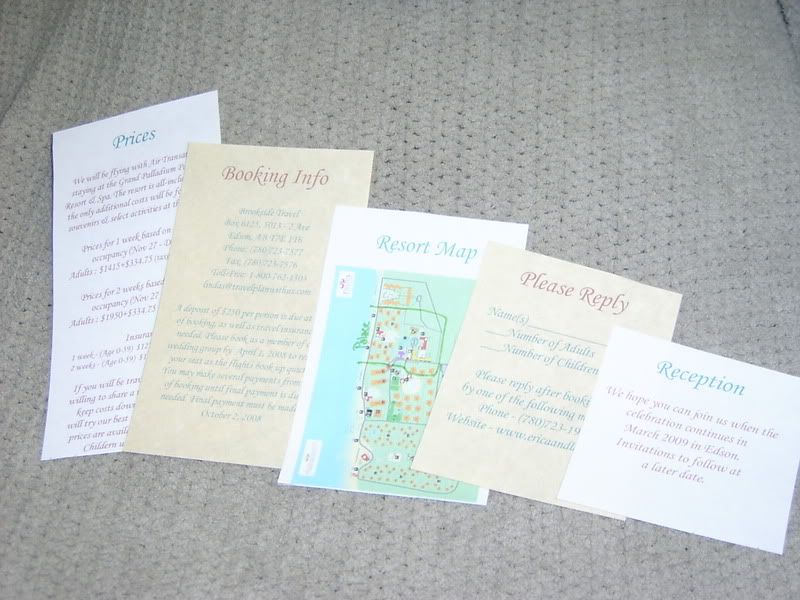 ---
Posted 27 May 2008 - 08:26 PM
Those look great!!!

---
Posted 27 May 2008 - 08:40 PM
those are nice, great job!

---
Posted 27 May 2008 - 09:41 PM
Those are fabulous! I love the colors!

---
Posted 28 May 2008 - 10:42 AM
Quote:
Originally Posted by DanielleNDerek

okay okay, i posted my pics on this thread:

I agree...where are the pics ladies? I got my FI to order the shirts for him and his guys (Tommy Bahama shirts) and thats about it.

Missy, yeah!!! 6 months to go!!!! Thats awesome!
Stephanie - 1st - how are you feeling and how did the epidural go last week? 2nd - what shirts did he order? I looked at the TB shirts and there were too many good ones to choose from! I think my dad got a TB shirt for the wedding.
Quote:
Originally Posted by ethrondson

Those turned out great. I didn't do the boarding pass invites, but the are a neat idea. I did a folder style invite for the DW and I think that I will do MIB for the AHR.

Here are the invites that I made.

Erica, those look great! I really-really like those! They are a little different than all of the others. They came out really nice. I like the way the info stacks on one side and it gives everyone information about everything. Great job! You are making me reconsider my invite choice!
There is so much information to include - your invites really put it all together nicely. Grat job!
"Love is not who you live with...it's who you can't live without"
---
Posted 28 May 2008 - 11:27 AM
Erica i love your invites they came out great. I really like the folder and the belly band. the pic from fi's cousin is really cute too. And MIB for ahr would be really cool. fsil did them for her wedding and i loved getting one, it was so fun to open it and pull out the message.

---
Posted 28 May 2008 - 11:35 AM
Thanks Jessica and Celina, glad you like my invites too. fi did a great job on them!

So i went back with my 2 bms this weekend to get them measured so i can finally order their bm dresses. I'm paying for their dresses so i had to be there. Well we get there and the salesgirl starts looking up my dress and can't find the colors it comes in. I'm looking over her saying "it's peacock, that swatch right there" but my dress number wasn't with that swatch. Now this is the 3rd time i was at this store looking at the same dress and each time i went there they showed me the peacock color even when i wanted a different color, now all of a sudden in only came in like 10 different colors none of them close to turqoise. they were all light pastels, really light so i couldn't use any of them. Well i almost started crying until fsil dragged in the other room to look for a different dress. We ended up finding a different dress that both my bms like better. I'm so glad i didn't order the guys shirts, because the color is a little different. I don't have pics on my camera, i didn't bring it because i thought i already had pics of the dress i originally picked out. and online the pic of the dress is from the side so you can't even see the dress. I'm so glad the dresses are ordered now! And thank god for fsil, i might of had a bridezilla moment if she wasn't there.

---
Posted 28 May 2008 - 11:48 AM
Celina, I am feeling like crap but thanks for asking. The shot has made things worse (more numbness in foot more leg pain, blah blah blah). Thank goodness for a sweetheart of a FI who has stroked my hair until the tears stopped so I could fall asleep. He also got me a sound spa (with soothing sounds, rain, tropical, etc) which has been a lifesaver. Next shot scheduled for June 4.

They ordered the Latin Riviera Camp Shirts in lime fizz for the guys and white for my FI. I could only find it on Macys and Nordstroms website now. The lime matches the flowergirl dresses.

Danielle, Well all things happen for a reason. What a pita but thank goodness now you have better dresses!! Cant wait to see pics!!

---
Posted 28 May 2008 - 11:50 AM
Stephanie that sounds awful. Your fi sounds like a doll though. He's taking good care of you, that's so sweet!

---
Posted 28 May 2008 - 01:55 PM
I also got my ring bearer's outfit. I ordered a linen shirt from Gap that had a vertical design on it and a pair of chinos. I don't think you can really see the pattern on the shirt in the pic but here goes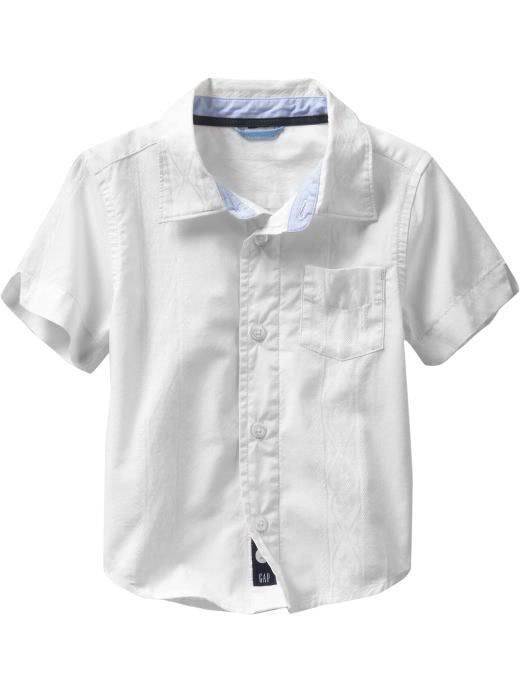 Here's link to website
Shop clothes for women, men, maternity, baby, and kids at gap.com. | Gap
---
---
0 user(s) are reading this topic
0 members, 0 guests, 0 anonymous users