I just saw a commercial on the Travel Channel for Anthony Bourdain's No Reservations-Jamaica! Thought you guys would like to know
Have fun!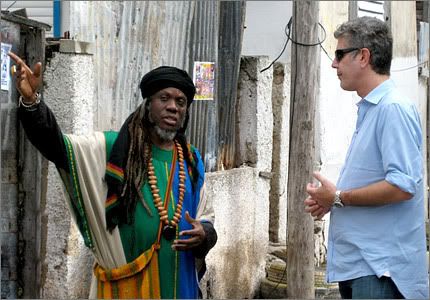 Monday Feb. 18, 10:00PM (Check local listings)
(60 minutes)
Anthony Bourdain
Jamaica
TV-PG (DL)
Jamaica is a vibrant, colorful land full of resorts and reggae music. But Tony Bourdain is traveling there to uncover the lesser-known Jamaica, a country of gang-torn streets, run-down fish shacks, and political strife.
(Yikes ok just read the part I pasted above, so I guess it's not all beaches and rainbows, but at least you'll get some good-to-know info. Just maybe don't tell your mom what you learn!
)