Riu Palace Riviera Maya (AI)
Posted 26 February 2008 - 04:59 PM
Thanks for a great review Kelly!!!

---
Posted 28 February 2008 - 06:44 PM
The suite was about $2,750 more, but that was for two weeks. For one week, I'm sure it would have been slightly more than $1,000 (probably half of what we paid - $1,375). It was so nice to have the extra space to entertain guests and store all the wedding crap we had. The room has a big walk-in closet, where we could all the vases, gift bags, etc out of site, which was really nice. They say you get an automatic upgrade, but I wouldn't count on it. I've heard from a lot of people that expected to get that and were very disappointed. If you're getting married in June, July, or Aug. there might be a chance, but otherwise, I think it'd be pretty unlikely. The regular suites are very nice though, so don't feel like you need to spend more. The regular suites were by far the best rooms I'd ever seen in Mexico before! I'll post some pics of the regular rooms. Hope that helps!

---
Posted 28 February 2008 - 07:03 PM
Here's a few shots I stole from my friends and family. They loved their rooms and the resort. I had many comments about how much they loved the landscaping, the food, the pool, even the beach (with sandbags even)! I also got several comments about the rooms being the nicest they'd even seen in Mexico, the biggest bathrooms, the cleanest, how they would be nice rooms for a hotel in the US, etc etc. Everyone loved it and all my guests had the regular, run of the house rooms, which they call Junior Suites. I've seen some companies say that all Junior Suites have couches... this is NOT true. All the junior suites have a lounge area with a TV, but some have a couch and a coffee table. The rooms with a couch and coffee table are divided into two areas, with a short 4 ft wall between the bedroom area and the living room area. there is one or two steps dividing these areas. The other rooms have nothing dividing the areas and only have two chairs with a small table in between. Either way, they are all nice.
These are the views from their balconies. You can see, they were placed in the back of area of the hotel.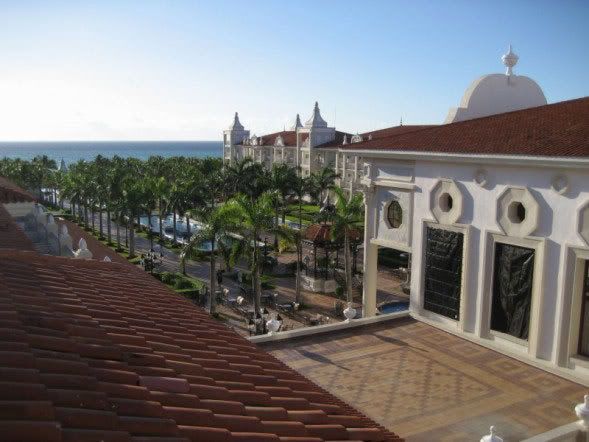 ---
Posted 28 February 2008 - 07:07 PM
Here are some shots from inside my sisters room and a friends room....
This is the interior of the room without the divider - notice the chairs, rather than a couch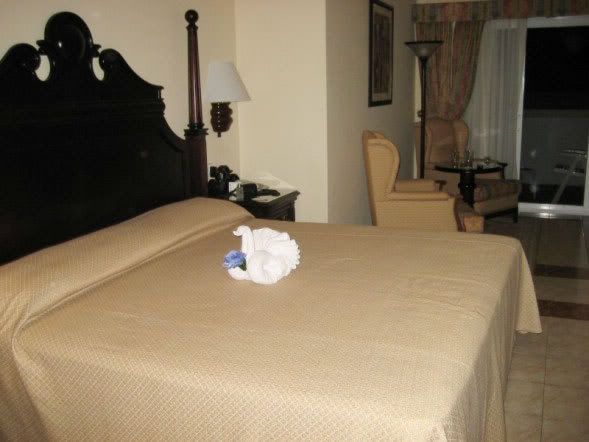 Looking into the bathroom area... sorry about my friends pose
They all have the important things!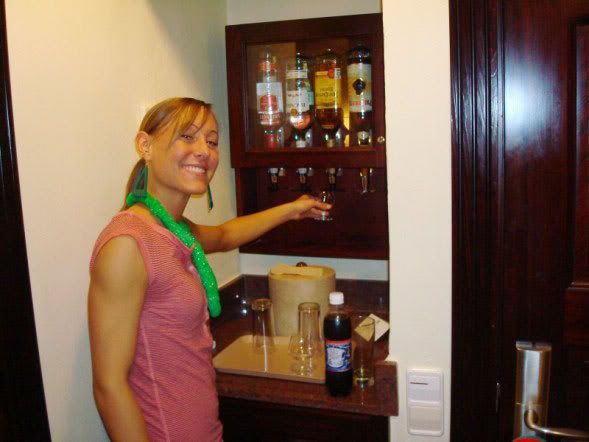 All rooms have a luggage bench near the bed
Here, Michele is standing next to the bed. The photo is taken from the living area where the chairs are. If you look behind here, there is a large closet, your mini bar, and the door to the room in this area. Behind that area is the bathroom - which has a jacuzzi tub, tub sink and is beautifully filled with marble.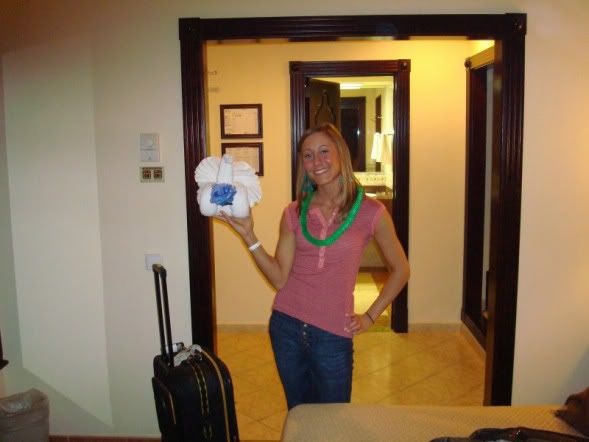 Hope those help!
---
Posted 28 February 2008 - 07:11 PM
Here's one of Ben and my mom in here Junior Suite. They had one of the nicer Jr. Suites, which had the divider between the living and sleeping area. See the edge of the couch and the short wall
Sorry these, pictures aren't great for this purpose!
---
Posted 28 February 2008 - 07:21 PM
The Palace was absolutely gorgeous! We stayed 2 resorts down at the Riu Playacar but came to the Palace to do some photos. I really wanted to stay at the Palace but my husband insisted that it would be too expensive for everyone else.

---
Posted 01 March 2008 - 10:32 AM
Thanks again Kelly! The pics/ descriptions do really help me get a good idea of what to expect. All the rooms look nice but the suite certainly does look worth the extra cash.... I'll have to check our budget!

---
Posted 30 January 2014 - 03:09 PM
This place looks gorgeous
Thanks for all the awesome reviews!! definately puts my mind at ease about picking this resort
only 4 months left eek!!!!
---
Posted 10 February 2014 - 10:03 AM
Hello ladies,
Riu Palace is a great place for a destination wedding, take a look at this real wedding that took place there.
Enjoy it!
Edited by Mikecantarell, 10 February 2014 - 10:21 AM.
---
Posted 08 April 2014 - 07:29 AM
Hello future brides!
We're the Octavio Montes company, our job is to give them the best service at the best price, We work in Cancun, Playa del Carmen, Tulum, Riviera Maya, etc; we have different packages to suit your budget!
We wish the best for all of you, We are photographers and we also do videography, capturing those moments that will not return ever on that special day!
Please take a look at our photography work: http://www.OctavioMontes.com
if you have doubts or questions gladly attend you your doubts.
Have a nice day, Greetings!
---
---
0 user(s) are reading this topic
0 members, 0 guests, 0 anonymous users