Back in November, Sarah (sassygirl) and I ordered these paper flower kits with the grand delusions of making them for centerpieces. I got mine in the mail like 3 weeks ago, and finally got around to making them today.
Sarah- where are yours? We want to see!!!!
Anyway, the large flower is like 16" in diameter. The small flower is probably 4 inches in diameter. I did the small one first with just plain white copy paper and then got brave with the big one and used some metallic cardstock I had laying around the house. I wanted to save the nice paper that came with the kits until I got better at making them. But, here are the pics of my first attempt: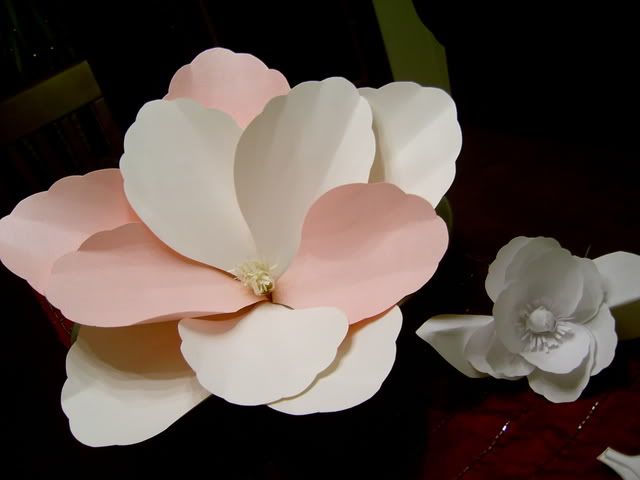 I think I will experiment with some different papers and see what different results I can get. I think they might be cool with some tasteful embellishment, maybe some glittery stuff or something, so they would sparkle with candles around...I also am not quite sure about how to transport. I could make all the petals and bring them flat and assemble the flowers there, but that would be time-consuming. You can squish the big flower down quite a bit, maybe they could fill a couple boxes. Any ideas? I think a big bundle of them would be cool- if not for the actual table centerpieces, maybe just for the cake table or guest book table? Not sure, just thinking out loud at this point. I just think they are really fun! I'll post more pics after I make some more...
If anyone is interested in ordering, here's the link:
flower kits - Paper Source