I love reading everyone's engagement stories on this topic so I had to share mine!
Here's my FI's point of view from our website:

"From the start my engagement plans seemed like a disaster! They messed up the ring to the point where I only got it a week before we left, even though I had ordered it six months before. I was freaking out days before I knew I was gong to ask, and to make it worse our flight was delayed and we sat in the airport all day, and I struggled hard from being so nervous! (My parents and sister will concur).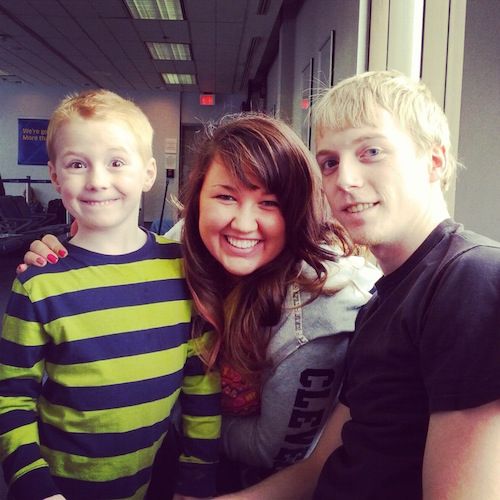 Waiting at the airport!
The morning I was going to ask I was in a panic and freaking out. From trying to figure out the exact moment when I'd ask her, to trying to figure out how someone was just gonna put it into my pocket while we were walking hand in hand. In the end, it all worked out, and even though there were a ton of people around when it happened, I wouldnt have it any other way...Im pretty sure she enjoyed it also, because she once told me that if I asked in a crappy way that she would say no and make me do it again another day."

My turn!

I'm a total Disney freak, and Princess Belle is my absolute favorite--I own dolls, figurines, suitcases, shirts, everything I can get on with her face on it! When we visited Disney World, the ONLY thing I wanted to do was see Belle's and Beast's castle, so I dragged everyone there as soon as we got the the Magic Kingdom. Of course, I wanted our pictures taken in front of the stained glass window. As soon as Corey and I posed, his entire family was holding a camera or cell phone in their hand, and I wondered "Why does everyone want to take this picture?" He turned to me and said "Do you want to start this vacation right?" And my heart started to race. I yelled "Are you messing with me?!" a little louder than was perhaps necessary, but sure enough, he plopped down on one knee and popped the question! Everyone else passing by the window froze and watched until I said yes, and then started cheering. It was truly magical!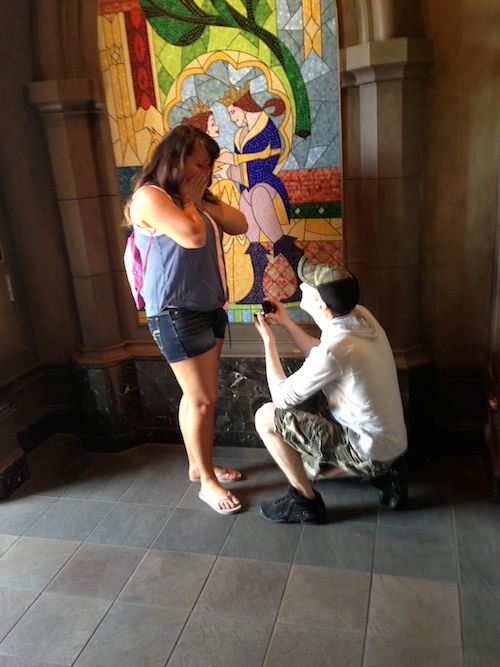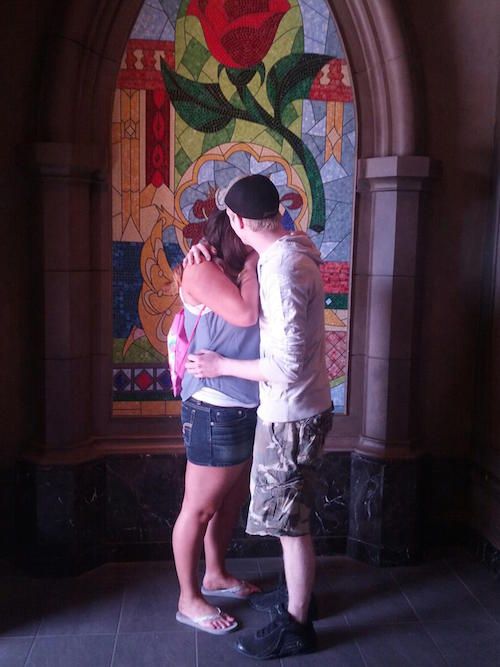 To say I was SHOCKED is an understatement!
Of course, a cast member ran up right away with our "Just Engaged" buttons ready to go, and right away, they swept us and our entire family straight over to Story Time with Belle, where we got to go straight to the front for her to give us her congratulations: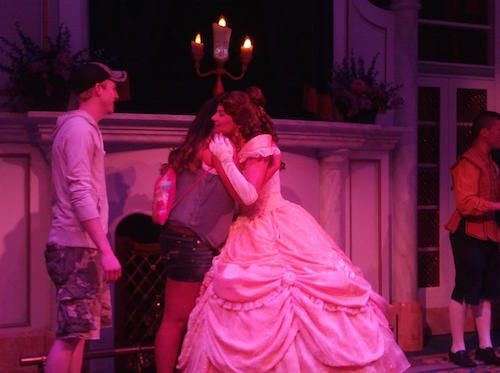 (As a five year old at heart, this was amazing!)
Even though I was still in shock, was ready to start milking this for all it was worth--I asked the cast member who brought us our buttons veeeeery nicely if there was any way we could have dinner at the Be Our Guest restaurant (you have to make reservations EIGHT MONTHS in advance to get in for dinner....we didn't even know we were going 8 months prior!), and sure enough, they got us a reservation for 7 pm!
(The Grey Stuff really is delicious!)
For the rest of the week, cast members were throwing fast passes at us (we even got to go straight to the front of the line on Splash Mountain to make sure we made our dinner reservation on time!) and everyone we encountered told us congratulations. I really got to feel like a princess! Not to brag, but I think I picked myself a good one