Hi Everyone,
Here it is, finally. It's a tad long so grab some popcorn and enjoy.
Hotel Casa Dorada on Medano Beach-A-
We love this hotel. We purchased a 5 year timeshare last year and knew this is where we wanted the ceremony and reception. We had the Ceremony on the Deck which was wonderful because it gave us the benefit & luxury views of LandsEnd and overlooking the beach, but still had that privacy, because we were away from all the people on the beach. This is absolutely our style and what we felt comfortable with. The newest hotel on Medano beach next to ME cabo and right above Mango Deck. We loved the ambiance of all the activity going on. If exclusive is more your style then I would suggest somewhere else. Casa Dorada is a Short 5 minute walk to the Marina and town. Every single room in this hotel faces the ocean and the rooms have that contemporary modern d©cor. I loved it because it had everything a huge resort offers in a decent size package. There are two huge georgous pools, and 2 restaurants on location. They have a wonderful gym and a full service spa and salon. The service and accommodations were outstanding. The only thing that bothered me was the first 3 or 4 days my room key kept deactivating and wouldn't work. The front desk made a call to clean the card reader on our room and I did not have any problems after that.
Oh, and one of the elevators was out of service and the other one closest to our room would act a little funky every now and then, but other than that..…Bravo!!!!!!!
Casa Dorada Sales Representatives-Gonzalo Z & ThierryA+
These two are wonderful. I had been in communication with Gonzalo since October of last year. He is the one who initially coordinated the event, sending me menu options, prices, vendor advice, location descriptions, etc..etc..etc. Gonzalo was truly a delight to work with and responded to my emails quickly. After we put down our initial deposit, They had W/C, Sarai Flores, work with me. A few weeks before our wedding, we get a call from Casa Dorada saying that they will be doing constructions on one of the pools starting Sept. 1st. My wedding was planned for Sunday Sept. 6th, and if you are familiar with Casa Dorada, you know that you have to walk past the pools to get to the Deck and 12 tribes terrace where our Ceremony & Reception was to be held. Long story short I expressed concerned and somewhat disappointment on the distraction the construction would cause, and both Thierry & Gonzalo got back to me within days to let me know they had arranged to push back the work a week. They totally put my mind at ease because I was stressing for a minute. Casa Dorada (Gonzalo & Thierry) sincerely looked out for the best interest of our family and guests during our entire stay.
Wedding Coordinator Sarai Flores of Signature Weddings A+++++++++++
I give Sarai TOTAL credit for making our wedding day smooth, stress free and perfect. I had many guests comment to me how impressed they were with how she flawlessly orchestrated a beautiful and memorable evening. It was such a pleasure communicating and working with Sarai & I consider her work ethic truly the quintessential of professionalism. Sarai always returned my emails immediately and at her earliest opportunity. She kept me updated and organized on my budget and sent a detailed itinerary of everything we booked along with a detailed timeline starting from our arrival up until the day after our wedding. Days before my wedding, hurricane Jimena was threatening Cabo, and even though Sarai was in France at the time, she still emailed me to keep me updated as the events unfolded.
Hours before our 6:00pm wedding, a rainstorm drifted through. As I was getting ready upstairs and it was pouring outside I looked out the balcony and I could see Sarai getting down to business on her radio. Since the chairs and the Huppa were already set out, I could see the workers covering the ceremony area with Tarps. Sarai soon came to my room to update me on our options. Luckily the rain shower passed shortly after and everything was cleaned up as if nothing had happened. YAY! But now it's 4:15 and my make-up artist that I booked is 45 minutes late. Sarai again came up to my room to let me know that she was getting no response from my confirmed make-up artist. Can you imagine my anxiety at this point? Sarai attempted to get a last minute contact that she worked with at One & only Palmilla, but at this point it was just too late. My Make-up artist plain out flaked on me and there was nothing we could do. HUGE disappointment but the show must go on. I ended up doing my own make-up with the help on my bridemaids. Sarai sent up a bottle of champagne to calm the nerves. What a sweetheart Sarai stayed the entire evening and made sure we were on schedule. She has a wonderful, kind, easygoing personality, and fabulous taste in all things so we completely trusted her judgment.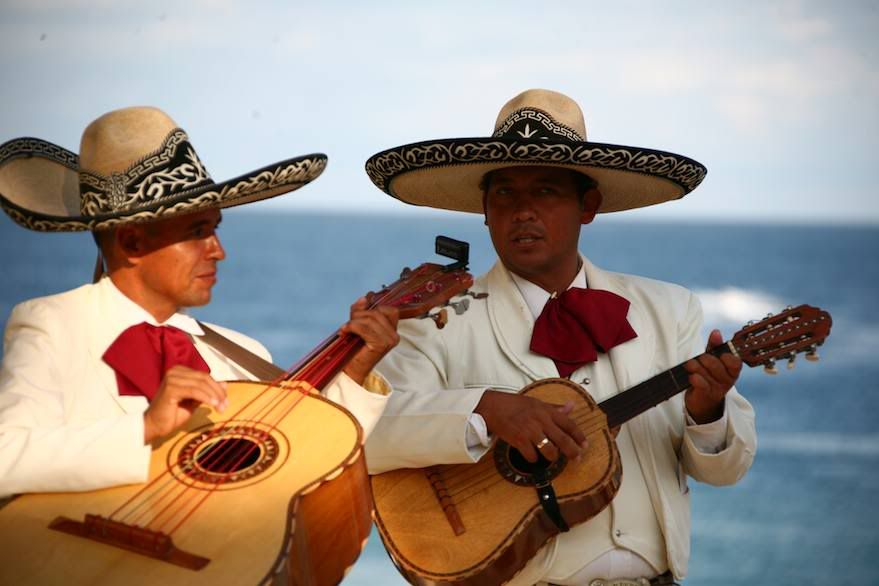 Fire Dancers – Luna de FuegoA+
What can I say, they were fantastic! There were 2 female dancers and 3 live musicians. They performed for approximately 15 minutes and my guests were all entertained. Wonderful!
Reverend Marcos ArechigaA+++
I booked Marcos upon reviews I read here on the Forum. What can I say, HE IS WONDERFUL!! Marcos was truly a pleasure. Marco met at our hotel 2 days before our wedding to go over our ceremony and vows. He really made our ceremony special and personal. Many of our guests commented on how beautiful the ceremony was. He incorporated both English and Spanish which was fantastic. Great job Reverened Marco.
Cake- Sweet DreamsA+
I had absolutely no problems with Sweet Dreams. They delivered a cake exactly how I wanted and it was sooooo delicious and moist. Seriously just thinking about it is making my mouth water. I had a cupcake cake with 1 tier and the flavor was red velvet. Sweet Dreams did a fantastic job!!
DJ RicardoB+
DJ Ricardo did a good job. He was attentive to our needs. He did not have any problem incorporating our playlist into his mix. He was well prepared in advance. The entire party loved the music.
Photographer Alberto Misarachi-Helix audio C-
Alberto did a great job with our engagement photos a year ago. The wedding photos were OK, although we still have not seen the originals yet. We are making that judgment based on the photos he published online. His professionalism was perfect until after the wedding. Shortly after, he disappeared. We are not sure what happened to him, since he has not replied to emails for over 3 weeks. We hope he is ok and hope to update his review once we hear from him and receive our disk of photos and our book of photos we have already paid for.
Makeup artist Neysa Berman NO CREDIT
I had booked and paid Neysa about 2 months before my wedding based on all the positive reviews on the forum here. My decision was between her and Suzanne Morel. I went with Neysa. Well she wasn't the fastest responder to my emails and found that I had to follow up with her more than a few times. Nonetheless, I was super excited to have her do my makeup and eyelashes on my wedding day. Well unfortunately a week before my wedding she emailed me to say that she would not be available on my wedding day. She had a medical emergency out of town, but not to worry because her top assistant Enrique would be handling my makeup. I wasn't very comfortable with this at all as you can imagine. I asked Neysa to send me Enrique's full name, credentials, work history and photos of his work. She never supplied me with the request. I asked her at least refund me $25.00 which she agreed to. Well the day of the wedding Enrique was a no show!!! Needless to say, I was extremely disappointed.
My WC sent emails to Neysa the next few days to request a refund, but again, no response. I just felt this was so unprofessional of her, therefore the day before I was to leave I sent her a direct email telling her I expected a full refund before I left Cabo the following day. I do give her credit for showing up an hour before I took off and drop off a check to me personally. I was really looking forward to giving her an outstanding review..But unfortunately she gets no credit.