Well, here it is! We had 34 people including Chris and me and couldn't have asked for a better wedding. St. Lucia is such an extraordinary island, it's like it's made for weddings. So here we go…
American Airlines: B
Everything went very well on the trip down. The flight was on time and the flight attendants let me hang my dress in the closet (although the closet wasn't tall enough). The reason I gave them a B though was that when we were leaving St. Lucia for the rest of our honeymoon, we had to stop in Guadeloupe for fuel. It was supposed to a 2 hour flight to San Juan and then we would have a 2 hour layover to get through customs and board the plane to Punta Cana. It took an hour to get the fuel and we were rushing like crazy in San Juan. Luckily we made our plane by 15 minutes. I'm glad they let us on it.
Blue Skies Apartments: A
My parents, brother, sister-in-law, 3 year old niece, and I stayed here for 4 days before the guests arrived. The 2 bedroom apartment had plenty of room and the pool was great. Francine and Simon, the owners, were so delightful and very accommodating. The only downside was that the apartment didn't have a phone, so we had to use their cell phone whenever we needed to call a cab.
Villa Capri: A
The villa is just beautiful. It has a great view of the Caribbean Sea and is surrounded by such a lush environment. The rooms look like your typical hotel rooms, but the air conditioning was nice and cold so I was happy. Water pressure was awful in the shower and a couple of things that was supposed to be provided (like soap) were not. Once I said something, they magically appeared the next day, so that was good. The staff was super nice and made some great food for us. The pool is small, but it's just for the people staying in the 9 bedrooms at the villa, so it was fine for all of us. It was a wonderful place to stay.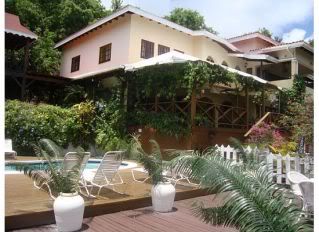 Wedding Coordinator – Kris Wagner: A+
Talk about a straight shooter. This woman gets things done. She has a nice personality, but I wouldn't want to get on her bad side! Exactly what you want in a wedding coordinator. She seemed super laid back about some details, so I worried about things getting done, but she definitely knew what she was doing. There were a couple of minor miscommunications, but that's to be expected when you are planning your wedding entirely by e-mail. I would recommend Kris in a heartbeat!
Welcome dinner at Villa Capri: A
The food was excellent and the guests were all happy. They did a much more elaborate set up than I had anticipated, so that was great. I had the cooks bake a cake for my brother's birthday that day and they did a great job.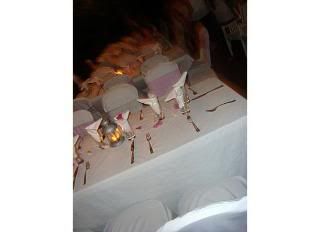 Harmonites – Steel drum band at the welcome dinner: A+
Excellent music and a pleasure to watch! They let our nieces and nephew (ages 12, 10, 3, and 2) play the drums and they were so excited. Definitely the highlight of the night.