Early Departure to Caletas
The morning of the wedding started out really early for us. Our hotel was a 1 hour drive away from the Vallarta Adventures offices (and there is a 1 hour time difference), so we had to leave our hotel at 5:45am to get to Vallarta Adventures by 9:00am. We made it there with no troubles, and went and got our boarding passes for the trip to Caletas. The 7 of us boarded the boat in Nuevo Vallarta, shortly after 9 and we were off to Puerto Vallarta to pick up more passengers. With us, we had my dress, the bridesmaid's dresses, the grooms and groomsmen's clothes, and my parents clothes for the wedding. They have a closet on board the boat where you can store your dresses so they don't get wet (or blow away!) I told the girls that they would be able to shower and get ready at Caletas once we arrived, so we all just rolled out of bed into our swimsuits and stayed that way all day! No one bothered with hair or anything really.
Everyone on the boat: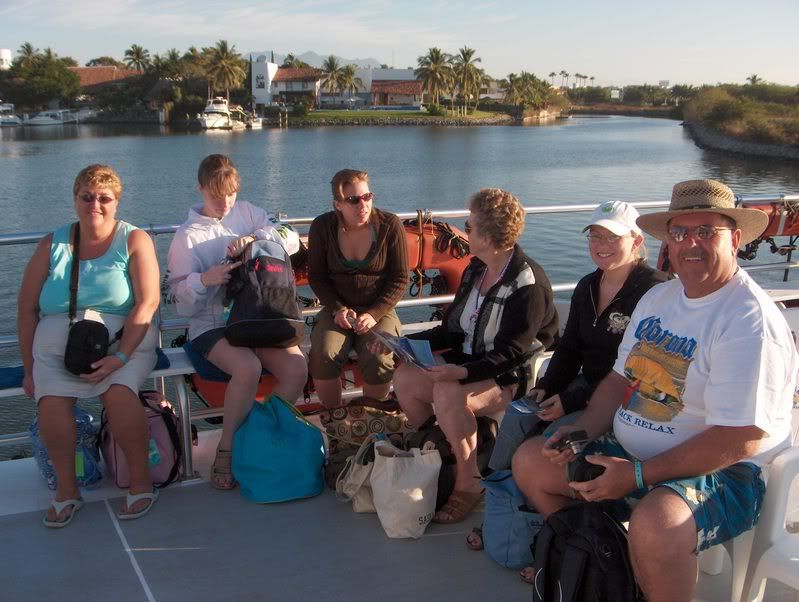 The boat ride is 1 hour long, and during the day the boat crew puts on a little show for you and they have coffee, juice and water and fruit and pastries on board.
Once we arrived at Las Caletas, Nicole took us all directly up to the bridal suite again so we could store our stuff. It is very safe up there and we left our bags up there all day with no problems. Once we got up to the suite the girls were blown away. They couldn't believe how beautiful and what a perfect atmosphere for the bridal party to get ready in. The Jacuzzi was finished and ready for us to use! My MOH and my dad and I went down to the bar to get some drinks and a fruit plate for everyone, while my other bridesmaid ironed the guy's clothes. My mom and my aunt hung out up at the suite relaxing. I should also mention that there is a small fridge up in the suite which is stocked with bottled water, so that was a nice touch as well.
The Bridal Suite:
Bathroom Sink: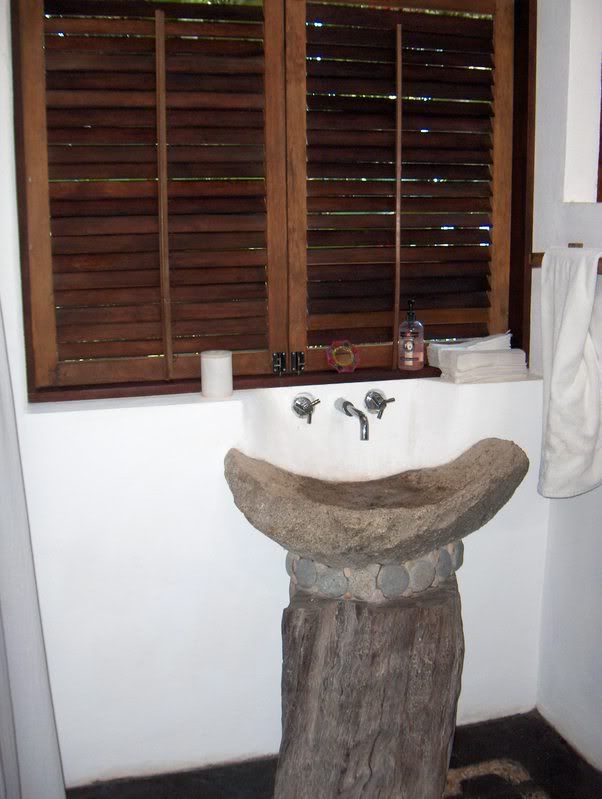 Bed: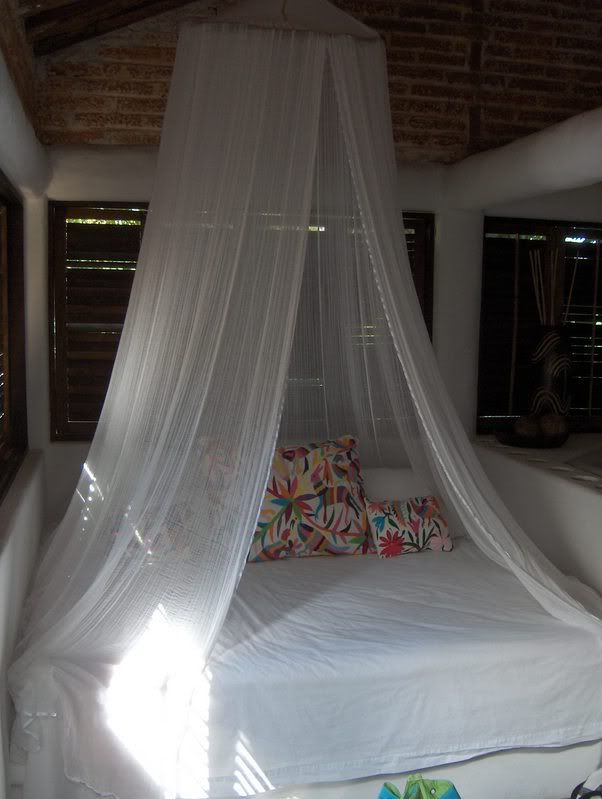 Sitting Area: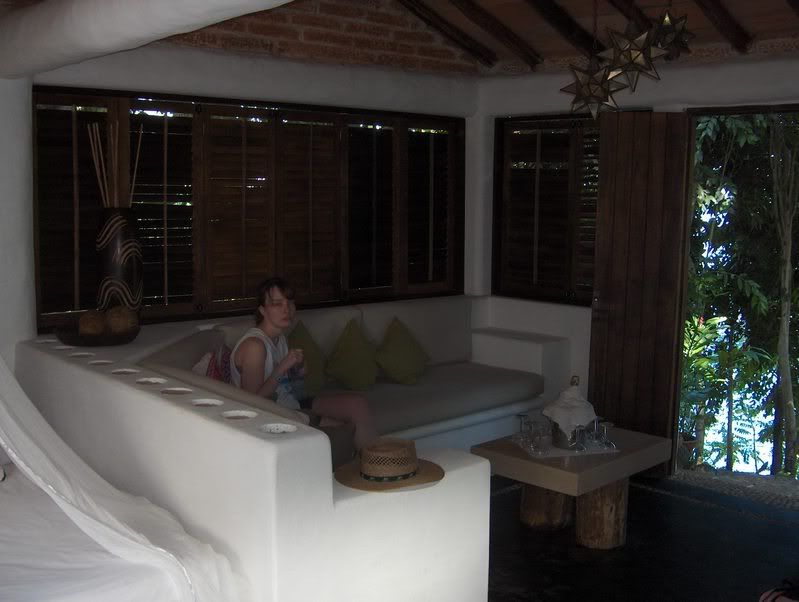 Jacuzzi!
The Dual Shower: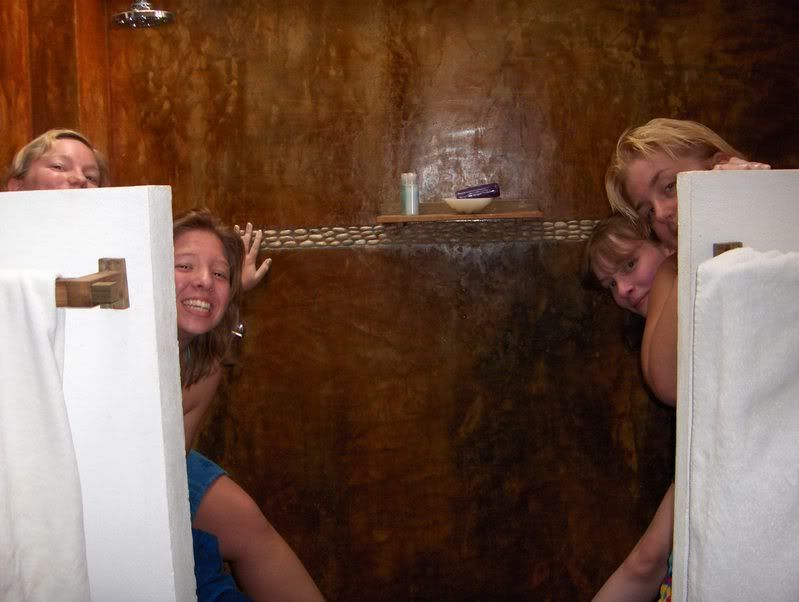 Shortly after we arrived at the suite, Nicole came up with our flowers. They were absolutely breathtaking! I had no idea what they would look like, all I said was that I wanted tropical flowers, so when they came up, I had no idea what to expect…they did a great job!
Flowers:
My Bouquet: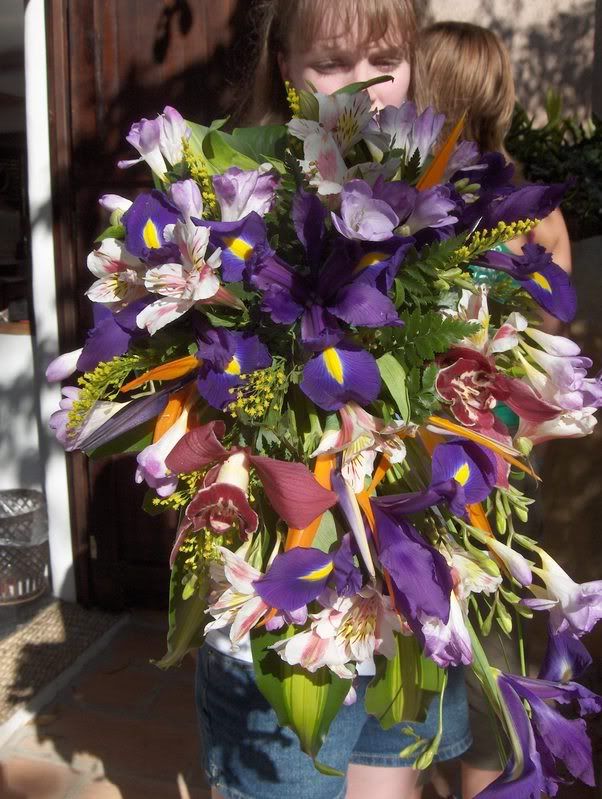 Bridesmaid Bouquets: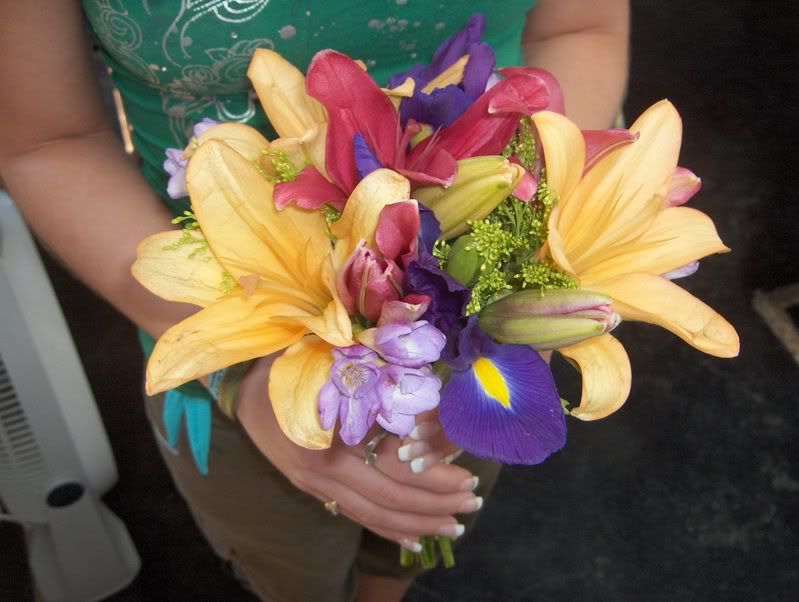 Centrepiece: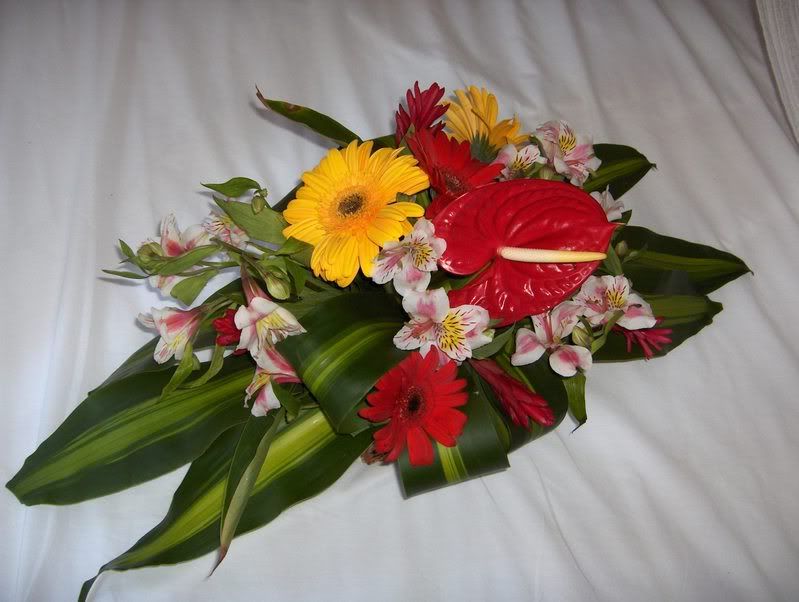 Mother's Corsages:
We all stayed up in the bridal suite, tucked away, enjoying the breeze and the sounds of the jungle, until it was time to head down for lunch. Lunch was delicious and included chicken, ribs, salads, pasta, paella, and a huge assortment of desserts. After lunch we wandered down the beach and watched the sea lion playing in the ocean, then headed over to where the ceremony would be so that my mom and aunt could see where it would be set up. After that, we headed back up to the suite and filled the Jacuzzi and the four of us sat in there relaxing for about an hour. (We actually started filling the Jacuzzi before lunch, then it ran out of hot water, so we shut it off and then finished filling it up after lunch. Talk about being in a dream! We were all sitting in/around the Jacuzzi and all these butterflies were flying around all over the place, it was absolutely beautiful! It was so perfect!
After the Jacuzzi, we took turns showering and then my aunt did my hair, each of the girls did their own hair and makeup, and they looked great! I did my own makeup as well. There are lots of plugins by the mirrors, so you can bring your blow dryer, curling iron, etc, it should be no problem.
Soon it was time to get into my dress! Once we were all dressed, we took a few pics around the suite and the Jacuzzi and we had the champagne that was left for us up in the bridal suite….then we had nothing to do, but watch and wait for the boat to arrive.
Ok, that's all for tonight, I will post the rest of the review tomorrow!!!
Nite ladies!
Lindsay