Hey, just wanted to share. Went to the Dallas fan event with Daniel Goddard (Cane), Thad Luckinbill (JT) and Christian Le Blanc (Michael) this past weekend, and I cannot even describe the time that was had.
Some of you know, I've been working with a few others on a fan site for Daniel for this past few months..he's been great, and his rep is also a real sweetie. We videotaped a very sweet and sexy message for the site, and took TONS of pics (about 120 total).
All three of the guys were INCREDIBLE..Christian is the funniest human being I've ever met, and I gained new respect for Thad...he is honest to a fault and so down to earth. Had no problem sitting down and sharing what he truly thinks about the storylines. Good things coming up for 'JT' that get him back into the spotlight with actual GOOD material this next few months, so fans of Thad should be pleased.
Christian m.c.'d an auction they held for charity..ladies, I swear..HILARIOUS. He's shouting out nonsens like "Boy, get over here and let these ladies feel the merchandise!" calling people, "Boo" and talking about naked phone calls. He's too much.
Me and a few friends ended up going to Denny's for breakfast Saturday morning..we're hanging out, chit chatting, talking about needing to get back to the hotel before the lunch event started..when in walks all three of the guys...looking like poster boys for hot sex. hahaha..it was great, honestly. They are ALL so very cool, sweet, down to earth, friendly, likeable...I could go on and on.
Anyway, wanted to share a few..I have so many more, so if anyone wants to see, just pm me and I'll hook ya up.
My friends from the web site & I with Christian...we were his "harem". Thats me on the far right in red.
Thad and I after a nice chat...he is so...REAL. Thats my dog now. haha..had to convince him that I was there to see him too! He's gonna steal me away from being a Daniel groupie.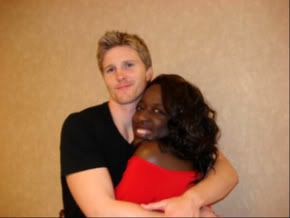 Daniel & I giving each other some love...he was so happy to meet the girls from the site and so grateful and sweet...said he couldn't let go!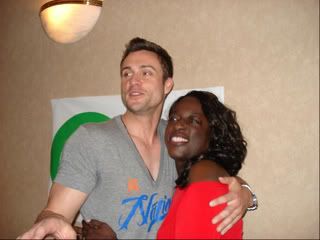 Daniel being stupid (and I mean "silly") groaning all sexy while hugging me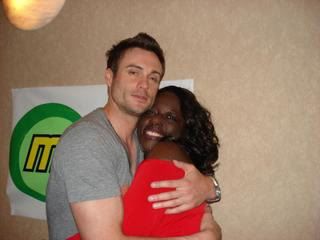 This is my favorite...I got down in front of him and told him to "Give me the sex heat.." and this is the look he gave me
:
Daniel sitting across from me at breakfast yesterday morning...again, being stupid, giving me his "Post Cereal commercial smile". He's a sexy dork.
Me giving Daniel a massage yesterday morning while he signed autographs..poor boo boo was so very tired. Horrible pic of me..haha..look at my face..says it ALL. I think it felt better for me than it did for him!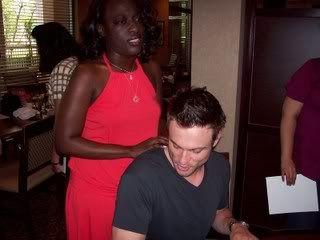 OK, last thing, I promise. (haha.) the oh, so sexy message we taped for the AshbysAngels.com site is here...try to ignore the gasping cooing female sounds in the background hahahaha:
YouTube - Daniel's Message To His Angels