LeShay's Paradisus Wedding Review – Pt 2 cont.
THURSDAY 4/24/08
Thursday was the official start of the wedding weekend. With the help of a few friends and bridesmaids we were able to set up an assembly line to set-up the Welcome Bags.
Which contained:
The Official Welcome Letter
Wedding Day Time Line
Tylenol & Pepto Packets
Chips (Cancun Walmart)
Candy (Cancun Walmart)
Fiesta Cups (orientaltrading.com)
Fiest Pens (orientaltrading.com)
Spanish Phrases
Note Pad (Oriental Trading)
Flip Flops ($1 Bin at Target)
Visor Hats ($1 Bin at Target)
Although the Welcome Bag assembly took longer than I thought, it was completed in time for the official Welcome Cocktails and Dinner. Since our goal was not to not spend much on the Welcome, we told guests to meet us in the lobby bar, and instead of having our bags delivered by the resort– We brought the bags to the lobby and set them up on a table in the back, and since the set-up is lounge style, we had an 'unofficial area' to our selves.
I forgot to mention 2 weeks before the wedding, I mailed the guests a luggage tag (ordered off of Ebay for .99 ea, in blue,) and inserted their address in it, with their itinerary, so they already knew where to meet us.
Elisa (our WC) told us that the hotel was having an official Mexican Welcome Dinner & Show in the theater on that Thursday (4/24), and told us that there would be no additional fees to reserve a few tables for our guests. This worked out PERFECTLY!!! I would encourage you to find out what events your resort already has planned to coordinate with your group.
The Mexican style buffet was set-up in the theater, and they did reserve 4 tables with our party name, it was soooooo nice.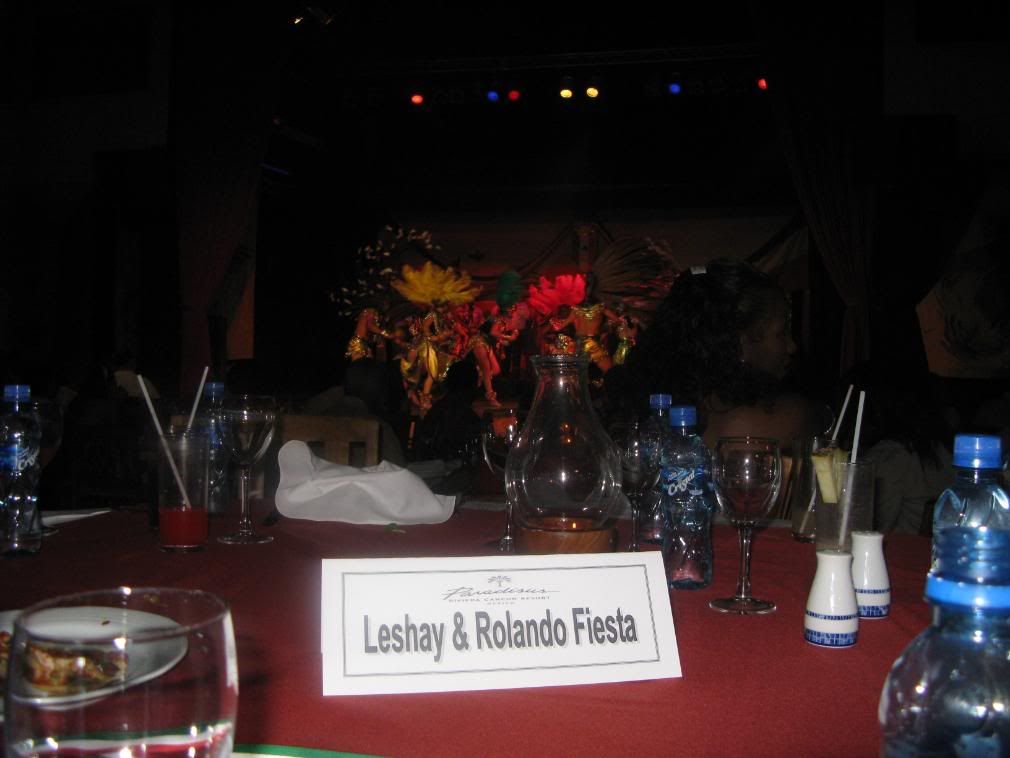 And the food was excellent!! The Entertainment was also very good – a perfect Welcome event, and I was ecstatic that we didn't have to come out of pocket for it!
After the Dinner our guests all went back to the Lobby Bar, and the men got a kick out of
The Cigar roller
. So while all the men were getting Cigars rolled, the women had a bonding session of our own with tequila shots!
We then went to the FUN PUB, and continued the party.
They played a variety of music, so everyone had a really great time. Thursday was a great kick-off to the wedding weekend.
FRIDAY 4/25/08
Friday was Spa Day for the women and the Guys played Volley Ball.
The Spa Day was so much fun. Since it would take Elisa, a while to follow up with me by e-mail, I went ahead and contacted the sales manager, Kathy Stevens (Kathy.stevens@solmelia.com) of the hotel about booking my group of 15 women in the Humid areas of the spa. She gave us a great rate of $8/person, this is something I treated the women to, so that price fit right into my budget.
The Humid areas are: The Jacuzzi (Hot & Cold), the Steam Room, the Meditation area, and the Sauna. A few of my guests also got massages, but they paid for those additional services. This spa day also worked out great! The spa manager was really nice, and we all relaxed and had a really good time, we even meditated in the area.
The guys played Volleyball, and basketball and they all really enjoyed that too.
The lunch spot was always
The Carribbean Market Place (the Buffet),
the food was delicious EVERY DAY! Never a disappointment, and always plenty of options.
Later on Friday, we had the wedding rehearsal. Please assign someone from your party to lead the wedding rehearsal, if you have a "Day of Coordinator" or someone, it will be so helpful. I have to say this was the only really stressful part of the weekend. Everyone wanted to give their opinion on how the procession should be, and with 9 bridesmaids and 7 groomsmen offering their opinion, it just became a little chaotic – but it definitely worked out. Eventually my Uncle became the "go to guy" for the rehearsal, and it did go smoothly. We also rehearsed The Bridal Party's entrance into the reception, which I initially thought was a complete waste of time, but it did work out perfectly.
We then had our rehearsal dinner and all the guests were invited. Again, in an effort to save, we had the rehearsal dinner on terrace/patio-
The Tequila Grill
(where receptions are usually held), and they charged a small fee for the additional servers, decorations (decorated with the white draping), and table set up. Our center pieces were framed pictures of our favorite movies. There were no seating assignments so guests sat wherever they wanted. It would have been an extra fee to set up a private buffet on the terrace, so we had the guests walk in to the Caribbean market place to get their food. This worked out perfectly because it was a short distance, and we still had the privacy of the whole deck. Since FI & I are in the entertainment business, we thought it would be fun to do a spin on the traditional rehearsal dinner, and make it an "Awards Night", in which we gave each guests awards for different observations we made about them since they arrived at the resort. Some of the awards categories were "Cutest Couple", "Drink You Under The Table", "Sexiest Dancers", "Couple Most Likely to add to their Family", etc….This was so much fun, and all the guests got into it.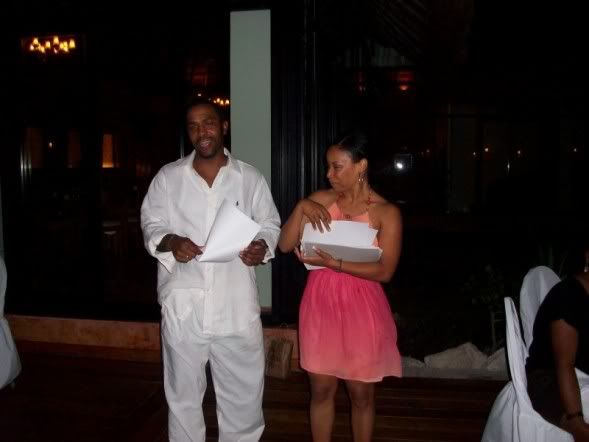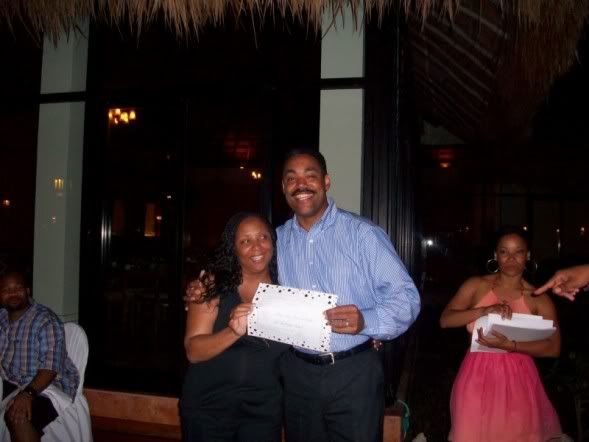 I forgot to mention that on Wednesday I also met with a transportation coordinator, Mercedes, she was fantastic. Mercedes is an independent Travel Coordinator, she does not work with the Paradisus, so you can use her no matter which resort you're having your wedding. She helped me coordinate transportation to downtown Cancun on Friday night for all our guests. This also worked out perfectly.
Here's her contact Info:
Mercedes Garido de Yanez
Vi Travel
(52)(998 -884-1514
Fax (52)(998 -884-8099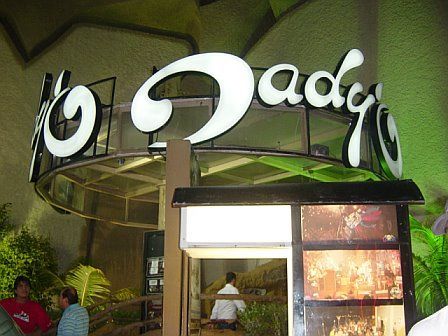 If you're interested in taking your guests Downtown Cancun to go clubbin' CoCo Bongo, is supposed to be THE HOT SPOT, but with a $50 cover charge I just didn't want to pass that price on to the guests.


Our other option was to shuttle to Playa Del Carmen, but since I knew we had more dancers in our group than bar hoppers – Downtown Cancun turned out to be the best option. I was amazed how late the clubs downtown stay open, although our group was shuttled back at 2am, the club was still in full swing. I don't think they close until 4 or 5am.
A good time was had by all, no one wanted to leave DaddyO's!

Stay Tuned to Part 3 Tomorrow!