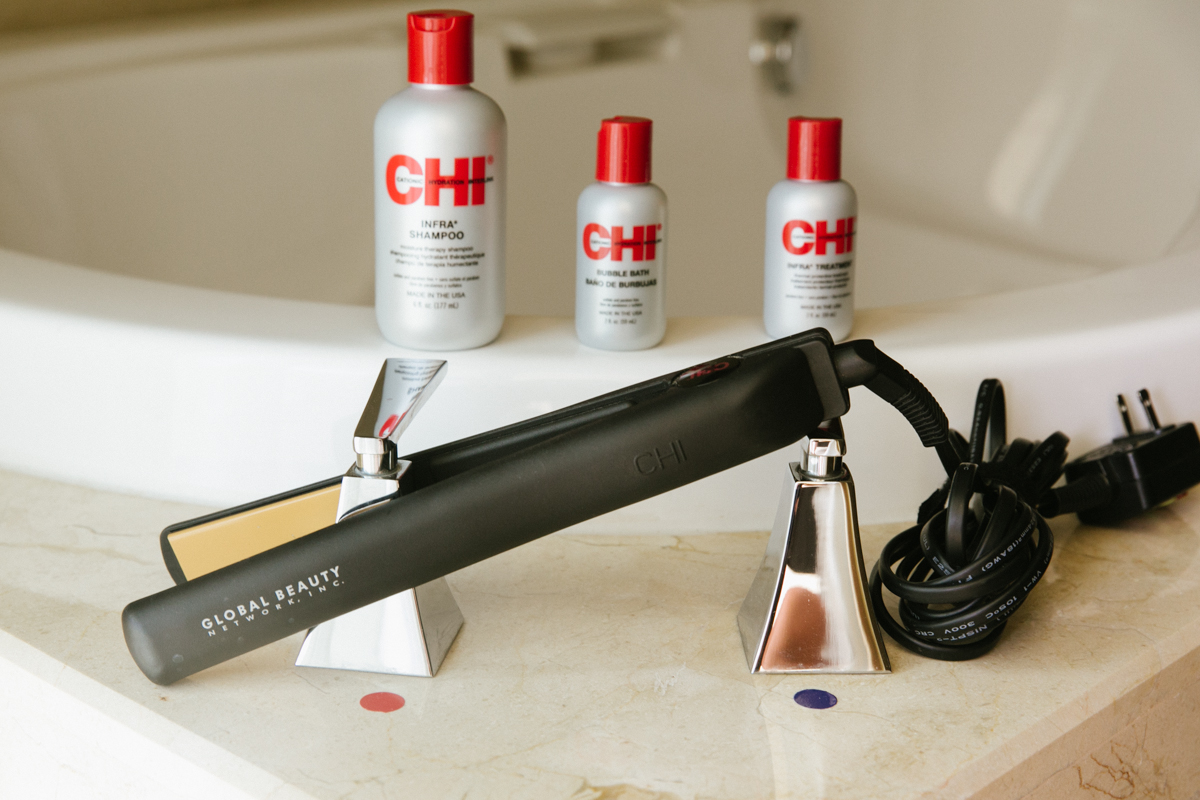 I've been fortunate enough to do a lot of traveling throughout my life and for the most part have been extremely lucky when it comes to accommodations during my travels. So after staying at so many great hotels and resorts through the years, I've come to realize that it's the little details and special touches that really stand out to me when I'm traveling.
I recently spent five days at the Moon Palace Golf & Spa Resort in Cancun and it was my first visit there as well as one of the few times I've stayed at an all-inclusive resort. Besides the overall grandeur of the resort, the luxurious accommodations and the beautifully landscaped grounds, the Moon Palace offered a lot of special little touches that really impressed me.
One of the details that frankly, floored me, was that part of the room accommodations included CHI Bath Products and Hair Styling Tools. As a self-professed beauty and hair product addict, I have to admit I may have squealed a little when I discovered the CHI products in our room. Let's just say when I found the pro-style hair styling iron/straightener in the bathroom drawer, I may or may not have held it up like a sword and shouted, "YESSSSS!!!!"
You see, one of my dilemmas every time I pack my suitcase for a trip out of town is having to decide whether or whether not I should bring my hair straightener -- especially when it comes to traveling to the tropics where my hair is either looking "beach water fresh" or "fresh outta the shower."
So it's reassuring to know that if I'm ever staying at a Palace resort, then I need not worry about bringing a high quality hair straightener or blow dryer because my room will be equipped with one. The same goes for the always constant query, "should I rely on the quality of the resort shampoo/conditioner or bring my own products?" Well if you've booked a room at one of the Palace resorts, then rest assure, you don't have to worry about bringing big bottles of shampoo or conditioner because they've got you covered -- with good sized hair products might I add that are restocked daily!
Things like this are especially important these days where airlines have become stringent on charging travelers for baggage and weight fees.
"When most women travel, typically, they'll find an average blow-dryer in their room — and certainly not a hair iron — so they will pack heavy hair tools and products." said Gibran Chapur, Executive Vice President for Palace Resorts. "By partnering with CHI, a brand women know and love, Palace Resorts is further pampering them with the professional quality hair and beauty products they would find in a salon."
A resort perk since August 2012, all of Palace's oceanfront resorts provide guests with the original CHI Ceramic Hairstyling Iron and CHI Pro Hair-Dryer, as well as the CHI Infra Shampoo, Infra Treatment (conditioner), body lotion, and bubble bath.
And if you're staying at a Palace resort and realize you've become attached to one of their products, you also have the option of purchasing any of their styling tools or bath products from the resort's salon.
- - -
About me: I am a former BDW Bride AKA as MarieSam and I was addicted to this forum as I planned my own wedding in 2009. Since 2010, I have been the proud owner of MarieSam Sanchez Photography -- a husband and wife photography team based in Southern California and documenting love all over the world. I am also a mother to two girls, an avid traveler and a destination wedding writer/blogger.
---