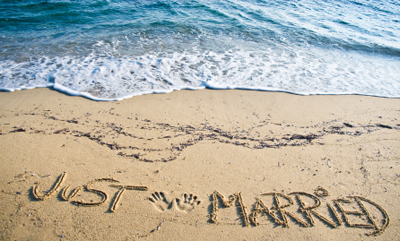 Flipping the Proverbial Bird to Tradition
by Miranda Lightstone
When he finally gets down on one knee and pulls out that diamond-encrusted engagement ring you've been fantasizing about since you were a little girl and knew the significance of a diamond ring, it's time to make a decision equally large as answering yes or no.
Do you want a traditional, at-home wedding or do you want something a bit more unique, a bit more "out there"?
It seems that choosing the "out there" option has become more and more popular, and for good reason.
Destination weddings (or "out there" weddings if you will) are quickly becoming the norm over traditional, church-based ceremonies. Now, that's not to say that brides around the globe are kicking religion to the curb, just that hey are are choosing to make their day even more special by making their wedding day an overall experience for themselves and all of their guests.
Usually, a destination wedding refers to a wedding that takes place away from the area in which the bride and groom live. It could be another city, another state/province or even another country. Most think of a celebration on the beach in some tropical paradise, however, a destination wedding could take place in a castle in Ireland, a Masai village in Africa or even a whale-watching boat in Alaska -- it can be whatever your bridal heart desires.
And that's the beauty of it.
Traditional weddings have so many restrictions: find the church, book the hall, find a DJ, make sure you have all the meal courses in order, don't forget the wedding favors, and for God's sake don't forget to invite every single person you've ever met in your entire life.
On the other hand, destination weddings let you be a bit more original, creative and free. A destination wedding ceremony can take place anywhere at anytime with anyone present (or not!). Destination brides also tend to take creativity and DIY projects to a whole new level. Because their weddings usually require guests to travel, OOT (Out Of Town) bags are the norm and usually contain anything and everything from hangover cure kits (for those all-inclusive resort wedding celebrations) to homemade wedding programs and fans for the wedding ceremony. DIY invitations and home-bought and prepared centerpieces and wedding decorations are also common.
The atmosphere of a destination wedding is also much more relaxed. And really, how can you not be as you stroll down the white-sand beach towards your husband-to-be who's wearing comfortable linen pants and a brightly colored shirt and sandals? And the guests tend to be much more relaxed as well -- there isn't the pressure of a traditional wedding. You're all there to enjoy the location, the atmosphere and the celebration of the marriage.
Destination weddings also give friends and family the unique opportunity to get to know one another in a relaxed setting that lasts for more than a few harried hours. Spending a week together on the beach is a sure way to build strong family bonds and new friendships. Exploring and discovering a new country is incredible, and doing it with close family and friends makes the experience even more fantastic. A wedding is already a heartwarming event that's sure to bring those gathered closer, but put the event in an exotic setting and the atmosphere of the whole ordeal changes entirely and becomes that much more intimate.
And when it comes to cost, well a destination wedding really is the better option. Because you usually don't have to worry about all the small details (DJ, flowers, hall, decorations), that means less to worry about on the budget side as well. For the brides who choose to get married at an all-inclusive resort somewhere down south, the cost is even lower. Wedding packages are often free once a certain number of people are booked at the resort for the wedding. Flowers, food, the officiant and decorations are all included in the package so the only expense becomes your ticket down there and your gown.
Ah, the gown. There's another interesting twist on the traditional. Destination weddings allow for so many different wedding gown options and wedding attire in general. Because you're not bound to the church/hall set-up, your location choice greatly influences your dress choice. Getting married in the sand on a hot, Caribbean beach? Consider lace, chiffon and light, airy silhouettes. Getting hitched in an ice hotel in Sweden? Make sure you get a warm, fur stole and opt for a heavier fabric and skirt. The style options are endless.
It's not that traditional is passe, just that destination weddings are so much cooler -- especially right now. There's so much freedom in how you want your ceremony to be, where you want it to be, how you want it to look and who you want to experience it with.
It seems like a pretty obvious decision for future brides-to-be -- you may have that decision made before you decide whether to answer yes or no.
---