A lot of you know I never really wrote a big trip review after we got married in Cabo, we didn't get married at a hotel/resort, didn't use any vendors, and other than the quick hotel review I wrote there wasn't much else to say!
So I was really excited to write a review on our Honeymoon trip, because we really loved our hotel and Riviera Maya and wanted to let all you honeymoon-crazy B2B's know what a great choice you made/are making if you choose to honeymoon in RM or at GBP!
Plus we took over 1500 pics that week, and I gotta showcase them somehow, right?
We stayed at Gran Bahia Principe Tulum, April 11-18
We chose RM because Doug has ALWAYS wanted to see the Mayan ruins in the area ever since he was a kid and learned about them in school. Also we both LOVE Mexico, but wanted to see something new and the Caribbean side was the perfect answer!
Ill give a full version of our whole trip review day by day, and then grade the separate events at the end.
SATURDAY
We were so lucky because we got to take the non-stop flight from SEA-CUN, yup it was way long (5.5 hours!) but much less hassle. We watched a movie on our ipod touch and the flight attendant gave us mimosas and baileys and coffee for free to celebrate our honeymoon! We were really excited when we got to CUN because we didn't realize that unlike all the other airports in Mexico that we have been to, CUN actually has a jetway that the aircraft pulls up to. (At least that's how it worked with Alaska Airlines, cant say for sure if all airlines use a jetway.) You don't have to walk down the stairs onto the hot tarmac waiting to file into customs, you just walk off the plane, down a hall, and into the immigration line. We had no trouble, got our checked bag, and got a green light YAY!
We walked straight out to the front and our driver was waiting with a sign with our last name. We used Cancun Valet at the suggestion of others on the forum. Great to work with, clean new 8 (plus driver) passenger van. From CUN to GBP-T it was 1 hour, 10 minutes, both directions. We timed it on purpose so I could let you guys know.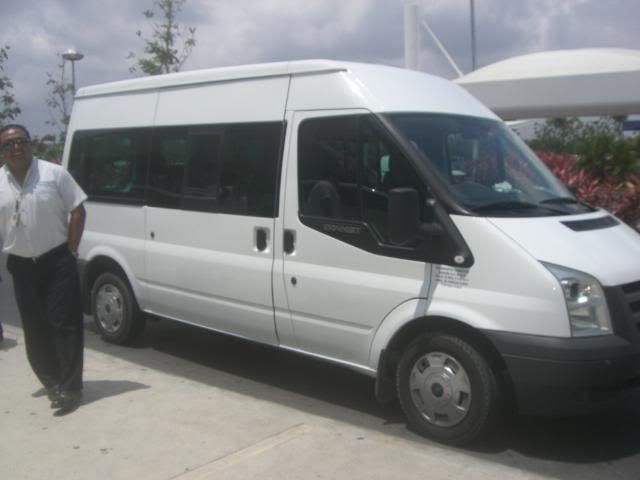 By the time we arrived at the hotel it was close to dark, the sun was setting as we got to our room, but being on the east coast of Mexico, we couldn't see the sun set, so we went to the beach to see the moonrise! It was just beautiful. We didn't really get to see the grounds or hotel much that night, but we went to the 24 hour snack bar and ate, then to the Circus show that night at our section (Tulum). It was really pretty good! For those of you that have been to an A/I entertainment show at night, you know they can be hit or miss, but I was pretty impressed that night.
our "honeymoon package" and room pics