In the weekend of august 10th was our 10th anniversary, so we went to Paris for a romantic weekend.
BF was acting real weird, I couldn't touch him or put my hand on his legs while in the subway...but it was so hot that I didn't had the energy to worry about it.
We went (window) shopping at Chanel and later saw a beautiful purple wallet at Dior. Purple is my favorite color and this thing just couldn't leave my head. That was at Rue Royal. We went for lunch and Starbucks and Gallery Lafayette (don't do it on a Saturday) and to Printemps (love that store) BF bought me the Chanel makeup, Exectionell which I was hunting for. Later we went to Avenue Montaigne and went to Dior again. I saw it again but than in a lighter almost lilac color. But the dark purple just stole my heart. Than BF said I'll buy it as a anniversary present to you What a sweet heart huh??
To make a long story short: They didn't had it at the boutique and there was only one left in France, @ Rue royal. It was almost closing time and sundays they're closed. The SA send a messenger to pick it up and right before closing time that purple wallet was MINE!!!
We went to dinner and I really wanted to go back to the hotel. I Was tired and hot
But BF really really wanted to see the Eifeltower. We've been to Paris several times now...and I was just to hot and tired to go to the Eifeltower...again. But he really wanted it so we got to our hotel to fresh up and at dusk we were at the eiffeltower. It was beautiful in .... PURPLE!!!
But also very bussy and hot. So sat down at a bench and he said...so 10 years huh??
And I said yeah the 10 best years of my life yes ( I know... I can trash a romantic moment just like that)
Than he said: I want to ask you something and he went down on one knee and asked me if I wanted to marry him. I was crying and said YES offcourse!
So now were planning a destination wedding. We're getting married at The Wynn and we'll be 3 weeks in USA (NYC, LV and LA)
After that we're giving a 'small' party for our family and friend who had to mis it, back in Amsterdam (a monthe later january 31)
Here are some pics of the Eifel tower...it really was purple, but it doesn't show on the picture.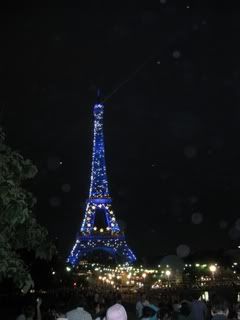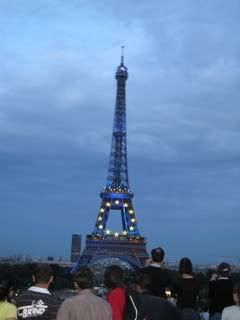 so that's how I got engaged