Planner: A+ for Anibal, C for the company overall.
I cannot say enough about Anibal. He arranged for our transportation to and from the Demographic Registry, collected the needed documents for the wedding license, translated for us and also arranged the hairstylist. If we had found him sooner, we would have had him do so much more. Anibal even showed up on the day of the wedding to make sure his referred vendor was on time and to wish us a happy wedding. He was very good at communication and easy to talk to. We never were pressured and he had many ideas. That being said, Anibal has left WedAffair to start his own company in Orlando and the staff that has replaced him has been horrible. Daphne was supposed to send the license to us and has failed to do so. She has made many excuses and even recently said it was not part of the service, even though I have it in writing and also have an email from her confirming this was included in our original fee! Daphne has also not refunded a service we did not use and said she is not going to. When we put a dispute in on the credit card, she became very defensive and claimed she was sending a check all along. Mind you we have emails from her saying she was not doing this.
Anibal Torres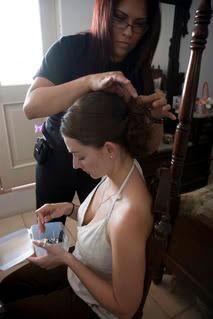 Site: F-The Gallery Inn
I have put off writing the review because I was and am so angry with The Gallery Inn. Michael and I found The Gallery Inn online in 2007 when we first started planning the wedding. I emailed twice requesting a site visit and received no response. In March of 2007, we visited while in San Juan even though I had not received confirmation of a site visit. We were able to wander the property however no staff offered to assist us and Jan (the owner) was present but also ignored us. Even though there was no welcome, I LOVED the place and had that warm fuzzy feeling. I chalked up the response to them being busy setting up for a corporate dinner. Michael and I returned home and started trying to make it happen. My emails were still ignored so we called the front desk. We were told that email was the preferred method of contact and given a personal email address to use in lieu of the Inn's email. Our initial banquet supervisor assured us that no budget was too small (we were hoping to work with $5000 for no more than 50 people). We reviewed the banquet menu, made selections within the budget, etc. We declined wedding cake and asked for coconut ice cream like what is found all over San Juan in the street carts. We had a date in mind, a Thursday, which would leave the weekend free for other events. Based on their suggestion, we also chose a classical guitarist for a fee of $450. Then, no news or responses. Several emails and calls later, we contact Jan, the owner and are told that this other woman no longer works for the inn. Ok, we are upset that we were not contacted but Jan assures us that all is well, our date is still available and yes she can produce this event for around $4500. A new person, Jan's granddaughter will now be in charge of our wedding. So, things seem to be back on track. We start all over because there is no record of our previous conversations with the other banquet manager. Again, we are assured that things are great, the small budget is fine. So we are now working with JanMarie who was very good about communication. JanMarie informed us that it will be no problem to get the ice cream I want but the classical guitarist is no longer available because the man is not reliable and the inn is no longer working with them. JanMarie instead offered a trio for the same price. So after working out all the details-location, food, drinks, music, etc a contract is sent to us for an estimated 50 people. All that was left to do was give the final head count which we agreed to do by April 26th. JanMarie asked for a fifty percent deposit and then the final bill would be decided based on the actual amount of people. Well, a month prior to the wedding, we sent the final headcount as agreed. We then receive a new contract that was significantly more than anticipated and no longer had the trio. We call, and Jan informs us that the previous contract was wrong and should not have included the alcohol bill nor would there be a reduction in cost for the final head count of 31 people. We argued based on the contract and all the emails we had that explicitly stated alcohol, decorations, food, ceremony, etc were included in the cost. Jan said "No, this is not correct" and that she would not honor the contract. The kicker, JanMarie was no longer working for the company. According to Jan, JanMarie and one of the musicians from the trio ran off together. So, the new cost is much higher than our budget will allow, our planner is gone, and the musicians no longer available. I email Jan directly imploring her to reconsider. Jan calls Michael asking why I am so upset, DUH, I explained that with a month to go until my wedding I can no longer afford my venue. More emails, we try to press the contract and Jan gets nasty. Michael and I look at other venues but don't feel we can pull it off with so little time. I call Jan myself to acquiesce and pay for the venue. Jan was so nasty to me, she belittled me for being unhappy with the price, refused to honor the original contract, and even said "well, I am not lowering the price. I will have you know that a chair at my table starts at $100, I can take the seven year olds chair away if like to reduce costs". I hadn't asked for a reduction in price, I had merely pointed out that three of my guests were children and would not be drinking alcohol (she wanted $25 an hour for an open bar). The seven year old in question is my daughter! I told Jan that the seven year old most certainly would have a seat. I hung up so upset and shaking after the conversation. I didn't want to make waves before the wedding becuase I did not want Jan to ruin my day so after some consultation with my BDW friends, I decided to push the contract after the wedding.
So wedding day, the location was beautiful but sparsely decorated. See Pictures. At the rehearsal Jan again made mention of my "cheapness". Whatever. I was also admonished for reducing our stay at the inn from two nights to one. We did this due to our budget, we were already paying the reduced rate of $350 a night for our room at the inn. Dinner was fantastic thanks to her chef however she used a child waiter and did not have the coconut ice cream. This was never an option, all communication including the rehearsal mandated the coconut ice cream. Instead we were served vanilla. Also, my guests were to have appetizers and open bar for pina coladas and wine. They "ran out" of pina coladas for over an hour, the wine was tighter to get than my size three jeans and the appetizers were gone before most people saw them. I also myself saw staff drinking the wine that I was later charged for. The staff also quickly cleared the tables and many of my guests felt rushed away. All of the place cards were thrown away so none of my guests were able to take them with them. The next day, my bill was even HIGHER as I was charged for several things I should not have been. I argued, was told nothing could be done and so I left. We emailed and called trying to get a refund and were ignored. I now need to dispute the charges with my CC card. Overall, a very nasty taste was left in my mouth. There were some other small things but I think the general picture is clear. I have threads on the delays and also the contract issues when they first started.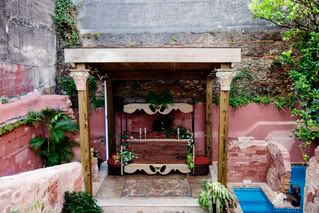 Musician: A
Jimi Velazquez, quatro player, guitar and classical musician. Jimi has a large range and is the one who suggested the song I decided to walk down the aisle to-El Viejo San Juan. Jimi played all the songs we asked him to and also added many Puerto Rican favorites. He is also one of the featured musicians for the Puerto Rican Music Festival each year. Music is important to Michael and I so we were glad to find Jimi. Jimi was also quite fun and wanted to party all night long! His fees were reasonable though he did charge us to attend the rehearsal.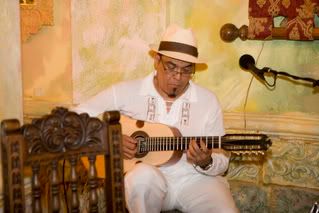 More to come soon....