Cancun
Dream Wedding - Now Sapphire May 6 2016
This is a review of: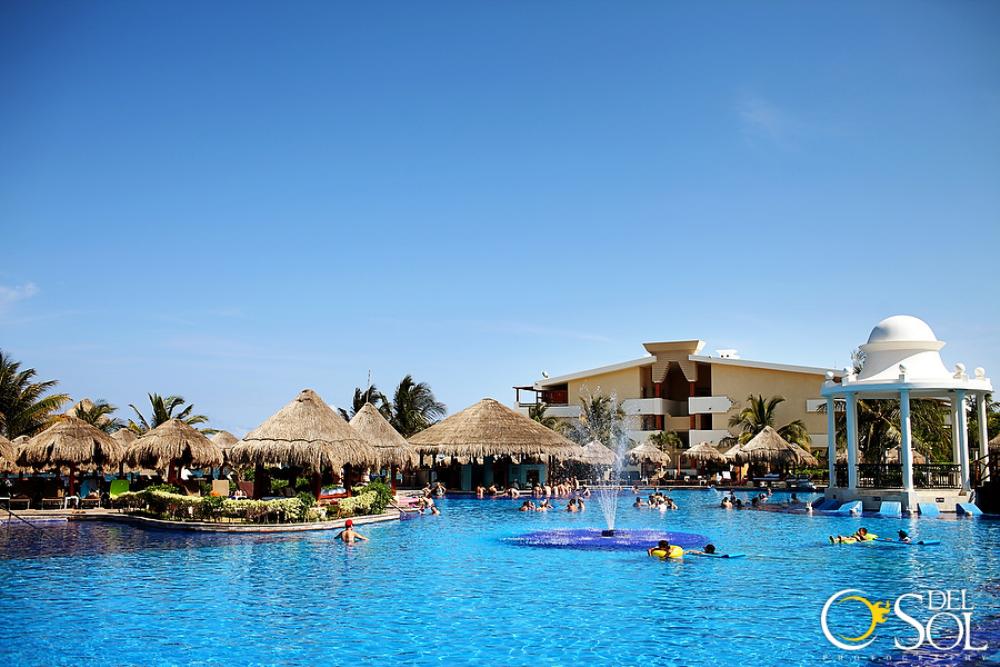 Detailed Ratings
Pros:
Beach, Pool, Bars and FOOD AMAZING!
Cons:
Some areas trick to walk...
Sannella Wedding – Now Sapphire, Riviera Maya MX May 6, 2016
We spent over a week on our wedcation with 38 of our friends and family. While it was a busy and fast week, we absolutely LOVED all the vendors we chose for our wedding, and could not have been happier with the service they provided. They truly all went above and beyond to make our day as special as possible.
We booked our wedding through Destination Weddings on a whim. We were still brainstorming where exactly we wanted to have our wedding and when we came upon the website, we thought we'd check it out for the $50 fee. (This fee ends up going towards your wedding/trip – I think they just do it to narrow down to serious clients vs just people browsing for fun.) Our wedding planner assigned was Cheryl and we first corresponded via email with loads of questions like, what country did you want to visit, how many guests, what is your travel budget for each couple, all-inclusive vs non all-inclusive etc etc. Once she narrowed down the information provided, she suggested 3 resorts to us, a low, mid and higher price-point. We narrowed our decision by looking at pictures, amenities, area of Riviera Maya (vicinity to airport) and the overall price for each of our guests. We landed on Now Sapphire in Riviera Maya due to it being a family friendly, all-inclusive resort, only 30 mins away from the airport. Cheryl was available by phone to talk through the contract, the room block deposit process and any other questions we had along the way. She was a such a sweet and helpful lady – I imagine if we had wanted other resort choices or had more questions, she would have taken the time to address those, as well.
Now Sapphire was absolutely beautiful! Exactly what you picture for a Mexican vacation. Most of the common areas, like the front entry and lobby are completely open air. The only things they actually have inside are the auditorium, the kid's area, the spa and some of the restaurants (excluding the BUFFET, the Mexican restaurant FRESCA and the BLUEWATER GRILL).
The main pool area is GIGANTIC! You definitely never feel like there is not enough space for all the people. The pool is the most congested around the pool bar, but there was never an issue getting a drink and everyone hanging out was super friendly. The Entertainment staff by the pool was ready to party/get everyone pumped up all day, every day. They were always smiling, dancing, getting group games together like soccer and volleyball. Our favorites to watch were definitely Kayak-Tug of War and Kayak races. The fruit delivery kayak in the pool was also a fun addition. We didn't visit the other pools, but the Preferred Pool was never too crowded and the kid's/sports pool area was always empty.
The food and drink at the resort were definitely well above average. We've been to many all-inclusive resorts and cruises previously, and this is the best we've visited. The drinks the resort offers are not SUPER strong, but you can always ask for a double and they are quick to accommodate. The bartenders are friendly and learn their guests name and drinks. My personal favorites were the Mojitos and the Sangrita, but a lot of our guests liked the Dirty Monkey and the Bob Marley. Our underage guests (our children) LOVED going to the bar and ordering their own virgin Strawberry Daq. The drinks tasted the BEST at the lobby bar. My favorite drink of the week, BY FAR, was when they serve some mix of fresh juice in a pineapple – YUM! Like I said, none of the restaurants were disappointing, but our favorites were the Bluewater Grill and Fresca. The buffet was also very good – they had a lot of selection and the seafood was delicious! We unfortunately were unable to get reservations to the Hibachi, but we didn't make it a priority towards the beginning of the week (I'm pretty sure it is still the same seafood that is on the buffet).
The accommodations were great! We LOVED our beach-front location in building 5 (but when visiting other rooms, the tropical view is not so bad either). The best locations were definitely building 1-6 (building one is the closes to the main pool). We had our kids with us, so we went with the two Double beds, however if we did it again, we definitely would go for the King bed, as you still get a pullout sofa. The room was always clean and the bar was always stocked. They do nightly turndown service, but it isn't until later in the evening (9:30 or 10pm), so we always ended up walking in while they were in the room, but if you were up later at the bars you wouldn't have known when they were there. The maid staff always responds very quickly to calls, but the room service is not as quick (in their defense, it says it can take 45 minutes, but it seems like it takes longer sometimes). We used the laundry service for our wedding attire (that was stuffed into a carry on) and they did a fantastic job. Our stuff was returned quickly and you could tell they used lots of care.
The spa is absolute serenity! I've never visited a resort spa (although I visit spas at home often) and didn't really know what to expect. Reception was quick to greet each guest and give a tour of the spa. They have fruit infused spa water and green tea. The spa features a fish manicure tank, as well as a hydrotherapy pool area. My mom and I both got mani/pedis done the day of the wedding. Mine was absolutely perfect! I got GEL polish, which I was worried they wouldn't have, but they certainly did! The groom and I went back for our couple's massage and we were so relaxed! It was so nice to have some time alone. Although vacation spa pricing is always inflated, they always had specials going on, and it is TOTALLY WORTH IT!
Our kids only visited the Kid's Place one time, but they LOVED it! They usually have a small group and are able to devote a lot of attention to the kids that are there. They even have a bungee jump that is open daily that was the HIGHLIGHT of our girls' trip. The entertainment staff also went out of their way to recognize them and chat with them around the resort. The nightly entertainment was pretty good. The fire and acrobatic show on the water were the best, and the rest were just ok, but we feel like it was pretty much the same as other resorts we've been to.
The ONLY complaint we have about the resort is they have some stair/ramp areas that you can easily trip or fall off of. They are not marked/painted/roped off or anything, and it is VERY difficult to see where one step ends and the next begins. One of my first comments on the trip was, "oh, someone could fall off of that," and unfortunately that evening, my elderly father-in-law did end up falling, hurting his knee and face. Someone immediately told us they'd call the "doctor" but no one ever showed up. Luckily we had a doctor with our group, so we knew he was okay, but not everyone would have that luxury OR God forbid it had been worse and no one came. My furious groom (rightfully so) complained to the manager on duty, and we really felt like they didn't do anything to fix the issue. The ramp was never blocked off, we never were offered any additional service to make up for our issue, and we never really received an apology. They tried to follow up via phone days after that, but by then we had moved on. We didn't feel like we should have to ASK for something to make up for the issue, and we just wanted to move on and enjoy our trip. That being said, this WOULD NOT, prevent us from going back again.
Our planner assigned to our wedding was Juan Carlos and he was absolutely amazing! From the beginning, he was immediately attentive and very easy to correspond with, even though he has TONS of weddings he's working on. He was always willing to work with our budget and talk through all options. I'm a little bit of a micro-manager (A LOT OF BIT) and I always felt like he took my vision and happiness very seriously. Even if you have NO VISION, Juan Carlos will put together something beautiful for you. We met with him for about an hour to drop of supplies and finalize plans, but I think he starts to really plan out your wedding a month in advance (when he receives your wedding questionnaire back). You'll review the budget and pay your final bill during this meeting. Even though our wedding is over, I still love looking at the weddings he is designing on Instagram and I wish I could do it again!
THE WEDDING was absolutely beautiful! Everything was just perfect. The groom met with the officiant beforehand, and the 5pm ceremony was quick and beautiful. 5pm was a great time for the ceremony. By that time of day there is usually a nice breeze and it starts too cool down a bit. We still had light for our photos, but also had some great shots with the sun going down. I was worried it wouldn't feel "dark" for the reception, but it most definitely was. In our opinion with all the weddings we saw that week, we had the most private location on the Tequila Terrace. It has a great wooden deck and is right beside the beach. Juan Carlos did a BEAUTIFUL job with the décor. He took my vision board and really ran with it. It was so much more than we even imagined. The groom and I didn't get to enjoy our cocktail hour due to photos, but we went with a Mexican theme for the apps. We upgraded our Eternity wedding to the Divine menu, so that we could get the Surf and Turf and it was delicious. Our guests did not get two choices, but we did choose an option for the kids. To be honest, if someone really did not like the Surf and Turf, they could have easily snuck to the buffet. Aside from cake, you are also able to choose an additional dessert and we actually were able to turn one of the "sweet appetizers" of cream stuff donut-like pastries into our dessert. IT WAS THE BEST! The cake was good too, but the donuts were EVEN BETTER! The best part of the reception, aside from dancing and partying, was THE WAIT STAFF! They were amazing, super fun, ready to attend to our every need and they really kept the libations flowing! (They even ended up in the photo booth with some of our guests). We paid for one additional hour of reception (worth it), so we were there until 11pm, and then moved the party to the "club". I initially felt like I wouldn't want to cut the wedding off, but this ended up being about the right time.
CATAMARAN: I used basic Google search and Trip Advisor reviews to find a catamaran charter that would fit our group of 38 people. We had a budget that we wanted to keep in mind, but we knew we wanted a catamaran and snorkeling charter, with food and booze for our guests, but that would still be accommodating for our kids in the group. We were INCREDIBLY pleased with Cancun Sailing. We booked transportation through them to and from our resort, for a reasonable price. We chose the morning, 4 hour tour and when we arrived at the docking area, we waited maybe 15 minutes for the boat to arrive from its' marina. The boat had the typical mesh area that 5 people could sit on, but most of our group sat around the edges, (as it was a bit splashy that morning). There was a decent size seating area in the back of the boat, that was great for our elderly or less adventurous guests. Our tour guide/dive master Esteban and the entire catamaran staff was amazing. Esteban took the time to explain to everyone where we were going, safety measures and how to use their equipment. He personally took our children, attached to him with a raft, so that they could also enjoy the snorkeling, but didn't have to worry about swimming alone. The snorkeling area was calm, and not too deep, to where it would have been scary for my kids or first time snorkelers. After the snorkeling portion, we stopped at the town nearby to eat lunch. Some of our guests got off for a few minutes (approx. 20), but we just stayed on and relaxed. On the way back, some guests relaxed, while others turned the party up! We were able to use our personal playlists to play music, and some of our guests enjoyed dancing during this portion of the trip. No one's cup was EVER empty. The staff was ALWAYS there to help take our empties and refill our glasses. Esteban always had his GoPro in hand, and he got pictures of all the guests, as well as some of the fish on tour. We purchased the sim card for $40 at the end of the trip, but we felt like that was a no brainer.
HAIR AND MAKEUP: After reading reviews online, and visiting her Instagram and Facebook, I had no question that I wanted Sara Tamargo and Team at ST Makeup Artistry as my glam squad for the day of the wedding. I'm personally very good at doing my own make up, and was initially unsure if I wanted to book someone for that day. After several of my bridal party members showed concerned regarding doing their own makeup and hair, I decided securing a professional would be much easier and less stressful the day of the wedding. I knew that the heat and humidity of the Mexican Caribbean would be tough on everyone's hair and makeup after a few hours, but Sara uses airbrush make up and all the best hair products for the climate. From the beginning, Sara personally communicated with me through email or Facebook chat, explaining all the options and answering all my questions. She is like talking to an old friend that truly cares about how you want to look on your special day. Her rates are VERY fair, and her work is exquisite. I did a trial a few days before the wedding, which you definitely want to nail down your look, but her team is so amazing that even without a trial, you would be beautiful. I actually knew after my trial areas of my hair and makeup that I wanted to tone down a bit for the big day. The day of the wedding Sara and team arrived even a bit earlier than our scheduled time. We had 8 girls and she brought 4 artists. They listened to each girl's style and gave them exactly what they asked for! It is best to have some photos in mind, in advance. The atmosphere was very calm and relaxing, until my 2.5-year-old was screaming bloody murder because she didn't want to take a bath. The team never seemed annoyed or unnerved by this (even though it was extremely annoying), and after this meltdown they even did her hair too, going above and beyond what we had agreed upon in our contract. My other little girls wanted a little make up, and I was just going to do it for them quickly, and Sara even took over and did this for them, as well. She and her team really went above and beyond for my whole group and I cannot thank her enough. THEY ARE AMAZING!
PHOTOGRAPHER/VIDEOGRAPHER: What can I say about Rachel and Paul (and Freddie, and Stephanie, and the WHOLE ENTIRE TEAM) that has not been said before? From the moment I found Playa Weddings through a Google search, I knew their style was just what I wanted for our wedding day. Paul's videos brought me to tears, no matter how many times I watched. Rachel's photos are beautiful, relaxed and natural, with just the right amount of artistry. The moment I reached out to them, Stephanie, the office administrator, was AMAZING. I think she even answered my first email in less than a few hours, but most emails you definitely get response well within 24 hours. She gave me the price list and was there for any questions I had. If you are questioning whether or not you want videography, their packages make it easy to decide and trust me, YOU WANT VIDEOGRAPHY!!! Once it is over, you can't change your mind. With the package we chose (I think 6 hours of photography and express video, if I remember correctly) we received a credit that we used towards a photo booth, which are always a hit! The day of Rachel and Paul arrived earlier than scheduled time, and started with a few getting ready shots. Rachel was very good at making me feel calm and relaxed while taking photos. Paul, goes unnoticed, which is just what you want from a videographer. During the ceremony I didn't even notice they (or anyone else for that matter) were there, but they are getting everything you want to remember! After the ceremony, they worked quickly and painlessly to not only get each family shots, but a group shot, as well! SO FUN!! Then it was time for the groom and I to get our time alone. I was mostly worried we would feel awkward and over-posed, but it was quite the opposite. It was very relaxing and fun, and even while taking the shots, we knew they were going to be amazing and it was great to get some time to ourselves, away from our guests. During the reception the photo booth was NEVER EMPTY. It came with props, a back drop and two sets of strips printed each "session". We received the photo booth pix within a few days, and they were all hilarious. They stuck around and got some shots during the reception, but like I said, you really don't even notice they are there while you are dancing the night away. The weekend after we returned from our trip, our Highlights Video was ready!! I couldn't believe we got it so fast – like was literally shocked! I watched it 10 times the first day, it was absolutely amazing. I could not have imagined a better video. Anyone who watches it says how great it is and I still continue to watch it over and over. We haven't gotten our sneak preview of our pix yet (as it has only been about two weeks), but I have no doubt or worry that they are going to be breath taking. Trust me when I say, no one is better than Playa Weddings and we can't thank them enough for capturing our special moments.
DJ: We found DJ Mannia through online reviews and we couldn't have been happier! Their prices are fair for everything you get with the service - You get 4 hours of music, an MC, party lights with the DJ booth, cold fireworks, as well as some light up props for the dance floor. We paid for an extra hour of music, which was extremely reasonable. They were super easy to communicate with via email and up until the wedding we worked with Victor. He was great at answering any questions we had, adding the additional hour, and clarifying any information he needed to pass on to the DJ. Music was one of the MOST IMPORTANT elements of our wedding and they NAILED IT! Our MC was Fernando (or maybe Fransisco, honestly I forget, but we were having so much fun and too be honest, we didn't need to chat with him a lot because he was AMAZING at his job). He did all of our introductions, special dances and speeches flawlessly (impeccable English). He is extremely entertaining and professional. Once our photographers had left, we even asked him to take a few photos and he immediately obliged. They played exactly what we wanted to hear to keep everyone dancing and partying. My FAVORITE part (aside from the party) were the FIREWORKS. The picture/video are AMAZING with the fireworks – they definitely are JUST what you want at your wedding!
For any future brides/grooms reading our reviews, please feel free to reach out to us for any questions you might have. We'd love to tell you more or ease your mind!