Cancun
Great Trip... Rainy Wedding Day
This is a review of: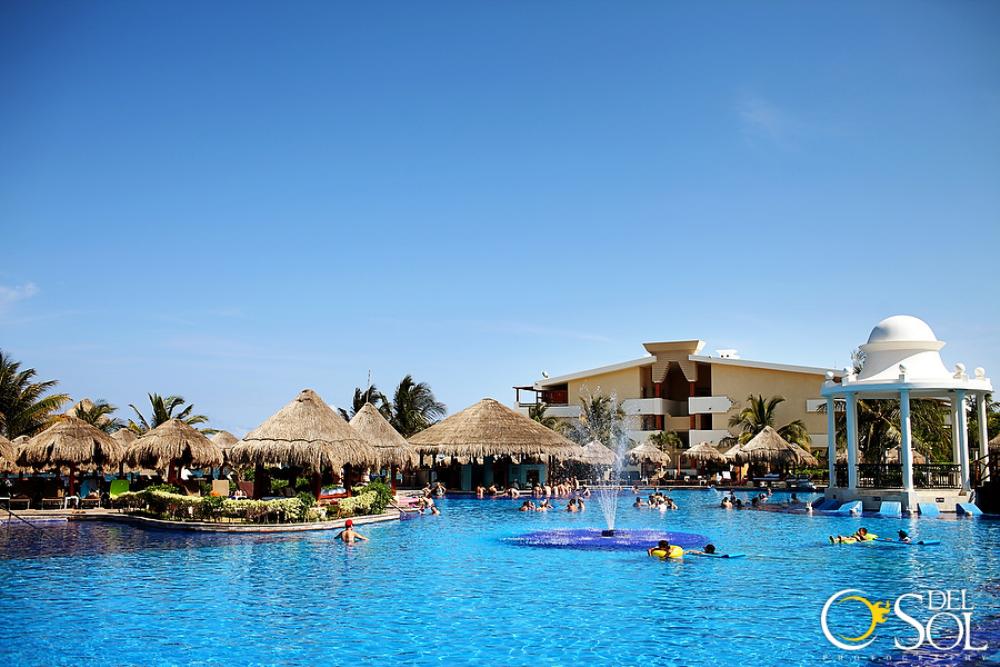 Detailed Ratings
Pros:
Food, Service, Cleanliness
I stayed at Now Sapphire with a total of 32 people for my wedding on 4 May 2016. My family stayed 1-8 May and we stayed 1-15 May to include our honeymoon. To sum up our 2-week vacation - we did NOT want to leave! We absolutely loved every minute at this resort.

A bit about our stay in general:
The #1 thing that most impressed all of us was the food. I loved everything I ate! The a la cartes do not take reservations, so if you favour one, you can eat there every night if you wish. At the busiest time 7-830pm, they may put your name on a waiting list and give you a buzzer so you can go have a drink at the lobby until a table is free. The Buffet was so good for every meal as well! We were blown away by the selection, and the fresh meats and fish at lunch and supper that you could choose to have freshly grilled in front of you. Note: No men's sleeveless shirts in the buffet at supper time. At a la Cartes, men can wear shorts and shirts with sleeves anywhere except Paramor (the French) where they need long pants (no jeans) as it is very fancy. Another big plus for us was 24 hour room service. There's a great selection to order and it was always delicious - and FREE! Some days we didn't want to go down to the buffet for breakfast, so we'd order room service as soon as we got up, then have showers/get ready to head to the beach, and usually within 45 mins food arrived. It was also awesome after a late night out when you have the munchies! lol.
The #2 best quality to us was the service. Everyone who worked there were extremely polite, helpful and always smiling. We especially loved Karina at the Preferred Club check-in. She was a sweetheart and made us feel so welcome. Every employee was always busy, working so hard to keep everything clean and organized, yet still jumped at any opportunity to help a guest if needed. This was the first resort I've been to where everyone had drink service on the beach. I couldn't believe how often the waiters came around while we were lounging on the beach to always make sure we had drinks - this was much appreciated.

About the beach.. We found the beach to be awesome. But we're also from the east coast of Canada and we're not scared of a little seaweed! There is lots of seaweed that washes up on shore due to the huge coral reef along the coast (great for snorkeling!) but the staff work hard all day raking it up. Half the time you don't even see it unless you're out first thing in the morning! Yes there are some small pieces floating around in the water, but it's really not hard to avoid and it's not even bothersome. The water was so warm, and just amazing! Nice white, soft sand. Waves some days, which makes for fun swimming. We spent minimal time at the pool, because we travel for the beach (you can go to a pool anywhere!). But it was nice and very big! There's a swim up bar and the entertainment team puts on fun activities every day.

We booked a Preferred Club Oceanfront room, but upon check-in learned that they had gave us the complimentary upgrade as part of our wedding package to a Beachfront room (1st floor with direct beach access) I didn't want to be on the bottom floor because I didn't like that lack of privacy so we asked to switch back to Oceanfront. Then we were offered an upgrade (at a discount but still pricey) to the Governor's Suite. After viewing this Suite, we couldn't say no. We figured this was a once in a life time trip/experience so we went for it. The Suite was amazing!! Huge! 2 bathrooms, kitchenette, separate living room/bedroom area, and huge terrace with a jacuzzi. It was very clean and comfortable. The AC worked great, we even had to keep turning it down, because it would get too cold! Preferred Club was worth the extra money. We got more booze, lots of water/juice/pop and pringles and m&m's (which I ate every day). We never did end up going to the Adults Only Preferred Club pool because we're beach people. But we did have the Preferred Club Breakfast and use the Hydrotherapy Circuit in the Spa which was very nice!

Now, the WEDDING is a bit of a sore subject for me. Yes, it rained on my wedding day - the only day in 2 weeks! :( I brought 2 suitcases of decorations including: runners, chair ties, 40 yards of turquoise organza for the gazebo, vases, mason jars, candles, place cards, menus, etc. I was supposed to have my ceremony on the beach and reception at Tequila Terrace, but 15 minutes before the ceremony was set to start, the skies opened up and it poured down for about 30-40 minutes. My WC Juan Carlos and his team had to quickly move everything to the back-up ceremony/reception locations. But I was crushed.. It wasn't how I dreamed my big day would go. The back-up location for the ceremony was nice (the checkerboard gazebo beside the lobby) except for the people sitting at coco cafe and hanging out in the lobby/bar that I had to walk past to get to the aisle and the fact that I went from the most private location to now having an audience. I could also hear kids screaming and music from the pool during the ceremony as it was close behind us. We did a sand ceremony and they did not use my sand pouring vases and instead provided their own random ones which were smaller, so there wasn't enough sand to fill my vase, leading to all the sand mixing together after my decor was repacked, so there is no cool design, it's all just blended (annoying!). It stopped raining by the end of the ceremony, so we were able to go take pictures down on the beach off of tequila terrace where we should have been all along. My dress got soaked on the bottom dragging it through puddles, and then in the sand and around the floor... by the time were were done pictures and heading to the reception it was filthy! I did not really like the back-up location for the reception. It was in a ballroom that felt way too big for us, and it was just kind of bland looking; beige walls, ugly carpet. I know it must have been pretty hectic for the employees trying to move all our stuff in the rain, but my décor was wet; my burlap runners were all crumpley, and some things were missing or not in the right places. I'm not sure why they ended up using half real candles and half LED which I only brought as a backup in case of wind, I had more than enough real candles for all my jars (annoying!). They didn't put my "just married" burlap banner across the front of our table either. I had a whole timeline laid out for dinner, speeches, dances, etc. because I knew 3 hours would go by fast. But this got kind of screwed up from extra surprise speeches, and our DJ (Disco Movil) slacking a bit on announcing things, such as the Father/Daughter dance. Also, they didn't put my ribbon that I brought on the cake like I asked. All in all, we still partied the night away and continued the party in the night club after the reception ended. My suitcases of decor were delivered to my room the next day. I never bothered to look inside them because I didn't want to think about anymore wedding stuff at that point. But, I will advise you to check your stuff right away. The night before we were due to leave, I starting packing and re-organizing those suitcases and realized I had a lot of things missing! I did not have my Ipod (used for ceremony music), no runners, no chair ties, no 40 yards of organza gazebo fabric, wooden Mr & Mrs sign, burlap just married banner (which wasn't even used!) and some led lights. Of course this was Saturday night and WCs are off Sundays. Karina from the PC check-in was able to get my Ipod, but I never got anything else back. Juan Carlos emailed me days later basically saying they don't know where the rest of it ended up and that he would buy me new stuff online and ship it to me, but I was just over it and said don't bother. So check your stuff as soon as they return it to you!
Everyone said they still had a great time and thought everything was beautiful, but I'm not gonna lie - I spent my wedding night balling my eyes out. When you spend so much time, effort and money for 1.5 years trying to make your dream wedding come true and mother nature craps all over it, it really sucks! It was heart wrenching to watch all the other perfect looking weddings every day for the remainder of my 2 week trip, since it never rained again! If we would've had good weather and been at Tequila Terrace like I wanted, this review would probably be 5/5, 100% positive. I think all the negatives with the WC and his team just happened from the last minute rushing around, from what I've read from other brides, their weddings went off without a hitch. So I don't want to fault the resort too much for my experience. I would still 100% choose this resort again if I could do it over.
Please feel free to ask questions.