Cancun
Beautiful Resort and Fantastic Wedding Coordinator
This is a review of: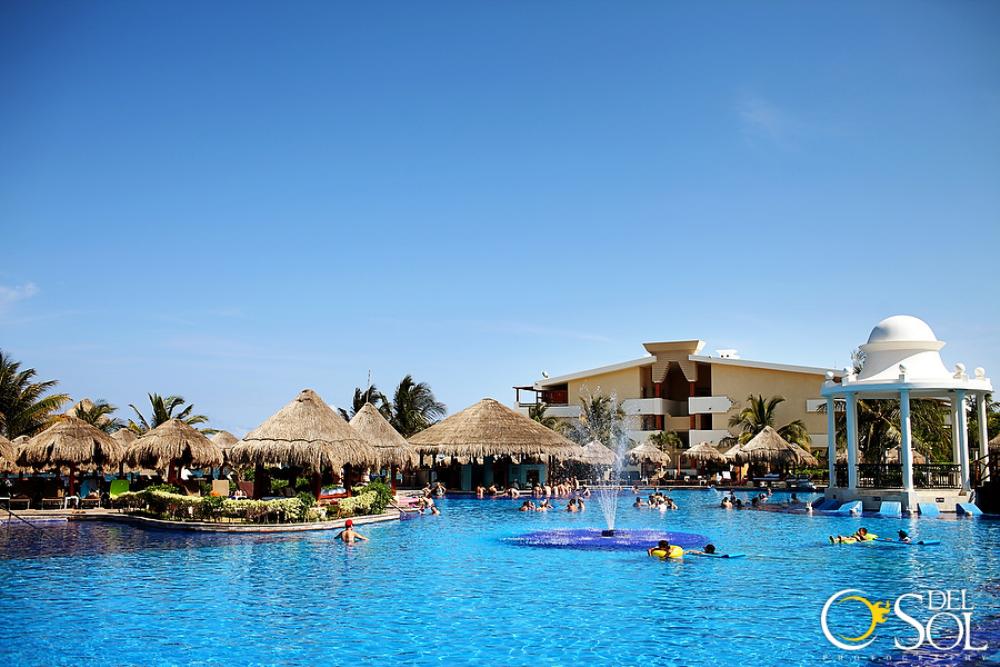 Detailed Ratings
Pros:
wedding coordinator, beautiful resort, excellent restaurants and service, spa
Cons:
issues booking golf through the concierge
Date: April 7, 2016 (stayed April 3 – 10)
Hotel: Now Sapphire
Venue: Tequila Beach & Tequila Terrace
Coordinator: Juan Carlos
Package: Divine
Flowers: Resort
Time of Ceremony: 4pm
Number of Guests: 38
Hair and Makeup: Resort
Cake: Resort
Officiant: Resort
Videographer: Resort
Photographer: Match Studio from Vancouver, BC
(http://match-studio.myfotojournal.com/)
DJ: N/A
Décor Vendor: Love & Lace Decor
Get ready for the longest review ever! :D Our wedding was in April 2016 at Now Sapphire, near Puerto Morelos, in the Mayan Riviera. We had a total of 40 people, including the bride & groom and 5 kids, ages ranging from 2 - 82. Overall, we had a fantastic experience and highly recommend this resort to other destination wedding couples. I'll try to cover as many details in my review as possible (and it is LONG), but please feel free to reach out directly with any specific questions.
Travel Agent
We used Liz Moore Destination Weddings based in British Columbia. Overall, we were happy with the service provided by our travel agency.
Airline
Our packages were booked with Air Transat. No issues with Transat. We've flown them before and it was as expected.
The Resort
We'd been to a Dreams resort before (actually, we met at a wedding at Dreams Tulum), so we were somewhat familiar with AM Resorts. I also had a co-worker who was married at Now Sapphire in 2012, so the first hand report from her helped to solidify our decision. We were not disappointed. We've been now to a total of 5 all inclusive resorts in the area. While some of the others may stand out as being better than Now Sapphire in one or two areas, Now Sapphire is overall the nicest resort we've been to. It is solid across the board, with no real downfalls that I encountered.
Preferred Club: We upgraded to Preferred Club, as did a number of guests. It only cost us about $120 each extra per person for the week, and we felt it was well worth it, particularly if you don't have kids (because it is the only way to get access to the adult only pool). Benefits that we and/or our guests enjoyed:
Preferred Club breakfast buffet: Choice was more limited than at the regular buffet, but minimal line-ups for the omelette station.

Preferred Club lounge: Front desk type service, without the line-ups. Snacks, drinks, yummy coffee machine (about 15 different options available). Serious AC!

Upgraded minibar: Mini bottles of Bacardi, Jack Daniels & Finlandia vodka, plus peanut M&Ms and Pringles.

Preferred Club Pool: Quiet, serene pool that was adults-only. Also can reserve cabanas at the PC pool or the regular pool a day in advance.

Hydrotherapy Circuit at the Spa: This is available at no cost to PC members. It's a nice way to get out of the sun and relax for a bit. They say you can only use it for 1 hour, but I was there for 2 with some girlfriends.
Staff: We had excellent service from all staff. With very few exceptions, they were friendly, happy and willing to help.
Restaurants/Bars: We ate at: the buffet (dinner & breakfast), Preferred Club breakfast buffet, Fresco (Mexican), Blue Water Grill (lunch only), Cibu (Mediterranean), Lemongrass (Asian), private dinner on the beach & room service. Although we never had dinner at Blue Water, I'd say it was my favorite. I loved sitting outside and they had amazing seafood options (although I heard that the dinner menu was more meat-oriented).
Service and food at all restaurants was very good. Sure, some dishes were better than others, but nothing was horrible. Reservations are only required at Lemongrass for the Teppanyaki tables. Other restaurants would give you a buzzer so that you could hang out at the bar until your table was ready. For larger groups (10+) it could take an hour to get a table.
Our private meal was excellent and service was simply outstanding. Unfortunately it was VERY windy that night, with sand blowing in our faces as we were waiting for our order to be taken. We asked to be moved up to the Blue Water terrace, as the restaurant happened to be closed that night. They were very accommodating and moved us immediately.
We had room service twice. I ordered lunch for my bridal party on the wedding day. We ordered two salads & a pizza, plus a bottle of bubbles. The pizza was not great and the salads did not come as ordered (they were supposed to have chicken on them, but did not, and we asked for dressing on the side, but they came dressed).
We also had room service the day after our wedding, which was included in our Divine package. It arrived on time and was very nicely presented. Food was good - fruit, pastries, eggs, bacon, etc. They also poured mimosas for us. We enjoyed breakfast on our balcony!
Our group spent a lot of time in the Lobby Bar. It was a pretty busy spot at night, but if you hung around long enough, you could grab some couches and a table. Drink service was sufficient or you could go up to the bar to get your own.
On our second night (we arrived fairly late on the first night), we planned an informal meet & greet at the bar. We didn't organize anything with the resort, just told our group to swing by. Unfortunately that night they had relocated the buffet dinner to the lobby bar, so there wasn't a lot of space. Luckily we send some "advance scouts" who were able to get us an area towards the back, close to the theatre. It worked out fine, but if you are thinking of doing something similar, be aware that they do occasionally have a full dinner service set up in the lobby bar. It happened at least twice while we were there. I believe they may note it on the daily events sheet when possible, so be sure to check there. Sometimes I think it wasn't planned (i.e. when the weather did not cooperate with a wedding reception, they moved the reception into the buffet area and the buffet to the bar).
We went to the nightclub a couple of times, but didn't stay long. Friends in our group went a few other times and had fun. One night was karaoke. We didn't really participate in any of the nightly entertainment options, so can't comment on that.
Pools: There were three major pools: the main pool, the adult pool (preferred club only) and the kids pool. The main pool could get pretty crazy in the afternoon, especially around the bar. But it still seemed spread out enough that people could find more quiet corners if they wanted (we spent very little time here, so can't speak too much from experience). The kids pool was rarely busy, but the older kids in our group seemed to enjoy it. Personally, I loved the adult pool. It was quiet and pretty. But if you like to party, you'll want to stick to the main pool.
Rooms: Our guests seemed happy with their rooms. I only saw the inside of two other rooms briefly, so can't really say much about anything but our room. We ended up with a Preferred Club Oceanview room (building 5, 2nd floor). We had booked a Preferred Club garden view room, but our wedding package included an upgrade (if available - we asked at check-in, not sure if we would have gotten the upgrade otherwise). We had a lovely view of the beach and the ocean towards the end of the property. We had a jacuzzi on our balcony, but we never used it. There was also 2 chairs & a small table out there.
[sharedmedia=gallery:images:83092]
View from our Room
Our room had different decor from the other two rooms that I saw (one of which was PC Garden view and the other was regular garden view). I liked our decor better - some lime green accents and a beautiful canopy over the bed. Not sure if that was due to the Oceanview room, or if we just lucked out. We also had a shower in the bathroom (no tub), while I believe the other rooms had a tub (no shower). If one or the other is important to you, you may want to inquire.
Our bed was super comfortable, which I find rare in Mexico. The beds are usually rock hard. The pillows were also comfortable although a bit small. Our AC seemed to be the perfect temperature the entire time we were there. The only glitch was when we arrived, our AC was dripping on the floor (there was a puddle in the entrance hall). But the bellboy called maintenance and someone was there within 5 minutes. By the time we came back to the room after dinner, everything was cleaned up and working perfectly. Our room was kept immaculately clean the entire time. Mini bar was restocked daily, as needed.
Beach: I'm not really a beach person. I like walking on the beach, but I'm not a fan of lying out on the beach. Salt & sand in every nook & cranny is not my thing. That said, I was really happy with the beach and did spend some time there. The sand was SOOOO soft, like nothing I've ever felt before. The water was the perfect temperature. There are some fish in the water and a couple of our guests were nipped, but nothing to worry about.
In terms of the infamous seaweed problem, it was not bad when we were there. The resort was very good about cleaning it up - always someone out there raking. It was nice that they didn't use a big tractor like some of the other resorts do, since it can be very loud and disruptive.
[sharedmedia=gallery:images:83075]
No seaweed!
Our group took advantage of some of the amenities available at that beach, including bocce ball, hobie cats and kayaks. The servers there were great, keeping on top of our empty drinks. One day there were fresh fruit cups delivered as well.
Wedding Coordinator
We had Juan Carlos assigned to us immediately once our contract was signed in March 2015. I also had a call with him prior to signing the contract, in order to answer a bunch of questions I had. We were lucky enough to book a last minute vacation to the area for the end of March, so arranged for a site meeting with him as well. It was great to meet him face-to-face and see the resort in person (although I was a bit scared at the same time, since it was too late to back out if we didn't like it). I didn't speak with him again until we arrived on-site for our wedding. Everything was done via email.
I can't say enough good things about Juan Carlos. Unlike many of the stories I hear from other resorts & brides, he was always very prompt in answering my emails. I'd say 3 - 4 days early on and within hours as we were a few weeks out from the wedding. He wouldn't hesitate to get pricing for us, redo our budget, provide recommendations or suggestions, etc. In chatting with him during our site visit, we learned that he has a wealth of industry experience, including training as a photographer and working as a sous chef (?) for a catering company. He knows his stuff! I trusted him from the beginning and he did not let me down.
Pre-Wedding Prep On-Site
We met with Juan Carlos on Tuesday (arrived Sunday night) to go through our wedding planning document, ask any questions, go through the decor that we brought and do a quick walkthrough. It was pretty simple and took about an hour. I had some questions about some changes I was hoping they might make, but they were definitely not part of the "template" and for the most part we were told they weren't option.
We had rented decor from Love & Lace in Playa del Carmen and gave this to Juan Carlos at this meeting. He recognized the materials and asked if we had rented from L&L. I was worried that we might be charged an outside vendor fee, but at this point there wasn't anything we could do, and I wasn't going to lie, so I told him that we did. We luckily did not end up getting charged.
I sent my dress to be pressed on Wednesday. I was told to leave it in the room by noon and it would be back by 5pm same day, I believe. I was pleased with the quick turn around and also how they returned it. I was worried it would be in a see-through drycleaning bag and I was planning to get back to the room before my fiance. But I forgot! However, it was hanging from the bed canopy, wrapped in a sheet, on a cardboard form to help keep the shape. I was really impressed.
[sharedmedia=gallery:images:83091]
We arranged for a quick rehearsal on Wednesday morning. We were having a very simple ceremony, but I'm still glad we did it. Everyone knew what order they were walking in, with whom, where to stand and generally how things would go. I recommend doing this, even if you have a simple ceremony. It took about 30 mins.
Wedding Day!!!
Spa: The salon is quite small and there was another bridal party in there when we went. That meant that we were all spread out and couldn't really talk to each other. Eventually the other bridal party was done and it was a lot nicer - quiet and more private.
My sister and I both had our hair & make-up done, while my best friend only had her make-up done. Moises was my MUA/hair stylist and I loved what he did with both. I showed him a few photos of hair and make-up and he took it from there. He hardly said a word to me, so I don't know that he spoke English very well, but he seemed to understand any request that I had or comment that I made.
The hair photos that I showed him were pretty simple, but he really took it up a notch and made it something special. I was a bit worried because he curled my hair at the back and my hair doesn't usually hold a curl very well. In fact, I chose the styles I chose because I was worried any with curls would fall. But it held. Man, did it hold. Of course there was a lot of hairspray in it, but it did the trick.
[sharedmedia=gallery:images:83087]
I thought my make-up was very natural looking, which is what I wanted. Although if you were up really close, it was a bit cakey. But a foot or two away and in photos, it looked amazing. Again, he did a good job replicating the photos I showed him.
[sharedmedia=gallery:images:83088]
[sharedmedia=gallery:images:83089]
[sharedmedia=gallery:images:83090]
My sister's hair was beautiful as well - she didn't come with a photo and simply picked something out of a book at the salon. For make-up, I believe they had her select from a few eyeshadow color options and her eyes turned out beautifully. Unfortunately her foundation was quite orange and did not blend well into her neck. We didn't notice until we left and there was no fixing it ourselves (we tried, but there was no blending to be had). My best friend's make-up turned out really nicely. She was happy with it.
Not on the wedding day, but I also used the spa for the hydrotherapy circuit, which was relaxing and a nice quiet break in my day, and also for a couples massage that came as part of our Divine Package. The massage was VERY good!
Pre-Wedding and First Look Photos: We have a good friend who was already coming to our wedding, who happens to be a professional wedding photographer, so we asked if he would be willing to shoot our wedding. We were really happy with this because we know him and felt comfortable with him. Also, his wife basically acted as his assistant that day - she is a very close friend of mine, so it was nice to have her there.
We started with photos of us getting ready at the salon. Then they went to the guys rooms to take some shots of them. Then to our room for shots of the girls getting dressed, etc. Then it was time for the first look photos. That was an interesting experience - I'm really glad we did them. It was one of my favorite moments from our wedding day. But it was also a bit weird, as it has to be staged to some extend to make sure that the exact moment and emotions are captured. But I loved his reaction; I will never forget the look on his face - partly because I have a photo that captured it. We took a few more couple photos after the big reveal and then we went our separate ways again. We did photos of me with my bridesmaids and then it was time to go.
I'm not including a review of our photographer, as he doesn't generally do destination weddings. However if anyone needs a local Vancouver photographer, I would definitely recommend him: Match Studio.
Flowers: The Divine package included: 1 centerpiece, 1 bridal bouquet, 2 corsages and 2 boutonnieres. We also added 2 bridesmaid bouquets, flowers on our cake and some single flowers for the tables (we supplied vases). This was an extra $232 including taxes. The bridesmaid bouquets, corsages & boutonnieres were pretty simple and turned out exactly as I wanted.
For the centerpiece and my bouquet, I had provided Juan Carlos with a bunch of different photos, where I liked something from this one, and something from that one, etc. We also talked about it a bit in our pre-meeting. I could not have been happier with the flowers that I received, especially since I didn't provide him with one specific request. They were absolutely stunning and exactly what I wanted.
[sharedmedia=gallery:images:83084]
[sharedmedia=gallery:images:83085]
[sharedmedia=gallery:images:83086]
Ceremony: My girls and I were picked up in a special Hummer golf cart (haha) to be taken to the main part of the resort. Since I had already seen Jeff for first look, we didn't have to orchestrate anything to keep me hidden. The entire bridal party met just inside the doors to the terrace and proceeded to walk out. The resort played music on the sound system as the wedding party walked out and then we had a friend of ours playing the saxophone for the bridal procession. My parents walked me down the aisle.
[sharedmedia=gallery:images:83077]
We had a very simple ceremony. The officiant's script was very lovely, although I can't really remember what she said now. Her English was very good. We also said our own vows. We didn't do a sand ceremony or anything like that. There was a document to sign at the end, even though it was a symbolic ceremony.
[sharedmedia=gallery:images:83078]
After it was done, we walked up the stairs to the Tequila Terrace for a champagne toast, accompanied by the saxophone again. I almost didn't do the champagne toast. I didn't really want to add extra glasses of champagne (prosecco, actually) for the extra cost. But decided at our pre-meeting that we should. I'm glad we did. It gave people a reason to mill about and we were able to "cheer" everyone as they hugged and congratulated us.
[sharedmedia=gallery:images:83079]
Decor: Our reception area was set up to the left (walking up the stairs) and the cocktail area to the right under the pergola. The bar was straight ahead. I noticed that there was some extra decor that I had not ordered - some lanterns on the tall rounds in the cocktail area and some extra candle holders on the head table. I didn't have a lot of decor (which was my choice), so it was nice that they supplemented it with some extras at no cost. They also moved the centerpiece from the ceremony area to the cocktail area.
They also set up strings of lights under the pergola and around the poles there, as well as papel picado under the pergola (we rented this from Love & Lace). They also took the vases I rented from L&L and filled them with the flowers we added to our package. There was an extra $348 including taxes in set up fees for this (as quoted). Unfortunately some of the lights weren't working, which we didn't realize until it got dark. Once we said something, they got a technician and a ladder out to fix them.
[sharedmedia=gallery:images:83080]
[sharedmedia=gallery:images:83081]
[sharedmedia=gallery:images:83082]
Cocktail Hour: We went for our photos, with cocktail hour starting about 1 hour after our ceremony ended. By the time we came back, cocktail hour was in full swing. For appetizers, we had chosen:
Sliced tomato & mozzarella al pesto

Pork baked in leaves "sopes"

Fried shrimp & bacon

Shredded chicken torta
We also had a signature cocktail that was a cucumber vodka mojito. I drink vodka mojitos all the time in the summer (not a huge fan of rum). I wanted something green and refreshing. I found the drink a bit too sweet for me (I don't like sweet drinks), but a lot of people commented that it was really tasty.
I was able to try all of the food and it was all delicious. It seemed like there was more than enough to go around. Our guests raved about the shrimp & bacon - everything IS better with bacon, I guess! The wait staff was awesome - making sure we had food & drink the minute we were back.
Dinner/Dance Reception: The head waiter came to me to ask if we should start sitting down for dinner, so we somehow got everyone to sit - I don't remember how! Below is the timeline we planned and I think we more or less followed it - prompted either by our MC or the head waiter. I would have never been able to keep this on track, so I'm thankful for their help!
6:30 PM
Reception Starts
6:40 PM
Intros & Champagne Toast
6:45 PM
1st course/Best man speech during 1st course
7:15 PM
2nd course/Maid of honor speech during 2nd course
7:45 PM
Main Course/Bride & groom thank you during main course
8:15 AM
Dessert
8:20 PM
Dancing
9:15 PM
Cake Cutting
We had one head table and 4 round tables. We did assign tables but not seats. Everyone had an escort card indicating their table number and also they were color-coded according to the main course choice and/or any dietary restrictions.
[sharedmedia=gallery:images:83083]
Here was the menu we picked:
Appetizer or Salad: Mixed lettuce and shrimps, diced mango and ginger, mango dressing

Soup: Tomato chicken broth with corn tortilla strips, etc

Entrée: Beef filet bordelaise OR Supreme of chicken w/spicy almond sauce, fetuccini & vegetables

Dessert: Cognac truffle cake
We had tried all of these, except the chicken entree, at our site visit as year before, so we were fairly confident in our choices. Everything I had was very good. I didn't try the chicken entree. I heard it was good, but could have used more sauce. We had quite a few dietary restrictions in our group, which the resort seemed to handle well. Everything was beautifully presented and it didn't seem to take long for people to get their meals (of course, we were served first).
The head waiter was amazing - his name tag read George (his name was actually Jorge). He really took the lead and also made sure that we were well taken care of. I tipped the banquet manager (I can't remember his name - but he was great as well) a lump sum to share with all the staff, but I slipped Jorge an extra tip. He was fantastic.
After dessert, we had our first dance. It was something I had debated not doing, but decided to stick with tradition. However, we didn't have a special routine or anything (nor do we really know how to dance), so it felt a bit awkward. I also hadn't planned bride/father and groom/mother dances, but our parents cut in and we had them anyhow, followed by bride/FIL and groom/MIL. It was actually really nice, but glad we didn't end up with a whole bunch of separate dances in a row.
Then we fired up the dance tunes and people really got into it. We had a bluetooth speaker, an iPhone 5 and the Wedding DJ app, with a friend in charge. It was just fine of our needs. The bar was open and pouring lots of shots, which always helps with the dancing ;)
Jorge reminded me that we should cut the cake, as I had completely lost track of time again. The cake came out and again, I was very pleased with what they had done with it. I had showed Juan Carlos a few photos and basically told him to do "something like that" - it was perfect. I didn't love the icing - very thick and sweet (maybe whip cream?). But the cake was moist and delicious. We did not add to the size of the cake (package comes with cake for 25) and there was tons left over. We had brought little "take out boxes" and plastic forks with us so that people could take cake back to their rooms (since we had just had dessert!). And some people did take advantage of that.
[sharedmedia=gallery:images:83076]
Our reception was supposed to end at 9:30. Around that time, I found the banquet manager and asked him what would happen with everything we brought with us. He said it would be packed up and returned to us the next day. I asked if we could keep the speaker and stay longer. He had no problem with that and said he would come back around 10-10:30. They did close the bar, but people just did runs to the lobby bar. Around 10-10:30, he did come back with a bottle of prosecco, but no glasses. Asked if we were still okay and then left. So we started drinking out of the bottle and kept dancing! He came back again around 11, with another bottle, and then wandered off. Jeff and I left around 11:15, I think. I believe some people stayed a while longer, maybe 11:30-11:45 and then headed to the nightclub. But they never kicked anyone out! It was great and more than I expected.
As promised, the next day all of our decor, etc. was delivered to our room. We did lose a couple of table number holders and a few tealights, but I wasn't too concerned about it. I do wish they would have delivered everything a bit earlier, as I wanted to enjoy my flowers and it didn't arrive until the evening, but no big deal. I don't know what happened to the other bouquets (bridesmaids & centerpiece). My BMs may have taken their bouquets back to their rooms. If it's important for you to have your flower for a few days until you leave, make sure to request them.
Excursions/Vendors
H2Oh Sun Cruises: I will do a separate review of this excursion.
Golf: We had booked an afternoon of golf at the Cancun Country Club for approx 10 people through the resort concierge. The numbers had been fluctuating up until the night before. My uncle's arthritis was acting up, my dad hurt his foot on the boat, etc. But we'd kept the concierge updated and they said everything was fine.
The pick-up time was supposed to be 11:30 for a 12:00 tee time at the Cancun Country Club. One of the guys happened to be the in the lobby at 11 and the driver was already there, waiting impatiently. That prompted a whole bunch of text messaging and What's App messages to try to round up the group. Apparently the driver & the concierge were arguing about the pick-up time in the lobby. Finally everyone showed up and they headed off the golf course. When they arrived:
The golf course had the wrong number of golfers on the reservation. It wasn't the original number or any of the updates we had noted.

The price was different from what we'd been told.

There was no all-inclusive food and beverage available, as we'd been told.
In the end it all worked out - they didn't charge us for the "no shows" and the guys actually ended up paying less than expected. It sucked that there was no food & beverage option, as they ended up barely eating and just drinking (of course). They said that even if they had wanted to buy food, the cart only had Cheetos. My recommendation is to at the very least verify the details with the golf course if you book through the hotel. Or maybe just book directly. It caused quite a bit of unneeded stress for Jeff. Thankfully, I was blissfully unaware and lounging at the pool :) The guys did have a good time, though. They said it was a really nice course, although very hot (to be expected).
Love & Lace Decor (KatyHK): Katy was awesome to deal with. We rented the following from her: small blue vases of various shapes & sizes, globe lights, fairy lights, papel picado, bluetooth sound system, LED tealights. She also bought us limes to use in our decor.
We had problems getting the microphone to work with the sound system. Luckily we tested it in advance. She arranged to bring us a second sound system and 2 microphones so that we had some options. No extra charge for that delivery. In the end, we used one sound system with a mike for the dinner reception and the other sound system (no mike) for the dance. We could only get 1 mike and sound system combo to work - make sure you test this out!!!
We returned everything to one of Katy's staff. I mentioned the missing tealights to her in an email, but she said she wouldn't charge us for them. She also said she would do some testing with the speakers & microphones for future reference. Some of the equipment was brand new and hadn't been tested yet.