Riveria Maya Corridor
The Most Amazing Wedding and Vacation Ever!
This is a review of:
Detailed Ratings

Pros:
Great Drinks, Amazing Food, Great Wedding Coordinator, Great Location, Great Value
Cons:
Seaweed on the beach
We stayed at the Now Jade Riviera Maya from Sunday, June 14 - Sunday, June 21 with 55 guests (57 including us). Our wedding was on Wednesday, June 17 on the pergola at 5 pm. We had our cocktail hour at the mix bar at 6,, and our reception at Castaways from 7 - 11.
Pictures by Photos in Cancun: https://www.facebook...=1&l=d36589a522
Trash the Dress: https://www.facebook...=1&l=0de529af7e
Slide Show (a nice highlight of all the best parts of the day): https://animoto.com/...1lA?autostart=1
Sunday, June 14:
Check In: When we arrived Sunday, the Riviera Maya was at the tail end of a big tropical storm from the week before and it was raining, so the lobby was pretty crowded when we got there. We had a total of 55 guests (plus the two of us) and almost everyone came on the same flight and took a big bus to the resort, which made it even more crowded. It made me feel a little stressy, so I was VERY thankful when they whisked us, my parents, and one other couple from our group to the preferred lounge to check in, which was a breeze. I can't speak for how check in went for everyone else, but I didn't hear any complaints. We were a little early and all had to wait a little while for our rooms, but everyone walked around and got a bite to eat, so it was no big deal.
Rooms/Preferred: We had an ocean view room on the preferred side and it was great - they gave us the room closest to the ocean (without being 'ocean front'). I'd recommend being preferred during your wedding trip. I think on any other vacation I could take it or leave it, but it was nice having the private check in, access to the preferred lounge (where they have awesome snacks and an open bar all day), and the bigger room with a separate living room and bedroom for getting ready and taking pictures. We were on the opposite side of the resort from almost all our guests, but I actually liked having a little privacy.
Cocktail Hour: I requested to have an area blocked off for our cocktail hour in the evening but that didn't end up happening, which really didn't matter since it had stopped raining by then and the lobby wasn't crowded, so everyone just congregated in one area. We had servers bringing us drinks all evening, which I didn't expect, so the sectioned-off area wasn't really necessary.
Monday, June 15:
Wedding Coordinator Meeting: I got an email from Pilar several weeks before saying that my wedding coordinator would be Carla, but it turned out that Pilar herself was our actual wedding coordinator. We brought all our decorations with us and showed her what we had for each part of the wedding, went over the bridal party order and who would be walking with who, reviewed the script a little, talked about chair bows and the table setup, yadda yadda yadda. It was very easy and made me feel a lot better, since I was worried that I was underprepared - she asked questions, I answered them, and everything was settled. Piece of cake.
Tuesday, June 16:
Rehearsal: As I mentioned, there had been a huge tropical storm the week before our wedding. Other than when we arrived on Sunday, the weather was gorgeous for us the entire trip - not a drop of rain! There was, however, a TON of seaweed on the beach from the storm. I've been to the Now Jade several times and the beach has always been lovely, but it was literally covered in 6 inches of seawood all the way down the coast. They had begun to clean it that day, but I was still a little nervous since we were supposed to have our ceremony on the beach. We had our rehearsal there anyway, with our whole bridal party, ring bearers and flower girls, and parents. She walked everyone through how to walk and where to stand and all that jazz. Being there made me a little nervous about the location, though - beside the seaweed, the beach location was RIGHT in front of the adults only pool. I was worried there would be some drunk idiot watching our wedding from the bar screaming stuff at us or something. Definitely not a lot of privacy.
Later, Pilar asked if we wanted to move our ceremony somewhere else. Ours was at 5 pm, and she said that even though there was a wedding at 4 pm at the pergola, we could stil have ours there, as long as we didn't mind if it possibly started at 5:15-ish. Me and my FI talked about it and decided that was the best choice. We were a little sad we wouldn't have our toes in the sand, but I felt a huge weight off my shoulders as soon as we officially made the switch, since I knew I wouldn't have to worry about the seaweed or the spectators. And even though we had already had our rehearsal on the beach, everything went perfectly smoothly at the new location.
Rehearsal dinner: I had planned to just have everyone meet in the buffet for an informal rehearsal dinner at 8 pm, but at our planning meeting, Pilar asked me if I wanted to move it up to 7 pm and have it in the ballroom off the lobby, where they were having a Mexican buffet. I said sure, and we passed the info along to everyone. It turned out to be amazing! There were all these lovely round tables set up with linens and centerpieces, an amazing and huge buffet, and the BEST mariachi band I'd ever heard serenading each table! Even though she reserved us six tables right up front, there was hardly anyone else in the room. I think people thought that I had planned it as a special private event for the rehearsal, and I didn't correct them! It turned out to be such a blast. I'm pretty sure they do that every week (not sure if it's always on a Tuesday like it was for us), but I'd recommend finding out when that is and having your whole group go - it's great!
Wednesday, June 17 (The Big Day!)
Hair and Makeup: Okay, this is the only part of my entire experience that I can't rave about. They brought me into the 'bridal suite' (which was just a little room) with my sister-in-law, while my other friend got her hair done in the outer room. The two stylists were talking to each other incessantly, to the point where I could barely get a word in edgewise to either her or my sis-in-law. It wasn't an overly pleasant experience.
Three out of my five my bridesmaids got their hair done, by two different stylists between the three of them, and they all looked GORGEOUS. Their hair was absolutely fabulous.
I had a different stylist than either of them, and my hair was just okay. I didn't feel like it looked very similar to the picture I showed her. Looking back at pictures, though, it photographed well, and accomplished my main goal, which was to have it securely up and away from my face so it wouldn't be blowing around in the wind, so I can't complain too much. I would HIGHLY recommend that all brides getting married outside near the beach have their hair up. I literally couldn't imagine 1) how hot it would have been and 2) how much time I would have spent pushing it back off my face from the wind if I had worn it down. All my bridesmaids said the same thing. While long loose hair is pretty, it's just not practical in the sea breeze!
Then there was my makeup - the same stylist who did my hair took me over to get my makeup done. It was just kind of a table in the middle of the room with random makeup bags and cases all over the place. It didn't look very professional. I showed her a picture of Kim Kardashian's wedding makeup and told her that's what I wanted, and showed her all the professional makeup I brought from home (if you're getting your makeup done there, I'd highly recommend bringing your own). She looked a little overwhelmed, and I was nervous to say the least because, not to be mean, but her own makeup didn't look so hot - her own heavy black eyeliner around her whole eye in extremely jagged lines was stressing me out a bit. She went to work, and again, the whole time was conversing with the other stylist, who was just hovering around, but this time it was clear that the other stylist was instructing my stylist what to do every step of the way. I could hear them talking about colors a lot and she kept gesturing and pointing to show her what to do, and telling her what colors to use. Honestly, it seemed like she had never done anyone's makeup before in her life, and the other girl seemed to know what she was talking about. I almost stopped and asked if she could do my makeup instead at several points because I was starting to get very nervous! She actually did take over at the end to put on my false eyelashes, and then seemed to correct and fix a few things when she was done.
The end result was...not good. They only used some of my makeup, and what they used of their own was very coppery and brassy, not at all what I wanted. I went back up to my room, where all my bridesmaids were waiting, and was like "Guys, this looks awful, we need to fix this." In true bridesmaids fashion they all started gushing about how beautiful I looked, but I told them this wasn't the day to lie to make me feel better! Then I got "Welllllll…...maybe we need to take off some of this brown eyeliner…." and then we went to work. Basically I just went over their makeup with my own, and it turned out fine. All in all, that was the biggest "crisis" of the day, and it wasn't a big deal, so I can't complain!
To summarize, I think most of the stylists do a great job with hair at the Now Jade. Makeup...I can't really be sure. If anyone can think of a polite way to request NOT to have someone, I would try to avoid Gina for hair and makeup.
Flowers: I LOVED my bouquet and my bridesmaids' bouquets. I know nothing about flowers and wasn't really picky about the type, so I just sent Pilar a picture of the colors I wanted, and they turned out perfectly!
The Ceremony: The ceremony started around 5:15 instead of 5, as Pilar said it might. The setup was so incredibly lovely. I loved the rose petals in our colors along the aisle! The only decorations were our chair bows (which I just rented from there - they're too expensive, but I just didn't feel like dragging them down with me), the aisle flower petals, the flowers on the table at the front, and a seashell garland I brought from home. They also added some lanterns along the aisle that I didn't rent, so that was either from the ceremony that happened right before ours, or maybe they just always use them to hold the aisle runner down. I was worried about not having enough ceremony decorations before we left, but I loved the simplicity of it, and with the gorgeous pergola and the ocean in the background, there's really no need for a bunch of other decorations to make it look wonderful.
We had the violinist as our musician. I honestly never even laid eyes on her, but she sounded lovely!
Our officiant was adorable, although honestly, I'm pretty sure he had never read our script before right then. We realized we had made the first part waaaaay too long - he read it extremely slowly, and with his thick accent, some of it was hard to understand, but even though it dragged on a little long at first, I really didn't mind. It gave me some time to calm my nerves, gaze at my almost-husband (who was GLOWING, so cute!), and look out at all our friends and family. Plus, it's just a quirky little part of getting married in Mexico.
I am SO glad we moved our ceremony to the pergola. Even if there hadn't been seaweed, after seeing both locations, the pergola is much more scenic and private. It also goes to show that nothing is set in stone, even though it feels that way after you send in your paperwork and get your contract. Even the day before your wedding, they're great about switching stuff up when you get there.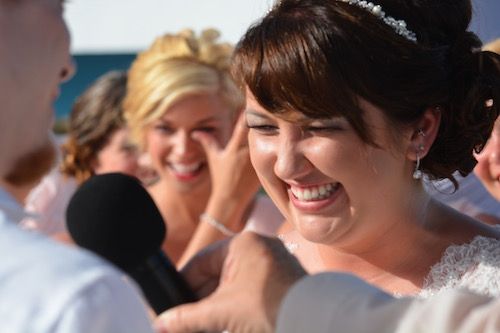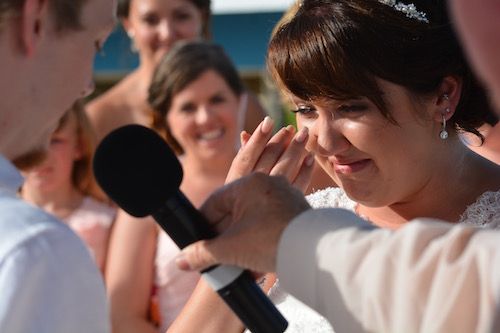 Cocktail Hour: Right after the ceremony we went down to the beach bar and everyone got their glass of champagne as they walked down the stairs (they even had shirley temples ready for the kids).
I got to hug everyone as they walked by, which was really nice.
I saw the food off to the side and the signature drinks floating around but I didn't get to try any of it, since after that we went off to the garden area to take pictures. The beach was still overly seaweedy for the pictures to look pretty so all of our family and bridal party shots were in the grass, but that's okay.
Here's a slideshow Photos in Cancun made for me too that highlights the best parts of the day (best photographers ever, go read my review on their page to see more!): https://animoto.com/...1lA?autostart=1
The Reception at Castaways: If any of you have seen some of my posts during the last year of planning, you might remember that I was constantly worried that I wasn't going to have enough decorations. I was an extremely low-maintenance bride (or maybe just lazy). I am not a DIY person AT ALL, and just don't have an eye for those Pinterest-perfect itty bitty details. Being on BDW and seeing all the adorable decoration projects everyone was doing always kind of stressed me out and I always felt that I should be doing more, but it just wasn't my thing.
Here's what I brought with me:
-Pink and orange chinese lanterns
-Seashell placecard holders and place cards
-Menus
-Water beads and underwater LED lights (we rented vases and used the bridesmaids bouquets as our centerpieces)
-Seashell garland (from the ceremony but they moved it to the reception)
-Best Day Ever cake topper
-Card box
-Table numbers
-Guest book
-Mr. and Mrs. glitter block letters
We rented orange table runners from the resort, and they also included the lanterns from the ceremony, which I didn't pay for.
Even though I didn't bring a ton of stuff, everything was perfect and beautiful. The setup was totally perfect. In retrospect, I'm so GLAD I didn't waste a ton of time and money on elaborate decorations. I barely even noticed half the stuff I did bring! I feel like a ton of decorations might be necessary to spruce up a big plain reception hall at an at-home wedding, but the open-air restaurant was so beautiful and awesome on it's own with the ocean in the background that all the natural beauty was plenty of decoration in and of itself. So that's another big piece of my advice for future brides - don't stress out about the little stuff. Everyone is having too much fun to notice, and it will look beautiful no matter what!
After our first dance and parent dances we had dinner, which was delicious, and served SUPER fast - I was very impressed by all our waiters. Everyone was served at virtually the exact same time. We had salad, lobster bisque, and guests could choose between beef and salmon, and chocolate souffle as the dessert. I would recommend any of it. They got all the kids' meals right, and even met my request to give my sister-in-law just a plain chicken breast with a side (she has Celiacs and is gluten free), and she said even that was delicious.
The rest of the night we just partied the night away. We extended our reception by an hour, and even though it's expensive (especialy for 57 people), I'm SO glad we did - three hours would have been way too short, and we were having way too much fun to leave at 10 pm! Most people were on the dance floor the WHOLE time just having a great time while the drinks flowed (and flowed and flowed) from the bar. I tried to order my signature drink at the bar at one point, and the bartender didn't know what it was, but that wasn't a big deal.
I LOVED having our reception at Castaways. The only 'bad' thing I can say is that it was very, very hot - but even so, everyone loved feeling like they were outside, even with the heat, and it just gave it such a fun, tropical atmosphere. I peeked at a reception at the bamboo room the next day, and while it was nice, I liked the vibe of ours so much better (plus it wouldn't have been nearly big enough for the size of our group). So, if you're worried about heat, don't do Castaways, but if you don't mind the heat and want to be outside, I'd definitely recommend it!
Our wedding day was truly one for the books. Obviously I hoped an expected that it would be fun and special, but it exceeded my expectations a million times over. Everyone had SO much fun that we still can't stop talking about it. Everyone said it was by far the best wedding they had ever been to, and all my friends had made up their minds by the end of the night to have a destination wedding. Everything went perfect and I wouldn't change one single moment.
Trash the Dress: We used the hour of photography that came with the Divine package for a trash the dress session on Friday. I brought another dress (clearance at David's Bridal) with me for that. Our photographer, Alejandro, was wonderful, and the pictures turned out great. An hour DEFINITELY wouldn't have been enough for the day of, and the pictures weren't quite as high quality as Photos in Cancun, so I'm glad I hired outside for our actual wedding pictures, but the hour of photography is great for a trash the dress!
(Pictures: https://www.facebook...=1&l=0de529af7e )
The Weather: My next big piece of advice - do not even bother checking the weather the week before you leave. The week before they had the big tropical storm, and EVERY DAY had a 90% chance of rain. I was totally freaking out. Turns out, we didn't see a single drop of rain the whole time we were there, other than our arrival day, which no one really cared about anyway since we were busy getting settled. The weather on our wedding day could not have been more perfect. In a tropical location like that, the weather can change so quickly that the forecast is pretty much pointless, so don't stress about your weather!
The Vacation: Our whole group had an absolute BLAST at the Now Jade and are already talking about going back next year. Even though we came with a huge group of people from different parts of our lives who didn't know each other, everyone was great friends by the end! It was hilarious to walk by and see see my husband's great aunt having dinner with my best friend's mom. Everyone sort of hung out at the same spot at the pool, started up our own pool volleyball games, rubbed sunscreen on each other's backs - it was so heartwarming to have so many people we love so much all in the same place having so much fun. We mostly hung out at the big family pool, and the entertainment team over there is so much fun. Even besides the wedding part, the vacation itself will always be one of my most precious memories.
I know there are some bad reviews on Trip Advisor for the Now Jade, and I have NO clue what any of them are talking about - I love the resort! It especially blows my mind when I read people saying bad things about the food - I think that's the best part! All the restaurants are amazing, ESPECIALLY the Italian. I think the resort is the perfect size, too - not too big, not too small. It's also great for kids - the four we had with us LOVED the kids club and all the activities, and went jumping on the big trampoline thing every day. The drinks are great, food is great, entertainment is great, service is great, rooms are great, pools are great, everything is great! When I read the bad reviews, I think people are just expecting something different….are there nicer hotels in the Riviera Maya? Yes...but they also cost 3x as much as the Now Jade! If you and your guests want a total luxury experience and money is no object for anyone, sure, you could go somewhere a little more upscale, but I think the Now Jade is a great price and a great value for a large group. When we first started planning, we expected to only have 30 guests, but when everyone saw how reasonable the price was, which included airfare (we went through Apple Vacations which made everything super easy), our number literally doubled! All in all, don't pay attention to the bad reviews - the resort is great.
Overall, our wedding and the entire week were absolutely amazing. One of my bridesmaids even told me "I know this is supposed to be the best day of your life, but I think it was the best day of mine too!" Everyone had so much fun that a bunch of my guests are already talking about going back next year as a group over our anniversary. I wouldn't change a single thing about our entire experience, and would highly recommend the Now Jade for anyone's destination wedding!