Cancun
01-31-15 Small Romantic Wedding at Now Sapphire!!
This is a review of: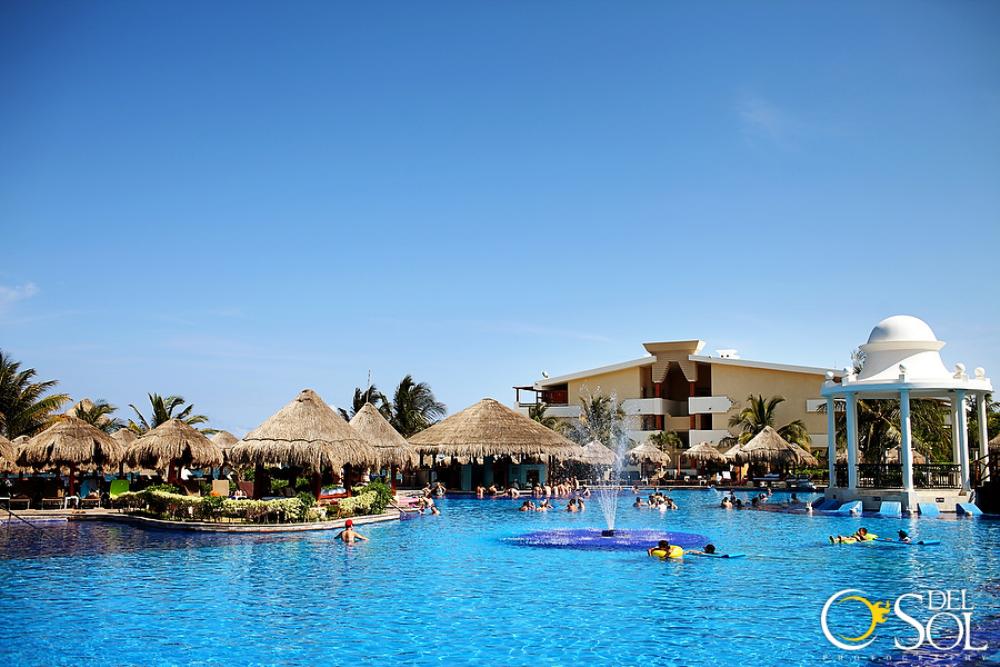 Detailed Ratings
Pros:
Wedding Coordinator, Location, Flowers, Food, Staff
Hi brides!

First and foremost don't be stressed out! If you have picked Now Sapphire as your wedding resort know you are in good hands! Our wedding week was honestly one of the most wonderful weeks of my life. Everyday spent there was beautiful and so special. I loved having our family and friends there the whole time and will never forget the time we shared together. Having a destination wedding is totally worth it! Use all your resources and ask all the questions you want! It will all come together and you will love it! I wouldn't change anything! Everyone at Now Sapphire is helpful, respectful, and easy to work with!! Trust that they will create the wedding of your dreams because that's what they did for me!
Here's a recap of our wonderful Now Sapphire Wedding:
Wedding Coordinator: Juan Carlos. He was very responsive to emails and always made time to answer my questions. I changed my mind like 4 times about the direction of my wedding and every time I did he was understanding and encouraging. Try to keep in mind busy wedding times like Christmas or summer or even weekends because it may take a few more days to hear back from them. They all are hard workers! They are there from 10am until sometimes midnight.
WEDDING DATE : 01/31/2015
CEREMONY LOCATION: Beach
CEREMONY TYPE: Mix of Religious and symbolic
COKTAIL LOCATION: Tequila Terrace
RECEPTION LOCATION: Tequila Terrace
Number of Guests: 21
Ceremony starts at: 4pm
Family pictures: 4:30-5pm
Couple pictures: 5-6pm
Cocktail hour: 6-7pm
Reception: 7-10pm


Welcome Dinner:
We held a Welcome Dinner at the Market Café the night before our wedding. The Market Café is buffet style so everyone could eat whatever they wanted and we ordered wine to share with our guests. The Welcome Bags were also our favors for our guests and we gave them out as soon as we could so that our guests could enjoy and use the items we had placed in the bags. Our welcome bags had a thank you/welcome letter, sunglasses, gum, tums, sunscreen, aloe vera gel, hand sanitizer from bath and body works, chapstick, pepto bismol tablets, and hello my name is name tags.
PHOTOGRAPHY
We heard mixed reviews from different sites about the resort photographers so I decided to look outside the resort. Bringing in an outside photographer is pretty easy at Now Sapphire. The only extra cost is a day-pass ($65) for each photographer. FYI If you use any other outside venders besides a photographer you have to pay an extra $800.
We hired Derek Campbell and Lorena Jaimes from Photos in Cancun (http://www.photosincancun.com and https://www.facebook.com/photosincancun). They responded to emails very quickly from the start and during the whole year of planning leading up to our wedding. They requested I send them any idea boards I had for my wedding, my wedding pinterest board, and our wedding website so they could get a feel of what I was looking for and the kind of wedding we were planning. I also went through their photoblog and hand-picked the pictures I loved and looked for pictures that they had taken at Now Sapphire. I sent my favorite pictures from their photoblog to them and requested that those be my must have pictures.
Derek and Lorena arrived at my room at 3pm. They asked for all the little special things for our wedding. Like our rings, my jewelry, wedding heels, welcome bag items, newspaper with our wedding date, ect. Anything you want to have them take a picture of before leaving your room or placing it on your person they wanted. It might be a good idea to have those things collected together the night before the wedding because I was running around the room like a mad woman trying to gather all these items and not forget anything. They started with my dress. It had been wrapped in a sheet hanging from our bed since the night before when the maid had delivered it from being steamed. As Derek unwrapped my dress and I was running around looking for all the little items for him to take pictures of I heard him yell out "YES!!" and I was kinda scared and responded with "what?!?what!?!?" He said it was only their second colored dressed that they had photographed and they love colored wedding dresses (my dress was blush pink). I was happy he and Lorena were excited and it lighten the room with laugher and smiles. He did also recommend playing some music and having some drinks because I think he could tell that I was a little stressed out with my wedding being less than a hour away and my dress not on me yet. Derek ending up leaving around 3:20pm to go take pictures of my groom getting ready and Lorena stayed with my sister, bestfriend, and I while I put on my dress, veil, and hair flower. She actually helped place my veil and hair flower. She was lovely and patient during that time together. Then before I knew it Juan was calling asking if I was ready to be picked up by the golf cart. The golf cart was at my rom around 3:55pm and we were off to the main lobby where I walked from there all the way to the tequila terrace with my sister. Lorena ahead of us taking pictures the whole time and Derek was on the beach with my guest and groom taking pictures of them. I have no idea where they were during the ceremony but the pictures turned out perfect! Derek and Lorena helped us plan out the timeline of our wedding day so make sure they were there to capture all the important moments. They were almost like an extra wedding coordinator that I could rely on and ask any questions I had the day of my wedding and the days leading to my wedding. They were always professional and respectful of any requests that I or my guests may have had. I honestly don't think we could have picked a better set of photographers that made me feel comfortable, still gave us direction, and still were able to be artistically creative with our wedding photos. Thank you!! Thank you!! Thank you!!
FLOWERS
We used the resort florist for all our flowers. Juan did tell me that this was the first time he had done anything like this but when we went on our resort tour with Juan, the day we met him, he was so excited and sounded so confident. I really put full trust into him and he didn't let me down. I couldn't have been more happy with table setup. I loved the hanging flowers and candles from the pergola, it really added to the romantic feel of our wedding. I wanted small floral arrangements down the center of the table with candles woven in-between. The color and the size of floral arrangements were exactly what I wanted for our wedding. I did pay extra for my bridal bouquet because they didn't have the exact flowers I wanted. I thought the extra $150 would also include a larger size bouquet but it turned out that it just paid for the different flowers. So make sure you explain the size, the flowers, the color, ect so you get exactly what you want. Overall I was over the moon with all the flowers arrangements and still loved my bridal bouquet in spite of the size. The resort florist and Juan really did a beautiful job!
SPA
We had a couples massage, did the hydro therapy once, I had a trail for my hair and makeup, and had my hair and makeup done by the spa the day of my wedding. At least 6 other girls had their hair and makeup done by the spa also. The couples massage was a nice relaxing experience. I would totally recommend it! The hydro therapy is just plain fun! I wish we would have had more time to go back and do it again. Make sure to make your reservations for hydro therapy as soon as you get there for the rest of your stay because spots fill up fast. I would also hands down recommend a trail for your hair and makeup. I loved what she did for my trail and the day of my wedding but the bride next to me was not happy with her hair the day of her wedding but she told me she didn't have a trail. They worked with her until she was happy but it got a little emotional for her and I think you could just avoid that with a trail. The less stress on your wedding day the better!
Spa 5 out of 5 stars.
DJ and Dancing
We did not pay extra for a DJ or dance floor. We brought two portable speakers online hoping that they would be loud enough and put together a playlist for each section of the wedding (ie cocktail hour, dinner, dancing, cutting the cake, introduction, ect) The speakers were okay but nothing like what we heard from a wedding that did have a DJ. So maybe if you still want to do your own playlist, at least pay extra for the use of the resort speakers. It seemed to just add a little extra party to the wedding when you want to get down and dance! There was plenty of room for a dance floor but to be honest I didn't feel like I was missing out on that. We had the dining table to the right and the cocktail hour furniture to the left and in the middle was a large space for dancing.
FOOD
The first night we were at Now Sapphire we had our romantic dinner that was included in our wedding package. After a stressful week before the wedding and the stress of travel it was a great way to reconnect with my groom and have some alone time together. I would totally recommend this to future brides! The food was wonderful! We had salad with shrimp and goat cheese (the best salad we had the whole time we were in Mexico and now one of my favorite salads), Surf and Turf " Now Sapphire"(Fillet of beef and sea scallops, glazed vegetables, Oporto sauce) and Crunchy of red fruit, vanilla and mint sauce. We also ordered a bottle of wine to share during dinner. Our waiter was wonderful! He gave us our time alone but also engaged with us to talk about downtown and his favorite local places to eat authentic Mexican food. He was just delightful! I would give the food 5 out of 5 stars.
Second night we went to Lemongrass which is an Asian tabletop dinner preparation. This restaurant requires reservations, so plan ahead. Everyone gets a starter of soup or salad or sushi. After the starter everyone gets fried rice and after that their main meat course which is either fish, chicken, or steak or any combo of those together. I would give the food 4 out of 5 stars. I would give the show preparation a 3 out of 5 but it might have just been that we were the last to be seated and our cook was ready to go home.
Third night was our Welcome dinner at The Market Café which is buffet style. They had saved 20 seats for us with no extra charge. The market Café has great dinner options but I wasn't very impressed with breakfast options there. For breakfast I actually liked ordering room service and enjoying it from our bed or on the beach that was just outside our room. Dinner at Market Café 4 out of 5 stars and breakfast 3 out of 5 stars. Don't get me wrong the breakfast was not bad, just the same every day.
Fourth night was our wedding! I would give the wedding cocktail hour and wedding dinner food 4 out of 5 stars overall but I did breakdown each item for you below.
We had selected:
Cocktail hour: GUACAMOLE AND CHIPS, SLICED TOMATO AND MOZARELLA CHEESE WITH PESTO, TAMALE, and PORK BAKED IN LEAVES "SOPES"
(I only tasted the tamale and it was wonderful! 5 out of 5 stars)
Dinner Salad: MIXED LETTUCE WITH BLUE CHEESE AND WALNUT CONFIT: HONEY BALSAMIC DRESSING (4 out of 5 stars)
Dinner Soup: BRANDY SCENTED CREAMY LOBSTER SOUP (5 out of 5 stars)
Dinner Entrée: 1) SUR AND TUR OF BEEF FILET AND SHRIMPS, WILD MUSHROOM SAUCE AND MILD SWEET PEPPER SAUCE (4 out of 5 stars) I wish we would have got the Now Sapphire Surf and Turf that we were served at the romantic dinner.
2) COCHINITA PIBIL WRAPPED PORK IN BANANA LEAVES SERVED WITH A RED SAUCE, PICKLED ONIONS, AND WARM FLOUR TOTILLAS. (My groom's favorite Mexican dish and I really wanted him to have it at our wedding. 5 out of 5 stars)
Desert: COGNAC TRUFFLE CAKE (3 out of 5 stars. None of their deserts at Now Sapphire are mind blowing and this was no exception.)
Wedding cocktail: Watermelon Lime Margaritas (5 out of 5 stars)
Fifth night was actually Super Bowl Sunday so there was a huge party by the main pool with TONS of food. Mostly lunch items from The Market Café but still yummy and fun way to bring an American tradition to Mexico!
Sixth night we went to Paramour which is their French restaurant. This was my favorite restaurant at the resort and I wish we would have went here sooner so we could have tried other entrees. I had the French onion soup, the grilled fruit salad, the stuffed chicken breast, and crème brûlée (the best desert we had at Now Sapphire). Yummy, yummy, yummy! And don't judge me, it was after the wedding J
Seventh night we went to Cibu which is their Mediterranean restaurant. Many of our guests loved this restaurant but me and my husband didn't. We both agree 3 out of 5 stars and we wouldn't have come back to that restaurant. They also serve breakfast which is sit down and more quite place than the Market Café but have the same items and probably less of them. I would still order room service for breakfast but that could also be because we are not morning people.
We also really enjoyed the Bluewater grill for lunch! The fish tacos and fresh seafood soup was amazing! 5 out of 5 stars.