Riveria Maya Corridor
Most amazing August Wedding!
This is a review of: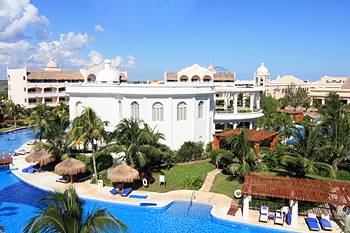 Detailed Ratings
By
HNeal
, · 1,438 Views · 1 Comment
Cons:
Literally the only Con is our room key stopped working multiple x's and we had to get new ones.
I had my wedding at Excellence Riviera Cancun on August 22, 2014 and it was one of the most amazing days I could ever imagine. In this review I will try to outline every aspect of the trip.

TRAVEL
We flew Jet Blu from JFK. I opted to bring my decorations and welcome bags with me rather than ship them to the resort so I had a TON of stuff with me. I checked two bags and carried on a bag, my purse and my dress. I was very nervous about this b/c I thought they would say I had too many personal items with me. I had nothing to be worried about. The flight attendants were so nice and congratulating us as we boarded! I actually got lucky and had an entire overhead bin just for my dress.

We used Cancun Transfers from the airport to the resort. We have used them before and they are always reliable and on time.

RESORT
Upon arrival we were greeted at the front gate with a "Welcome Home", a cool towel and a glass of cold champagne. We booked in the Excellence Club so we were escorted to the club lounge immediately. We arrived around 1:00 pm which seemed to be a very busy time. There was a group of us all checking in at the same time. This made going to the Club Lounge very convenient. In the lounge there was food put out, more champagne of course, and we were able to sit and eat while checking in. There was no waiting in line b/c extra staff showed up to check each couple in privately and at the same time.

We stayed in the Excellence Club Suite with Rooftop Terrace. It was absolutely gorgeous! The view on both the balcony and the roof was amazing. Though we did not use the rooftop as much as we thought, it was still nice to have and worth it to splurge for this occasion. My husband used it more often then I did as he is an early riser and watched some beautiful sunrises from the roof. It was also nice to have the private plunge pool that we were able to jump into the night of the wedding after being sooooo hot! The room itself was absolutely beautiful. It was spacious and comfortable. I did get some complaints from guests about the beds being too hard. We like a firm bed so for us it was fine. A tip about this issue.... if you would prefer a softer bed or think the beds are too hard just ask for a mattress topper with the concierge. They will put one on your bed. They will do this in the regular rooms as well.

EXCELLENCE CLUB VS. REGULAR ROOMS
Now a lot of people wonder the difference between the Club rooms and regular rooms and if it is worth spending the extra $ on it. The rooms themselves are pretty much the same as far as layout and space. The building location of the club rooms are closer to the beach so the views are much nicer. For us the view was a big deal. We also liked that we were able to upgrade our mini bar to whatever liquor we wanted and access to the Club Lounge was very important to us. It was very convenient not having to go to the lobby every time we needed the concierge. We were also able to get food in the Club Lounge whenever we wanted, even during that down time around 4:30 when choices become limited. We seemed to find ourselves often hungry around this time of day between lunch and dinner where you just want a snack. We were able to easily walk over to the lounge to grab some food. We also had breakfast in the Club Lounge the morning of an early excursion before the restaurant opened. It was more convenient then room service and delicious. The mornings we went to Barcelona for breakfast we would stop into the Club Lounge for our coffee first b/c it was so much better than any other coffee we could find anywhere on the resort. These little extras were worth it to us however it all depends on your preferences. Most of our guests stayed in the regular section of the resort and they all had wonderful things to say about their experiences as well. In fact we didn't even use the Excellence Club pool b/c we wanted to spend time with our guests.

POOL
We had 28 guests in our party. Our wedding was on Friday and most people arrived the beginning of the week. For me it was the perfect amount of people and so much fun spending the week with friends and family. We had two specific excursions planned for the week for the entire group and the rest of the time was for guests to do what they want. We made no plans but somehow all just naturally gathered at the same location of the main pool everyday. All of the pools were so ice but we ended back at the same spot everyday. The main seemed to be the hub of activity however never seemed to get too crowded or loud. We enjoyed close to the swim up bar as well. We are guilty of playing the "towel game" but it did not seem to be an issue. The resort was nowhere near full capacity so we were able to secure a group of chairs along one side of the pool. We all arrived to the pool at different times of the morning so the first person in our group would just grab a bunch of towels and put them on a group of chairs. There were a few days where we literally just spent the entire day at the pool just enjoying everyone! I said this before but we did not really even hang out in the Excellence Club pool b/c we did not want to miss our guests. Hanging at the pool never seemed to get old and all of us all seemed to get a little sad as each day ended. A must do if you are at the pool or beach for the day is "Coco Locos"! Every morning at 11am on the beach they make them. It is a mixture of various alcohol and coconut milk. They serve them in coconuts and they are delicious! We would go down to beach to get them and bring them back to the pool. You have to get there early though. They only make like 50 a day. And if you do find yourself hungry during that in between time in the afternoon (Around 4:30pm) they usually have a cart set up at Cafe Kafe where they make the most delicious crepes. This is a must try at least once!

WEDDING
My wedding planner was Jessica. Communication with her throughout the planning process was easy and she was very informative. In my experience even if Jessica initially said something could not be done, if I would push a little she would figure out a way to make it happen. The one thing she would absolutely not bend on was the outside vendor fee for our photographer. She did however cover the cost of their dinner at the reception.

My fiancé (at the time ????) and I spent the night before the wedding apart. Our package included a room for him to have that night. It was a nice piece of tradition and made the moment we saw each other more memorable. The entire day of the wedding I spent with my two bridesmaids. My fiancé spent his day with his friends. They started their day diving with whale sharks. My bridesmaids and I went to the spa for 9am appointments and had manicures and pedicures. It was probably the best pedicure I have ever had. I had Elias who other brides have raved about. He was so good that I decided on the spot that I would have him do my makeup as well. I had initially only booked for my hair and planned to do my makeup on my own. After our mani/pedis we had enough time to have lunch and then I went back at 12:30 for my hair and makeup. Elias struggles at times with English so definitely bring photos of what you want. I showed him one photo of my hair and I brought my own makeup. He was amazing. He worked quickly and confidently. I brought hair extensions as well and he had no problem putting them in. I typically am very minimal when it comes to makeup. I was very concerned about having my makeup done and having it look natural. I was having some hormonal breakouts at the time as well and didn't want it to look all caked on. It did not! He covered my blemishes perfectly and even talked me into fake lashes which were such a good call! My makeup looked very natural.

While I was at the spa housekeeping was cleaning my room. I called them the day before and requested that they clean my room at a specific time. My fiancé brother did the same for the room the guys got ready in. My photographer was scheduled to come at 3:30 and I wanted the room prepared before then. When we returned from the spa my girls and I were able to continue getting ready and enjoying the day with each other in my room. Our photographer arrived and from there it was a blur! He wanted to come early and I am so glad that I agreed to this b/c the photos of us getting ready are amazing!

The ceremony was at the Beach Gazebo. It is located all the way at the end of the beach on the Excellence Club side so there is some privacy. We did start our walk down the isle next too a hot tub full of cheering people but we are pretty laid back so for us it only added to the fun! The ceremony took place at 5pm so it was not too bright and I don't remember being hot. There was a beautiful breeze on the beach. I had music prepared on my phone that Jessica used during the ceremony. I had 15 minutes of music playing as guests arrived and three songs for walking down the aisle, signing the documents, and walking back up the aisle with my husband! The ceremony for some reason began about 20 minutes late. I am not sure why this happened. They made up for time but cutting the cocktail hour short but no one seemed to mind.

Cocktail hour was at Las Olas which is located on the beach. Still a nice breeze and plenty of room for 30 guests. We had the Caribbean Trio play during that time. I would definitely recommend having live music during this time as the Cocktail hour had a very laid back vibe to it and the music really enhanced that. The bridal party attended the beginning of Cocktail Hour so that we could greet and thank our guests. We then went down to the beach for photos. Our photographer was amazing and this was a lot of fun.

The reception was at the Lobster House and let me tell you it was perfect! It was exactly what I had imagined! I had communicated with Jessica by email and gave her all of the decorations earlier in the week. Some how she managed to take what I had pictured in my mind and make it happen. The table was beautiful and exactly what I wanted. The only complaint I would have is that they lined up all of the regular tables and chairs used everyday in the restaurant along the outside of the room. They were out of sight but they blocked the view and the breeze making it very hot. I complained to Jessica but by then there wasn't much that could be done. She did bring in some fans which helped. We kind of took the issue into our own hands and some the the guests moved some of the chairs. This helped tremendously. This by no means ruined the day... it was just a little hiccup. The only reason I am putting it in the review is for anyone who has the Lobster House, it would be worth mentioning to Jessica during the meeting with her that you would like them to find another location to store the furniture.

The food at the reception was good however going back I may have stuck to one entree choice. The kitchen at the Lobster House was not really equipped to get two different entree choices out at the same time for 30 people. The kitchen is small resulting in some of the food being over cooked. Please don't take this as a major complaint. There were no complaints from any of the guests and the staff were working hard to overcome the restraints of the small kitchen. It is just a detail I noticed. This also may only be an issue with the Lobster House b/c of the tiny kitchen. I ate all of my dinner and enjoyed it! Jessica was there throughout the first half of the reception making sure that dinner and speeches were timed correctly. She came over to the table and checked in with us a couple of times to make sure everything was running the way we liked. Otherwise we barely even knew she was there. Everything WAS timed correctly and ran smooth. The staff, Jessica, and the DJ all coordinated very well together. She came to us a final time to tell us she was leaving and told us to let the DJ know when we were ready to cut the cake. She also told me that all of our decorations would be boxed up and waiting for us the next day.

DJ MANNIA
Amazing! I know that I have used this word a lot but I can't help it! I was very concerned about this detail but I had absolutely nothing to worry about. Before the wedding I communicated with them through email. A fellow bride helped me with this by showing me how she organized this. I sent DJ Mannia a list of songs one month before the wedding. It was broken into two categories: dinner music and dancing music. I also highlighted the bridal party songs and had a "Do not play" list. They followed this throughout the entire reception. The music was great! The DJ worked with us throughout the evening and seamlessly followed our cues. As soon as dinner was over we jumped right into party mode and believe me every one was ready to dance. Even with a small group of 30 the DJ was worth it. There was never a time when the dance floor was empty! Actually, later in the week we got to talking to other guests of the resort and they said that there was a group of resort guests out at the pool dancing to our DJ b/c it was so good!

LUCIDUM PHOTOGRAPHY
Vincent Guihard, lead photographer from Lucidum, is amazing! I cannot even describe how talented and wonderful he is. He arrived with a second shooter and an assistant and they were all great to work with. He is so much fun and knows how to get you relaxed and having fun. Prior to the wedding I met with Vincent through Skype to talk about the day. I told him that I wanted mostly candid shots and he did exactly this, telling the story of our day. Throughout the day he and his crew were everywhere and seemed to capture so many moments. I put a sampling of his photos on this site in my photo gallery.

MISCELLANEOUS
We took our guests on two excursions as a way to say thank you and share some great experiences with them. We took them to Coco Bongo one night which was an unforgettable evening. The second excursion was to Xel Ha. We were able to do this as most of our guests stayed the week leading up to the wedding.

The day after the wedding we had a special breakfast in bed that Jessica arranged. It was nice to have some quiet alone time after a week of activity. It gave us a moment to soak it all in!

We also had massages the day after the wedding at the spa. It was included in our package. If you get a spa treatment plan enough time to use the hydrotherapy circuit before your treatment. It's included with your treatment and worth the time.

My husband and I had enough time to spend two weeks in Mexico. The first week was spent at the resort with our guests and ended with the wedding. The second week we left the resort and rented a condo in Playa Del Carmen. I would recommend this to anyone who has the time and funds. The first week is so busy and there were times we were so focused on spending time with friends and family who traveled from all over the US, that my husband and I didn't get to have time for each other. For us we had the best of both. We spent a week enjoying friends we don't often get to see, celebrated our wedding, and then had a entire extra week just for each other. If anyone has any questions about Playa Del Carmen please let me know. I have lots of recommendations for you!

I also just need to mention Red-I by Chelsea. She designed the jewelry that my bridesmaids and I were wearing. She is also a former ERC bride! She is so easy to work with and extremely talented. Again, you will see pics of the jewelry in my gallery.

I hope this review helps! Feel free to contact me! And definitely check out my photos in my gallery. I have a ton if anyone wants to see more than what I posted! I would be happy to share!