Photographer Reviews
Beautiful Wedding Photos
This is a review of: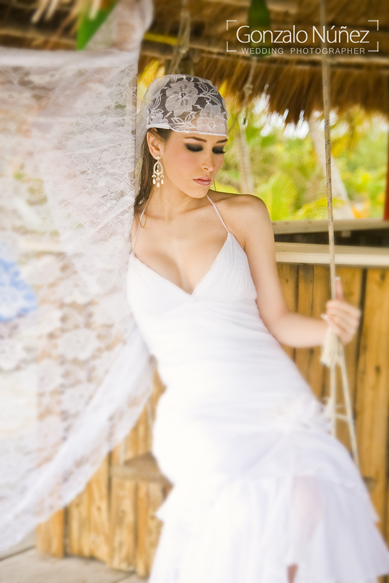 Detailed Ratings

By
Marta30
, · 878 Views · 1 Comment
Pros:
Communication, Price, Everything!
My Husband and I got married at Now Jade Riviera Cancun in July 2014. In planning the wedding I contemplated using the resort photographer. However, after reviewing our budget and talking to my husband, we realized that wedding pictures are truly what you have left to remember your special day and we simply had to hire an outside photographer. I researched best Destination Wedding for the best wedding photographers in the Cancun/Riviera Maya area and Gonzalo was one of them. After reviewing his portfolio both my husband and I agreed that we had to hire him. Lucky for us he was available and we could not be happier with our decision. Gonzalo is very responsive via email and was extremely helpful setting an appropriate timeline for the day of the wedding. We emailed back and forth several times trying to find the best timeline and finally he offered us an extra hour at half price! Planning a wedding from afar can be stressful, but Gonzalo took away any stress I had about the photography. He constantly kept me updated about his timing etc… On the day of the wedding he met with my husband to go over final details and payment and then met me at the spa where I was getting my hair done. He was extremely professional, yet very approachable. I could just see the creative wheels spinning in his head! After the spa he followed my bridesmaids mom and me to our room to take pictures while i got ready. He was so creative that he was scaling the wall on our balcony to hang my wedding dress up for pictures outside and was even taking down painting to use as a back drop for my jewelry etc. We were running very behind that day and Gonzalo was very patient. He quickly tailored the timeline to fit in as many pictures as he could. I have to say we had a rather difficult bridal party that was not very good at listening and he was very patient with them. He did have to scold them at one point to focus and I have to say my husband and I were very grateful that he did! Because we were running behind, Gonzalo mentioned he didn't have enough time to get in all the pictures he would have liked. I was a little worried if we would have enough nice pictures, but having seen them now, we could not be happier. It took about 3 months to get the pictures, but it was well worth. Gonzalo mailed us a USB stick with all the pictures in a cute little Mexican wooden box. The slideshow he put together was beautiful and he even threw in extra pictures. We would love to have another opportunity to use Gonzalo for pictures. We have nothing but praises for him and hope to see him in Chicago one day! One other thing I would have to mention is that his prices are very good! For a photographer with his talent and popularity, he is worth every penny he charges. Don't hesitate to book him!