Dominican Republic
Dreams Punta Cana Resort & Spa Review
This is a review of: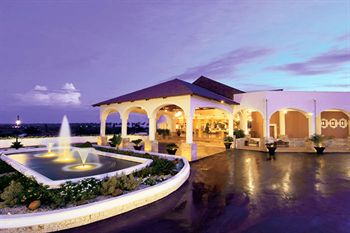 Detailed Ratings
Pros:
pool, food, wedding coordinator, preferred club concierge, beach, pleasant staff
Cons:
multiple weddings daily, vendors in lobby, getting all that's included in wedding packages
We were married in November 2011 and I can't believe it's actually my turn to write a review! It seems like it went so fast, after all the time spent planning! I apologize if this turns out to be long, but I wanted to make sure that all the girls reading this would have some peace of mind when it comes to their planning! I want to make sure to mention a few things, just to make sure that future brides have their perfect day!
Travel....
Although this has nothing to do with the resort, I thought I would mention that the airport in the DR is the coolest thing! It just looks so tropical, you instantly feel like you are on vacation. When you arrive, there isn't a place to purchase goods or eat. When you leave the DR, there is an area with shops and some fast food restaurants, but we didn't see any of that when we arrived. We arrived late, so I'm not sure if the hustle and bustle of trying to get us loaded up was part of that or not. I thought it was kind of confusing that a bunch of guys were coming up to us and wanting to get our luggage and telling us they were with our resort. They aren't with the resort in most cases and would like a tip for hauling your bags. Fine by me! Also, when you arrive, you go through zigzag lines in order to pay for your $10 tourist card (I had read in another review that there is an exit fee, but we didn't pay one). Honestly, I would've just appreciated giving them $10, because before we even made it through the line and to the customs counter, the same guy that gave us the card, came around to everyone and collected it back! Just a heads up, the resort is about an hour from the airport. Most of the trip is fine, but roads and their driving could be an issue if you easily get motion sickness! A quick mention about carrying my dress....I had a formal wedding dress, and I didn't want to check it, (for obvious reasons) but it was a total pain in my butt to carry it! It was in a garment bag and they make you put it through the x-ray machines. So, needless to say, the bag is full of whatever is on those dirty belts when it is all said and done. And, a wedding dress does not have priority in the stewardess closet of the planes just so you know. So, if there is room, they will most likely let you hang it there, but the closet is short and so your dress will be bunched at the bottom. On one of our legs of flying, I had to put it in the overhead compartment. Luckily, it made it through without any rips or damage, but that could probably happen in the closet too, if there had been wheelchairs or whatever in there with it!
Dreams Resort...
The resort when you pull up to it is breathtaking. The pictures really don't do it any justice! It's hard to really see what it looks like, but I guess you don't really realize they don't need windows and doors in the lobby, it's all open! We were supposed to receive glasses of champagne upon arrival, but we arrived late, so we didn't have that (although we should have regardless of our arrival time). We had to check in through the preferred club, so we needed to go to a separate area to check in. The bell boys will take your luggage to your room for you, but it's a huge resort, so expect to wait about 30 minutes for it. So, either pack a change of clothes in your carry-on or request to take your bags yourself. The resort is quite large and some of the buildings are a long walk from the lobby, so be advised of that. Also, the only elevators in the whole resort are in the lobby. So, if you have guests that need to be on the first floor, make sure you call and then call again the day before your arrival to confirm your requests. It never hurts to follow-up because the resort is usually full, so it may not be easy to make other arrangements once you arrive! We also lost power for a short time the day of our wedding as I was getting ready. Luckily it came back on quickly so it didn't mess anything up, but I mention this because I'm not sure if the loss of power affects the safes in the rooms or not. I have read reviews where people had things stolen out of their safes, but none of my guests or us had any issues with that, thankfully!
The only 'heads up' I want to mention here as far as the rooms go, is make sure you call ahead or have your travel agent verify the type of rooms you have. When you book a deluxe room, I was told that means you could get a king bed or two double beds...whatever they have available. We weren't told this ahead of time and my sister and brother in law had to spend an evening in a room with two beds, until we could get our private concierge to get it worked out. By the way, our preferred club status was phenomenal! I would highly recommend the preferred club. The hotel had told us that there weren't any king beds available for the second night either, but we went to the preferred club and Vanessa took care of it! They had a different room within 30 minutes. Fantastic! We tipped her $20 just because it was so important to us that our guests were happy and we appreciated her service!
We stayed in the honeymoon suite with the jacuzzi on the balcony! We never had the opportunity to use the jacuzzi though...but our view was unbelievable! There was a basket in the bathroom with some 'in case you forgot' items. There were toothbrushes, toothpaste, shampoo, conditioner, shower gel (smelled really good), soap, body lotion, and cotton balls.
The room was the perfect size for the girls to get ready in and to have the photographer stop in for some 'getting ready' shots. There was a little spot of ants that had made themselves at home above our mini bar, but we didn't really care, they were small! We were in building 6 and had great service from our maids.
We arrived at Dreams on Saturday and had a note in our room that we needed to meet with someone Sunday morning at 10am about our departure time--stating that this wasn't a meeting about timeshares (that never would've come into my mind, but good to know!), and that we needed to meet with our wedding coordinator (Carolina) Monday morning at 9am. Sunday morning we went to the lobby to make sure we had the departure information we needed. Well, I forgot that they are on island time and the guy wasn't there. So, we went and had breakfast and came back and he had just gotten there. Well, the person you are meeting with does go over the departure time with you, but they are essentially selling you on the excursions. In our case we wanted to do some, so it worked out. We did talk to some other guests that went to tour the new Zoetry resort because they got vouchers toward spa services and wine for going, but they didn't know it was also a timeshare seminar and they tried to hard sell them on it. We got asked to go on the tour, but declined. Monday morning (forgetting about island time!) we had to wait for Carolina about 40 minutes, because she wasn't in yet (I'll give more details on our meeting later).
One thing I will say, is that they have merchants in the lobby that want to sell you stuff, which is kind of annoying. They will eventually start to recognize you and leave you alone though. The resort itself, like I said, is beautiful. It's known for its pool, which you'll understand why when you see it! They have something going on every day, whether it's by the pool or in some other location of the resort. They do a good job of providing things to do. The beach area is gorgeous! There are plenty of chairs and loungers and the beach has a private section for preferred club members. There are beach grills that serve food and the swim-up bar has great drinks. Although gratuities were included in our package, honestly we felt obligated to tip in some instances. You may not feel so inclined, but quite a few times we felt awkward not leaving a tip. You can go into any restaurant though and get some food to go if you'd like. Speaking of the restaurants, the food is gorgeous! It is so beautiful you almost don't want to eat it! A few I thought didn't taste as well as it looked, but I was told I'm spoiled when it comes to food, because I'm from the Midwest?! We really liked the El Patio (mexican) restaurant. This restaurant has a dress code; men-long pants, no open toed shoes. We tried to eat at each restaurant at least once, but wished we would've eaten there more times! We didn't personally eat at the Himitsu (Japanese steakhouse) restaurant, but our guests that did said it left something to be desired. This restaurant also has a dress code and does not allow children under the age of 6. The World Cafe is the buffet style restaurant that's in the main building. The food is ok- it's a buffet so the food can be sitting out awhile. We found ourselves eating there for almost every breakfast though, because the Oceana restaurant served breakfast to preferred club members, but we usually missed the serving time! The Oceana is the first restaurant we ate at and it was amazing! We ate at the Portofino (Italian) restaurant and it was so good! The Portofino also has the dress code and no children are allowed at this restaurant. We had our reception dinner catered from the Portofino. My husband ordered room service once and said it was good, fast and courteous. We also had breakfast in bed the morning after our wedding and it was plentiful.
Wedding Stuff!
Our WC was fantastic! She is organized and on top of everything. I found out, when I was reviewing our packages and what was included, that she tries to get all the wedding couples upgraded to a honeymoon suite. I had brought up that some of the things we were supposed to have, we hadn't yet received. She said that when we were upgraded to the suite some of the things from the honeymoon package don't apply, but she didn't know that we had paid to be in the honeymoon suite for the week. So, by the time we got on the same page, it was too late for us to receive those things because we were leaving. I will quickly mention to double check with your coordinator that they have on file that your wedding is paid for (if you paid it ahead of time). Somehow, there was a mix-up between the resort and our vacation company that when we tried to check out, the resort showed that we still needed to pay for our wedding! So, we almost missed our transfer to the airport while they made phone calls to get it figured out.
Anyways, when we met with Carolina for the first time, we went back over everything that we had filled out on the check list and emailed to her. We actually ended up changing our reception menu a little bit based on some of the food that we had already eaten at the restaurants, so I liked that we reviewed everything again. She told me what to do to get the resort to steam my dress and husbands' shirt, which was part of our wedding package, which turned out great. I would maybe consider having this done 2 days before the wedding instead of the day before if you think you can keep it looking nice. I followed Carolina's instructions and was told it would be returned the next morning, my wedding day. Well, I had to call Carolina at 2:30pm when my dress still hadn't shown up to my room! I got her voicemail though, so I had to go to our preferred club (in a slight panic) and have our concierge call down to laundry to locate the dress and shirt. About 20 minutes later, they were at my door. We didn't have a bridal party, so we didn't have to do a rehearsal with Carolina. She just let us know where we needed to be and when and talked us through what was going to happen. I was told by our travel agent when we booked the resort, that they only do one wedding per day…not true. They only do one wedding at a time! So, I found this out when my ceremony had to be pushed back, because the wedding before ours was late (I didn't know there was another wedding that day). Also, my flowers were late getting there, so I didn't get to see my bouquet until Carolina handed it to me before I walked down the aisle (they were gorgeous though!). At the time, I just went with the flow, but looking back on it I'm most upset about the delay in our ceremony because we paid for a photographer and we missed a bunch of daylight for our pictures on the beach and it was really rushed and cut into the time for our cocktail hour and reception.
Our days' timeline:
4:00pm photographer arrived in my room
4:45pm photographer to groom's room
4:45pm supposed to meet Carolina, but she called to say it would be a bit longer
5:15pm we started our way to meet Carolina (ceremony supposed to be at 5pm)
5:25pm we started our way down the aisle!
(I would recommend doing your ceremony around 4pm or 4:30pm since the sun sets at such different times on a daily basis). My dad and I walked down the aisle to Pachabel's Cannon in D. Carolina performed our ceremony and we said our vows and exchanged rings. We had our first kiss and walked back up the aisle as Mr. and Mrs. to Jason Mraz's song, 'I'm Yours'! I wanted to run I was so jazzed up, but we went too fast and our photographer had a hard time keeping up-oops!
5:40pm we made our way to the beach for some shots with our photographer
6:00pm-6:30pm cocktail hour
6:30pm-10pm reception (Carolina stayed there until about 8pm to make sure everything was going ok, which I thought was cool)
We used the hotel stuff as far as table linens and chair covers, etc. She even made up nice dinner menus for each place setting. We didn't have a ton of guests, so this was perfect for us. I thought it looked great.
Our Hors d'oeuvres: FABULOUS! Again, our menu was catered by the Portofino restaurant.
Smoked salmon canapé, cream cheese rolls and avocado, ham and pineapple, & fried calamari rings
Our reception menu consisted of:
Starter: Caribbean Seafood Salad- this was pretty good
Soup: Dominican Sancocho "meat stew"-good
Main Course: Beef Medallions and Shrimp with cordial and black pepper sauces-really good
Dessert: Kahlua flan with coconut and chocolate sauce-good
Wedding cake: Vanilla-FANTASTIC! I would've skipped dessert and just had cake. We were so full anyways. I would do whatever you can to take the leftovers to your room!
We had the ultimate wedding package, so we didn't add any extras except for the photographer- who was fantastic by the way! We hired Renaud from Photo Souvenir. Unbelievable!!! I was so pleased with the pictures and SO SO glad that we paid the extra money for an outside photographer and didn't just have the photography that was included in our package! I will write a review on Renaud later.
I also wanted to let you know that my sister and I had our nails done at the spa the day before the wedding. They did a great job. I also had my hair and make-up done at the spa the morning of the wedding. I was nervous having someone else do my make-up, but I brought along my foundation and I thought they did a good job. I wouldn't worry about this if you are considering it! I had a few pictures of hair examples, but I forgot to bring it along with me to my appointment! They have some books there though, so I paged through to find something similar to what I had in mind.
We used the sound system and our iPod for the reception. I thought it turned out perfect for our group. We danced and had a good time. I wanted to hire a DJ, but didn't think the extra money was worth it for the small group that we had. We decided the photography was more important and put our money towards that instead. I will mention that we paid for a private reception through our wedding package, but they actually just partitioned off the back section of the balcony with huge palm leaves. So, we could see people on the other side of the palms and they were coming over to our side to use part of the bar. I'm sure the resort did this in order to not have to close the restaurant for the night, because our reception wasn't huge. Looking back on it though, it was kind of crappy that we didn't have the total privacy that was deserved and most of all, paid for!
When we got back to our room, the turndown service had placed a honeymooner's banner on our door and had made a wedding dress out of a sheet and draped it over the end of the bed with rose petals all over it. It was pretty cool. The next morning, we had breakfast in bed with champagne. Unfortunately, my husband had been using the tap water to brush his teeth, and wasn't feeling good, so he didn't get to enjoy the breakfast. L Speaking of that, I would use bottled water for everything, even if you aren't going to swallow it! He didn't feel good almost the whole week.
The wedding photos that were included in our package…turned out pretty good. At the desk near the World Café, is the resort photographer counter. They bring up your pictures on the computer and you go through each picture and pick the ones you like (our package included 50 edited photos, so we had to cut out 9). They edit the photos and then they are printed for you somewhere offsite. When we went back the next day to pick them up, some of them had been edited with a color hue we didn't like and my dress looked blue. So, they had to fix a few photos and have them re-printed which was another day's process. They wanted to sell us all 59 pictures and put them on a disc at a discounted price, but that was still over $300! We just took the ones that were included in the package and by the time we were able to pick them all up, we had seen the photos that our hired photographer had taken and didn't care any longer about the resort ones! My husband just picked them up from the desk and that was that.
All in all, we had a great trip and a great wedding. Our coordinator always got back to me within 24 hours over email leading up to the wedding and answered all my questions and concerns. She was just as great once we arrived in Punta Cana! None of our 'mishaps' are meant to scare you I just want you to be prepared to be flexible and easy-going! If you're looking for the 'perfect day', well now you have some things that you can make sure are covered!
Congratulations and happy planning!