Riveria Maya Corridor
ChelsH's Valentin Imperial Review
This is a review of: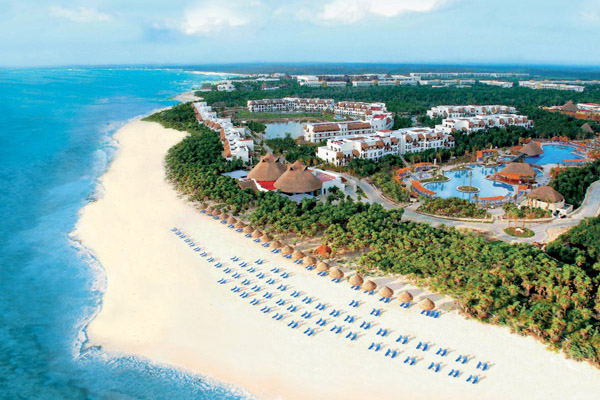 Detailed Ratings
By
ChelsH
, · 1,104 Views · 2 Comments
Pros:
Beautiful resort, great wedding coordinator, FUN!
First let me start by saying that we love the Valentin Imperial Maya. We were there 2 years ago and knew that it was where we wanted to get married so when we actually got engaged and started planning it was an easy decision for us.
Travel: We booked our trip through Greg Thein at RWD Travel. He is affiliated with FunJet and Lomas Travel. We had never used a travel agent before and I was unsure that we wanted to for this but since we had a group going and so many other things to worry about we decided to use one. I am really glad we did and that we found Greg. He was amazing start to finish. He helped us choose a honeymoon location, let our guests book their travel with a small deposit and make payments along the way and was always helpful and pleasant. If you send me a message I would be happy to provide his contact information.
Flight: We flew through Continental and luckily we were able to upgrade to first class. I carried my dress on and had no problem putting it in the closet. We had a connecting flight and on both flights there was another bride, not seated in first class, and they had no problem putting those dresses in the closet as well.
Customs in Mexico: This was a bit of problem. I had all our welcome bags in one suitcase and they kind of gave me a hard time about it. Luckily I had all the receipts and they finally let me go but it was a little stressful. Just make sure you have receipts totaling no more than $300 per person.
Transportation to the resort: Greg booked us private transportation through Lomas Travel from the airport to the resort. In the past we booked shared transportation so it was really nice to not have to wait for a van to fill up. We found our ride, loaded our luggage and went straight to the Valentin.
Resort: As I said before, we love the VIM, but all of our guests really loved it too. Everyone is already talking about making an annual trip there.
Food: Some of the food here is amazing and some of it is just ok. We did not have anyone absolutely hate any of the food. The best food was at the French restaurant and certain dishes at some of the others.
Rooms: Both times we have been we loved the rooms we were in. This time, they upgraded us to the Golden swim up rooms, which were very nice. One thing I really liked was they placed all our guests in the same location. Some of our guests booked the basic rooms, some the swim up and some the Emerald but they made sure we were all in buildings close to each other. The resort is huge so I thought this was really nice because it made it easier for us to meet up and find each other.
Staff: We love the staff here! They are almost all super friendly, helpful and very accommodating.
Grounds: The grounds are gorgeous. You can tell they work really hard to keep the grounds in such amazing shape. The beach is one of our favorite things about this resort. We have been to other resorts in the area and the VIM has one of the best beaches by far! The area around the main beach entrance is a little rocky but if you walk further down there is a great swimming area.
Coordinator: Veronica was our coordinator and from the beginning of planning she was fantastic! She was always cheerful, polite and positive. She answered every question or concern we had in a timely manner and was very accommodating in resolving any issues. I did feel like the closer we got to the wedding date the faster she was to respond so if it takes a little longer to hear back from her in the beginning of planning it is probably because she is prioritizing according to date. She will get back to you though! The first day we got there we met with her and gave her all our decorations and told her how we wanted to set everything up. She went over all the details of our package and walked us to all the locations (ceremony, cocktail and reception). Once we dropped everything off I seriously did not have to worry about the wedding again until the day of. The entire wedding team was amazing.
Wedding Week: Our group had a really great time hanging out at the resort and enjoying the evening activities there. We did karaoke one night and danced in the plaza a few nights. One thing my husband and I decided to do for our guests was an excursion on a catamaran for the day. We had used this company before on a previous trip to Mexico and loved so we thought it would be a nice thank you gift to our guest. Everyone had a great time and really enjoyed the day. The company is Fat Cat Catamaran and I would highly suggest them! http://fatcatsail.com
Wedding/Package: We booked the Unforgettable Package and I am soooo glad we did. It included so everything we could have wanted. The couples massage was amazing and super relaxing. The candlelight dinner on the beach was really nice. The only bad thing was the weather. We made it through four courses and then it started to pour. We went back to our room and they brought the main course, dessert and a bottle of wine there but it took them 45 minutes to bring it. We were a little upset about that because we still had guests at the resort and had planned to meet them at the plaza for casino night. We made it to the end of the casino so it all worked out. The food at this dinner was really good! (The only exception was the sushi which was just ok.) We did a candlelight beach dinner at our honeymoon resort and the one at the VIM was much better even though we got rained out!
Flowers: I was a little worried about the flowers because the catalogue Veronica sent me did not have anything I loved. I sent her several pictures of things I liked, including some of previous weddings at the VIM, and told her colors and flowers I wanted and also flowers I did not want. She spoke to the florist a few times and got me quotes. The bouquet I really wanted was going to be an additional $150 so Veronica suggested a compromise that would only be an additional $30 but not having actually seen a picture of what they were planning I was a little nervous. We did not have a bridal party so we only had the centerpiece for the ceremony, a bouquet for me, a boutonniere for my husband and one for our minister. All the flowers were amazing! The only thing I regret is that I could not keep my bouquet.
Hair & Makeup: This is another thing I was worried about. I wanted something very natural, not too formal or fancy. I took tons of pictures to show them but the woman looked a few, said ok and went to work. I was so pleased with how everything turned out. She was really fantastic. She was even able to cover the fact that my nose was starting to peel! The only bad thing was that it was so humid there I don't think my nails fully dried until we got back to the states.
Ceremony: We did the ceremony on the beach and it was beautiful. The area is small but it was perfect for our group. We brought sashes for the chairs but decided we only wanted a small table with the centerpiece for decoration. We had our own minister so I can't comment on how the one the resort provides would be. The wedding package included speakers and someone to handle the sound for the ceremony. We gave Veronica our iPod and she let them know what we wanted played and when. We had a playlist to be played while everyone was arriving, a song for when I came and a song for right after the ceremony. They did a great job with all the music but for some reason the microphone our minister was using did not work. I was not concerned about it during the ceremony because we, and all our guests, could hear him but on the video you can hear quite a bit of wind. It's not that big of a deal but if I had realized it would affect the video I might have had them fix it and then proceed.
Cocktail Hour: Cocktail hour was good. The setup in the gazebo was really nice, the food was good and they had a full bar with a great bartender. We had wanted the Mexican trio to play during the cocktail hour but apparently they were stuck in traffic so they missed the entire thing. I was a little upset because we did not plan anything else for the hour and people were kind of sitting around with nothing to do. Also, the mosquitoes were really bad. We had put Off in all the welcome bags but it wasn't really helping. Veronica brought us some insect repellant, a Mexican brand, and it was awesome! It was super strong but it worked like magic.
Reception: The Mexican trio finally showed up right as we were leaving the cocktail hour and they ended up serenading us as we walked to the reception! It was really fun. Everyone was stopping and taking pictures. They played for the first hour of the reception and they were so good we completely forgave them for being so late. Everyone LOVED them. The rest of the reception was just as amazing. The food was really good but it was so hot, and I think I was so excited, that I could not really eat very much. The asparagus soup was a big hit. Our cake was tres leches with strawberry filling and it was amazing. Everyone loved it and my husband kept ordering tres leches for dessert at dinner the rest of our time in Mexico. We brought a small iPod docking station and set up our iPod once the trio left. The sound was fine for us. We did a little dancing there and then decided to head to the plaza after dinner. The band was playing when we got there and we had soooo much fun! After the band they play music and everyone continued dancing. It was super hot and humid but we had such a great time! I was actually glad we didn't spend extra on a DJ for the reception because I think we had more fun partying with the other resort guests than we would have if it had just been our small group.
Photographer: Since Blue Lens was included in the package we decided to stay with them. Ashley did our pictures and she was awesome. She met me at the spa as they were finishing up my hair and makeup and stayed through the cocktail. I think she would have stayed for some of the reception too but since the Mexican trio did not show up and not much was going on at the cocktail hour we told her she could go. We also did a TTD with her the next week and had sooo much fun. In the end we got the TTD session, all the wedding pictures and TTD pictures on disc and all the edited wedding pictures and TTD pictures for $1400. We opted not get the print pictures that were included in our package so she gave us a discount on the discs. It was a little more than we were planning on spending but the pictures turned out great so, for us, it was worth it. Our package also included a DVD of the ceremony and that turned out really good. They asked us at the end of the ceremony what song we wanted on it and had no problem including it.