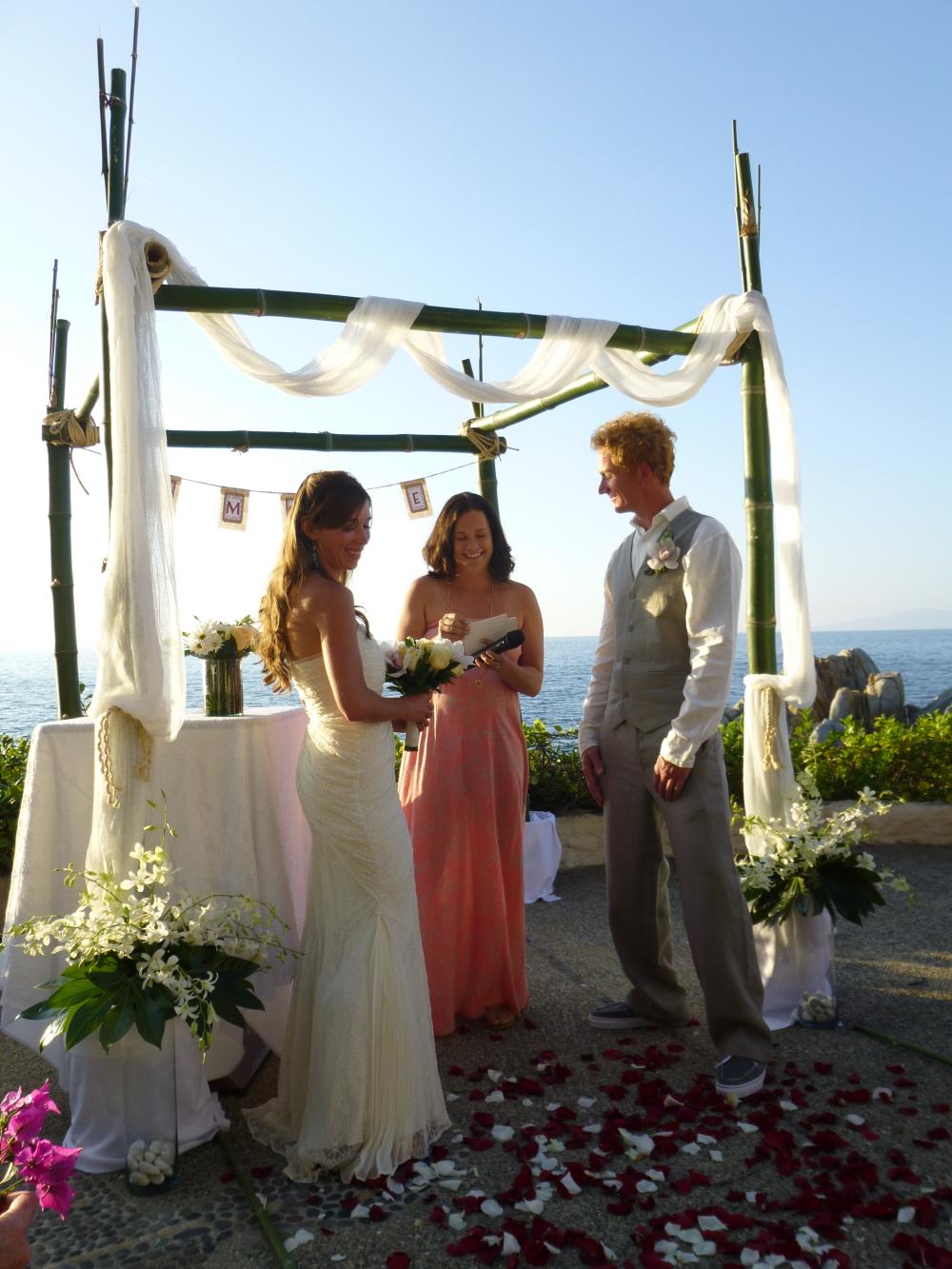 You're invited to the Real Wedding of...
Jamie & Kyle
Wedding Details

Bride

Jamie

Groom

Kyle

Wedding Date

February 16, 2013

Location

Villa Mia, Puerto Vallarta, Mexico

Hometown

Tahoe City, CA
Pictures from Jamie & Kyle's destination wedding (click to enlarge):
Why did you choose to have a destination wedding?
We choose to have a destination wedding because we wanted to celebrate in a tropical place, and keep our wedding intimate.
 
Why did you choose your location?
Villa Mia was amazing. We had a 15 bedroom villa and then we had two other villas on the property. Villa Cosmica with 5 bedrooms and Villa Gran Dia with 6 bedrooms. It included a full cooking and bar staff along with housekeeping. It was an amazing opportunity to have our own private resort.
 
What were your wedding colors and/or theme?
We had a Mexican themed wedding with many traditional parts of the heritage, along with lots of beautiful patterns and laces. We had a mariachi band and fiesta the night before the wedding. At the reception we had a pinata, churros, and lots of fun!
Every wedding is special in its own right. What made your wedding unique?
Our wedding was amazing. We had 60 guests who were all able to have our own private resort for 3 days. Our guests all are saying they have to make it back one day. It was so beautiful, private, and the setting was amazing.
 
One of the major challenges of putting together a destination wedding is finding and working with your ideal vendors from afar. What wedding vendors did you use to put together this spectacular wedding?
We had great vendors. Our photographer was Seth Warren. He is from Baja and is an amazing photographer. Our florist was flowers to go Vallarta they were great. The wedding coordinator was named Vanina. She is included with the villa and is the owners daughter. My wedding dress was Ann Taylor. We got our wedding invitations off of Etsy through Sprazzle designs. They were in airplane ticket format.
 
Your wedding was absolutely beautiful! Your posts and reviews will be extremely helpful to our new brides. Thank you for sharing you special day with us at BDW. 
Dear members, if you planned your wedding with the help of our community we would love to hear from you! Contact us at admin@BestDestinationWedding.com if you are interested in sharing your wedding experience with BDW. For more information here is the "BDW Real Weddings | Featured Wedding Submission Information Thread". Thanks!
---