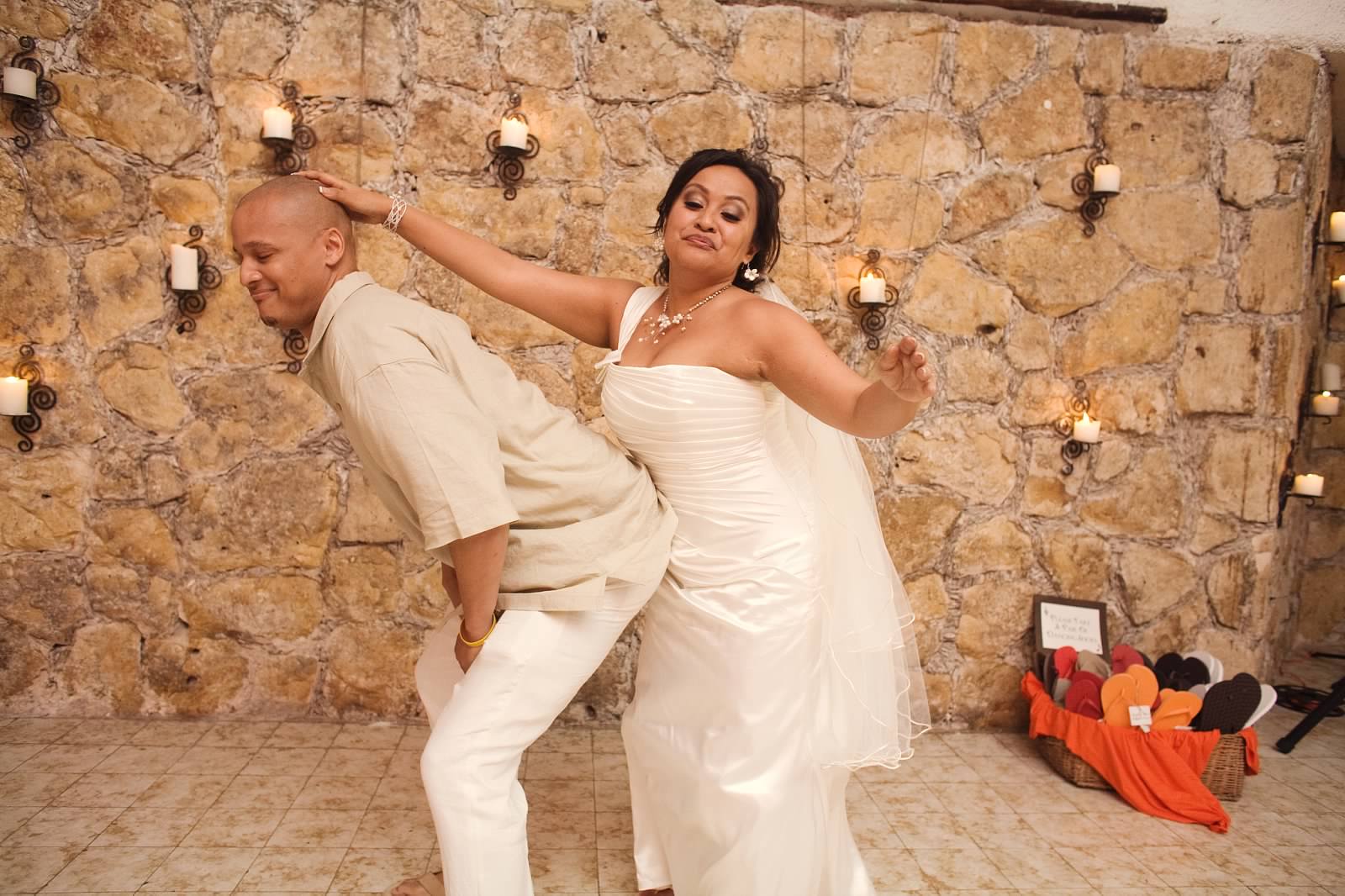 "Don't just do a regular First Dance, that's so booooorrrrrriiinggggg!"
Yes that's what my own mother told me as we were planning our Wedding. She urged, no actually pretty much begged, that we do something fun to surprise our guests. Well, little did she know we had already been planning to do a surprise dance, but in order for it to be a true surprise, I had to keep it a secret from her too. So instead, I did my best to make her believe a surprise dance was just too time consuming to plan and I just didn't have time for it. Let me tell you -- mama was disappointed LOL.
But lo and behold, because we flew into Mexico a week before our wedding, we were able to spend a few nights choreographing and practicing our first dance surprise in our room when everyone was asleep (we stayed in a villa property that housed 30 members of our family). My husband and teenage daughter even spent about an hour in the pool teaching me how to Dougie (hahahaha, I'm serious!).
And guess what, when the time came to do our first dance, I remember seeing my mom at the corner of my eye kinda roll her eyes and pout in her seat because according to her, we were just "so booooorrrriinnnnggggg." But when our slow dance music cut into some booty shaking music and we broke out into our routine, all of our guests went wild -- including mama, she was probably cheering the loudest. Yes, we gave them a show and it was pretty darn awesome to see everyone cheering and giving us a standing ovation.
I say all this because if you're contemplating the idea of doing a surprise First Dance -- JUST DO IT. It will honestly be the best gift you can give your guests and well, the photos and video will be priceless for decades to come!
Click here to see some surprise first dance inspiration on YouTube!
Are you planning any surprises for your guests on the Wedding Day? Share your ideas and plans in the comments section!
- - -
About me: I am a former BDW Bride AKA as MarieSam and was addicted to this forum as I planned my own wedding in 2009. Since 2010, I have been the proud owner of MarieSam Sanchez Photography -- a husband and wife photography team based in Southern California and documenting love all over the world.
---