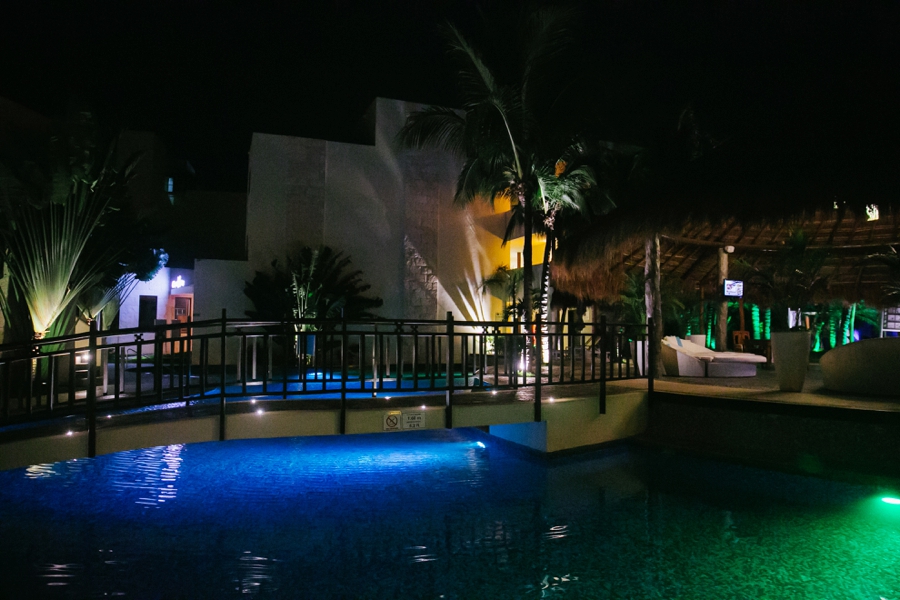 Most people probably think a week at an all-inclusive resort sounds like a dream, where you don't have to worry about food or drinks and the toughest part of your day is deciding where to eat dinner. But for someone like me, who has grown up going on adventurous vacations where you're constantly on the go and eating where your travels take you each day, the thought of being on a resort for a week made me feel a little apprehensive.
But you know what happened? My husband, our two daughters and I stayed at Azul Beach Hotel in Cancun-Riviera Maya for a week and we didn't go stir crazy, actually we loved it!
My qualms about the all-inclusive experience before our stay at Azul Beach Hotel was feeling like I had to stay on the resort the entire time to make the investment worth it. But in actuality, the all-inclusive experience gives you everything you need without having to feel like you need to adventure off the property for anything. Everything we needed to have a relaxing wonderful week in paradise was provided for us at the resort -- from a plethora of delicious food options, to activities and entertainment for both children and adults, and even an amazing spa experience -- we found each day at our resort exciting and new and it was honestly an amazing vacation for us all.
When looking into an all-inclusive vacation, here are a few tips I would suggest you consider as you plan your travels:
1. Pick a resort that has a variety of food and dining options: some resorts like, Azul Beach Hotel, provide only a la carte dining options (which is fabulous because you indulging in meals that are always fresh and made to order). But other resorts will have mostly buffet-style dining and a few a la carte options. Take your preferred dining experience into consideration when looking for an all-inclusive resort. Also check and see if the resort offers room service, which is a great option to have even if you don't think you'll use it. My husband soon found himself opting for room service when he had late night cravings -- keep in mind that most resort eateries will close, so having 24-hour room service is quite helpful especially if you're a late night diner!
2. Consider the resort activities and entertainment options: if your vacation style entails keeping yourself busy, a resort that offers a variety of activities in addition to daily entertainment would be your best choice. Also look at reviews to determine a resort's style -- is it more catered for adults or families with young children? Perhaps it's a mixture of both.
3. Look at the resort amenities: Whether you love being poolside, enjoy a day at the spa, or like lounging on the beach all day -- make sure your resort offers what you need when you look for a vacation. Also consider the resort's size, as some people love being on a huge resorts where you can wander through the grounds and others like being able to move about the resort with ease and not much walking. The resort amenities and its size will play a big part in determining the overall vibe of the property.
4. Can you easily plan and do excursions from your resort?: If you're the type of vacationer who likes to adventure about during the day, choose a resort that offers tours and excursions that can be planned or scheduled on-site. While we spent most of our time on the resort, we did go off-site one day for a camel safari at the beach that was about a 30-minute ride away. It was a perfect little day trip that still allowed us to enjoy and explore, but it was close enough to our resort that we didn't feel like we were wasting the day traveling. And of course, it's always wonderful coming back to the comforts of your resort after being off-site for the day!
Overall, the choice to go to an all-inclusive resort doesn't have to feel confining if you pick a location that offers all the options you need to have a relaxed and fulfilling vacation. So take your time to look over the options and don't just jump at the best deal out there -- consider your vacation style and preference, then make your decision based on what you feel will give you the best overall experience!
For more information about Azul Beach Hotel, or any other all-inclusive resort options, contact one of the Best Destination Wedding travel agents who specialize in destination wedding and honeymoon travel throughout the world. You can contact them HERE!
- - -
About me: I am a former BDW Bride AKA as MarieSam and I was addicted to this forum as I planned my own wedding in 2009. Since 2010, I have been the proud owner of MarieSam Sanchez Photography -- a husband and wife photography team based in Southern California and documenting love all over the world. I am also a mother to two girls, an avid traveler and a destination wedding writer/blogger.
---