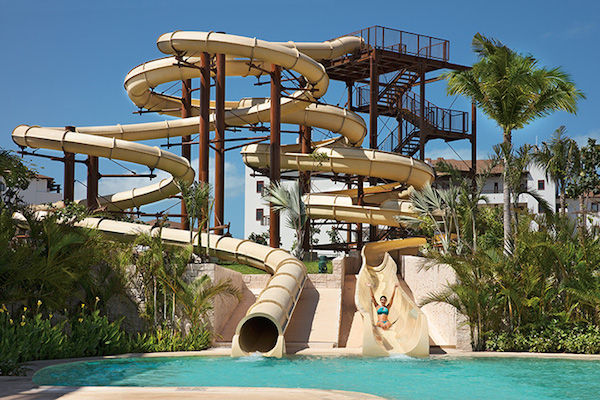 If you're look for an all-inclusive resort in Mexico that families with children will love, Dreams Playa Mujeres Golf & Spa Resort should definitely be near the top of your list.
While the luxurious and spacious grounds provide an inviting and relaxing ambiance for adults, the property is well equipped with a number of features that will keep kids busy and happy all vacation long.
With more than 65,000 sq. feet of massive pools throughout the resort, including a children's pool, families will immediately be drawn to the colorful Children's Water Park and Water Slide on site. Much like the design of the entire property, the waterpark and slide area is safe and spacious area that offers easy access for families to unwind and enjoy picture perfect days under the Mexico sun. The resort also has a wonderful lazy river equipped with floating tubes (access is for Preferred Club guests only).
For families looking for another way to bask in the sun, the beach area is full of daybeds and lounge chairs where kids can play in the sand or take a dip in the warm turquoise blue ocean waters. In the beach area, you'll also find the Dream's Delphinus Dolphin Habitat -- a world-class interactive program allowing resort guests to observe dolphins close-up, right in their natural habitat of the ocean. Delphinus offers guests various programs, which include swimming and interacting with these friendly creatures. They are a socially responsible company committed to the welfare of the dolphins under their care. Reservations and additional details are available by contacting the resort concierge.
Those with young children, ages 3 to 12, can have the time of their lives at the Explorer's Club for Kids -- all a part of the resort's Unlimited-Luxury® privileges. The club is fully and professionally supervised and filled with adventures and activities children will enjoy and treasure for a lifetime, while giving parents time on their own to spend vacation time their way. Daily activities are based around nature, science and exploration. Once a week, the Explorer's Club offers a camping adventure on the beach as well! They'll make new friends from around the world, while parents reconnect with each other. The program can even provide dinners for kids when parents want to enjoy a romantic evening alone! The Explorer's Club is is open from 10:00 a.m. to 10:00 p.m. daily.
Families with children ages 13 to 17, can cut loose at the Core Zone Teens Club. Here, teens can enjoy daily resort activities and a vast array of sports and games, weekly bonfires and disco mixers where they can make new friends, connect with those they are with and have a great time. The Teens Club is open from 9:00 a.m. – 1:00 a.m. daily.
- - -
To find out more information about booking your vacation or destination wedding at Dreams Playa Mujeres Golf & Spa Resort, or any other resort/location, contact Wright Travel Agency at: www.wrighttravelagency.com or you can contact them HERE!
---