Written by Promedsa -- a top fireworks and special effects company in Cancun/Riviera Maya.
You've all heard of those stories about, well…. slightly dull weddings, so we have written this article to ensure these words are nowhere near associated with your special day. Instead we want your wedding guests to have a great time celebrating your Big Day and we believe Promedsa Weddings can help you with this ...
In addition to a beautiful venue, great food and of course great company, we suggest adding some truly unique effects into your day to really dazzle your guests. Here are our top 5 ideas on how to deliver that WOW factor -- all of which Promedsa would love to assist you with.
Firework Display (This can be created to the rhythm of your special song)
A firework display is our absolute top pick when it comes too illuminating your day. What better way than a firework display? We can work with you to create either a simple and inexpensive show or an elaborate and synchronized show. Do you have a song that is special to you and your sweetheart? If so, tell us and we will build your firework show around this tune.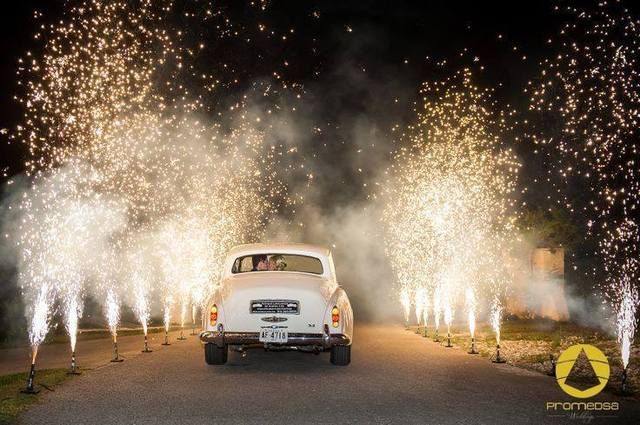 Fountains
Fountains are very popular in Cancun-Riviera Maya weddings. They may not be as elaborate as a firework display but they are very pretty and make for great photo moments! It is completely up to you how you would like the fountains set up and when you would like them fired. We suggest doing this at either your first kiss, or first dance but really the options are limitless.
Pyro Letters
We've all seen the perfect proposals take place on the romcom films and wished nothing more than it to happen to us. Well now it can! Promedsa specializes in creating unique and customized Pyro letters for the couples they work with. Be it 'Will You Marry Me?' or even your initials, we can make whatever your heart desires and set this alight when the sun goes down to reveal your message.
Sparklers
Who doesn't love sparklers? We stock a wide range of sparklers for the couples to choose from (we even have hearts and letters!) Sparklers not only make for great wedding favors for your guests but also are the perfect picture opportunity. Just remember to always tell your wedding photographer if you would like some sparkler pictures or sparklers send off so they can prepare their equipment for this sort of shot.
Last But Certainly Not Least – The Party Packages
Here at Promedsa Weddings, we love to encourage a party! In order to do so, we have selected a number of different effects to help boost a party and add extra atmosphere to your event. You may opt for fire balls (which look great either side of the DJ) or you may decide on silver or golden confetti (we have hundred of colors and styles) or even CO2 jets to feel in a lively nightclub, we have everything you need to spice up the party!
f you have any questions when it comes to having fireworks or special effects at your wedding, please do not hesitate to contact our team. We have more than 20 years experience in this field and it would be our pleasure to work with you and help you along the way to your dream day!
For more information on Promedsa's services, visit their website at: www.promedsa.com.mx
Promedsa is one of the top fireworks and special effects companies in Cancun/Riviera Maya. They work with clients from all over the world to add the 'WOW' factor that they are looking for into their events. Weddings is an area Promedsa is particularly experienced in and they take great pleasure in making every couple's dreams come true.
---