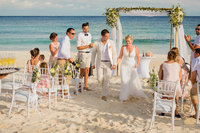 It is a question many travelers ask themselves before booking a trip — should I use a travel agent?
And when it comes to booking your destination wedding or honeymoon, the answer to that question is an absolute YES. The agents at
Wright Travel Agency
not only organize and arrange all travel plans for you and your guests, their agents are also the person in your corner who you can turn to if you run into any issues during the travel process or if you have problems at your destination location. A good travel agent is there from beginning to end looking out for your best interest to ensure that your travel experience is as stress-free as possible.
Here are several reasons why you should use Wright Travel Agency (WTA) — the official agency of the
BestDestinationWedding.com
— to book your destination wedding group:
Wright Travel Agency does not charge a service fee, so it is completely free to use one of their agents to book your group. Wright Travel's agents have decades of experience working with destination wedding couples, small/large groups and honeymooners -- many of these agents are also destination brides themselves, so they are familiar with the special ebbs and flows of a destination celebration and can help you every step of the way. Their agents are well-versed in the intricacies of booking a small or large wedding group and familiar with resorts throughout Mexico, Dominican Republic, Jamaica, Costa Rica and other Caribbean destinations, as well as other locations throughout the world. If a WTA agent's services comes at absolutely no extra cost to you, why wouldn't you take advantage of one of their agents' assistance and expertise in coordinating your trip and helping your guests with their travel plans? Aside from booking travel plans, their agents can offer in-depth knowledge and insight about your destination location, the resorts you're interested in and any fun activities or excursions your group may want to participate in. WTA agents can provide a wealth of knowledge to any traveler — and if their services are completely free to use — what is there to lose? It's a win-win for you in more ways than one.
 
Wright Travel agents have access to special promotions, discounts and perks for the wedding couple and the group as a whole. Resorts and hotels (along with travel suppliers) are often offering special booking discounts and promotions that can save a couple thousands of dollars. And because Wright Travel is a top producing agency with many of the destination wedding resort brands, there are exclusive bonuses when it comes to working with a WTA agent. This is in addition to perks that allow couples and their guests to receive complimentary room upgrades and extra amenities. But with all these special promotions, there are strict rules and deadlines the couple must adhere to in order to qualify for these perks and there is no better person to explain these terms than an agent who is familiar and knowledgeable about your wedding resort. Based on the number of rooms/nights/guests that book into the group, cashback amounts can range anywhere from a few $100's to several $1000's. Truth be told, you can't expect a hotels/resort to provide you with personal reminders on important deadlines and numbers you must meet in order to qualify for a promotion or discount, but when you're using a Wright Travel agent, he/she can give you that personalized service you need to stay on top of things.
 
Wright Travel agents can give you valuable insight when it comes to finding the best resort/property that will fit your needs, budget and preferences. When you find yourselves early in the planing process, completely confused about what resort will best fit your needs, Wright Travel agents are there to help. Their agents are extremely well-traveled and visit several resorts throughout all destination locations at least a few times a year. A good travel advisor is a huge resource that can provide you with valuable insight and information on resort options at your destination location. Most of the time, WTA agents have either stayed or done a site inspection at the resorts you're considering or had past couples get married at the property you choose — this is expertise and knowledge that you simply can't put a price on.
 
Wright Travel agents can help secure a room block so that your resort does not run out of rooms and all your guests can book at a consistent rate. One of the biggest mistakes couples make is not securing a room block at their destination hotel/resort. Sure it may seem easier just to have all your guests book on their own, when they're ready. But when you go this route, you also risk having some guests find out the property is sold out or that the rooms that are left are double, sometimes triple, the rate that other guests have booked. And then you'll end up with family and friends not being able to attend your celebration. The other downfall to not setting aside a proper room block is that you won't reap the benefits of a group booking — that means, your resort will see you and your guests as a bunch of individual bookings rather than a large group. So you won't qualify for group perks, amenities, promotions or discounts. This could mean missing out on thousands of dollars in cash back benefits and perks. The resort also won't prioritize putting your group's rooms close together, because again, you are not recognized as a group booking. When it comes to group blocks, there are deadlines for releasing rooms that go unused to avoid any penalties. This is another key moment when your travel agents expertise is vital. So word to the wise, get a room block. It will save you a lot of money, headaches and stress and you will reap all the benefits of having a room block.
 
Wright Travel agents will have established relationships with the resort you choose and their wedding department, which will benefit you throughout the planning process. If there's a consistent complaint that destination wedding couples have, it's that resort wedding department's don't reply to their emails and calls quick enough. Understandably, these wedding departments are dealing with hundreds of brides each year and being able to respond quickly to each and every questions isn't always feasible. But having a travel agent who knows your resort's wedding coordinator/team will do a lot to ease your worries. A knowledgeable agent can also answer some questions you might have about the wedding process at your resort. A good working relationship between your agent and the wedding department can be really valuable especially when it comes down to crunch time!
 
Wright Travel agents will handle all your group's travel details and questions, so you don't have to. Imagine having to answer 20 questions from Aunt Betty about the best flight to take to your destination, followed by Uncle Mike's wanting to know what the difference is between the different room categories and three of your guests suddenly going MIA once final payments are due — and this is all between your wedding coordinator sending you questions about the kind of bouquet you want, and by the way, you still need to create a seating chart and your dress suddenly is too big so you need to find a seamstress to fix your dress 10 days before your wedding. And one more thing, on the day that one of your bridesmaids is supposed to leave, she unexpectedly misses her flight so now she's asking for your help in booking a new flight. Does all of this sound stressful? If it does, it's because it is. Your job as the bride should be solely focused on being the bride, NOT a glorified travel agent or travel advisor. There are so many questions and unexpected hiccups that can happen when a group is traveling, let your travel agent handle those intricate details. This is stress you don't need, especially when you can turn to a travel agent who will take care of everything without it costing you a dime.
 
Wright Travel agents can offer travel insurance at a reasonable price. When booking through Wright Travel Agency, all travelers have the opportunity to purchase travel insurance, which allows you to cancel your trip for any reason prior to the originally scheduled flight departure time and receive a full refund (minus the cost of the policy). The policy offered also includes reimbursement for trip interruption, medical expenses incurred on the trip, and lost or delayed baggage. It's a security blanket offered to travelers that offers great all-around protection for little investment.
 
Wright Travel agents can give you suggestions on good vendors to use at your destination location. Gathering a solid crew of reliable vendors who can make your wedding vision come to life can be quite the challenge. So it's always helpful when you can turn to your travel agent as a resource for referrals and suggestions. With WTA having worked with thousands of wedding couples, their agents will likely have a list of vendors they can recommend to you — referrals are great to have when it comes to planners, photographers, videographers, DJs, hair/makeup stylist and florists. WTA agents are happy to share their recommendations with clients.
 
Wright Travel agents can help book any other excursions or outings that you or your guests may want to do on their trip. In addition to sharing their knowledge and suggestions of things to do/see at your destination, a WTA agent can also pre-book excursions so you don't have to hassle with organizing these outings during your stay. If you want to do a special activity or excursion off-site with your guests, your agent can help give you ideas and options to consider. Having your WTA agent assist you means you'll have more time to enjoy your family and friends.
 
Wright Travel agents work for you and look out for your best interest from beginning to end. Your WTA agent works as a liaison between you and the travel supplier and resort — so your agent is always looking out for your best interest and can handle problems that you or your guests may experience prior to, during or after the trip. WTA agents are in your corner, so don't hesitate to use their expertise, knowledge and experience to make the travel planning process one less thing you have to stress over.
When it comes down to it, the question really is — Why wouldn't you use a Wright Travel agent? A travel agent is the travel expert who can save you an incredible amount of time and money when it comes to planning your destination wedding or honeymoon. They are there to guide you through the process and find the best property to fit for your needs, don't be afraid to use their knowledge and resources as much as you can. At the end of your wedding journey, you'll be glad you did!
Click here
to read more than 100+ reviews about Wright Travel Agency and their destination wedding services. 
---
1