After picking our destination wedding date and location, we really focused in on setting the tone of our Mexican paradise themed event. So we decided to brand it with the moniker "El Verano del Amor" aka Summer of Love. We loved the way the words rolled off the tongue and how it made our wedding sounds so sexy, beautiful and exciting — the exact elements we envisioned our wedding to be!
Once our theme was set, we went even further and decided to create a logo/monogram that we could use on all our save-the-dates, invites and other little wedding touches. I wanted to "brand" our event with symbols and words that would forever echo the love, laughter and joy shared during our special day.
As a sibling to one of the most talented artists I've ever known, it was only common sense that I ask my brother to create our monogram. He spent the next couple weeks drafting our design on his computer sketch pad and after plenty of color, style and format modifications — mostly due to my slightly bridezilla complex — we finally had our logo!
I will always remember seeing the final product because it made my heart leap with joy. We couldn't be happier with the outcome because it was custom made to our taste and perfectly embodied the tone of our wedding ~ relaxation, nature, and love in a blissful paradise.
We used the logo on our Boarding Pass Save-the-Dates as well as our Passport Invites created by Ana de Roux (also a former BDW bride). It gave our paper products and decor the perfect little touch and whenever someone saw our monogram, they would get excited and think of our wedding.
Since our logo was circular, it didn't always fit in the format of our paper goods. So, we decided to have a second more simpler monogram made to allow us more freedom to decorate our wedding decor and guests' handouts. After a little research, we decided to enlist the services of a former destination bride who now designs logos — Allurements by Rebecca. She was offering a design special at the time, and once again, after a little fine tuning, we had another beautiful creation that blended in perfectly with our wedding theme and decor.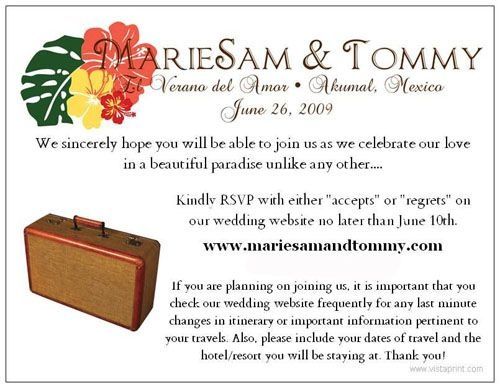 It's been almost seven years since we married, but seeing both of our logos still gives me goosebumps and makes me smile!
I know not everyone is lucky enough to have access to an artist who can draw your design, but with a little patience and creativity you can either make your own monogram or use the services of one of the many wedding logo design companies that are out there.
Some tips to ensure that your logo brands your wedding to perfection:
– use your wedding color palette
– if you have a particular theme or design to your wedding, try to find a way to include it in your logo
– make sure your logo is clear and legible
– brand your wedding by using your logo in your paper products, stationary, and decor
– LOVE your logo!
And on that note, happy branding!
- - -
About me: I am a former BDW Bride AKA as MarieSam and was addicted to this forum as I planned my own wedding in 2009. Since 2010, I have been the proud owner of MarieSam Sanchez Photography -- a husband and wife photography team based in Southern California and documenting love all over the world.
---