Cabo San Lucas
Living My Best Life at Le Blanc Los Cabos
This is a review of: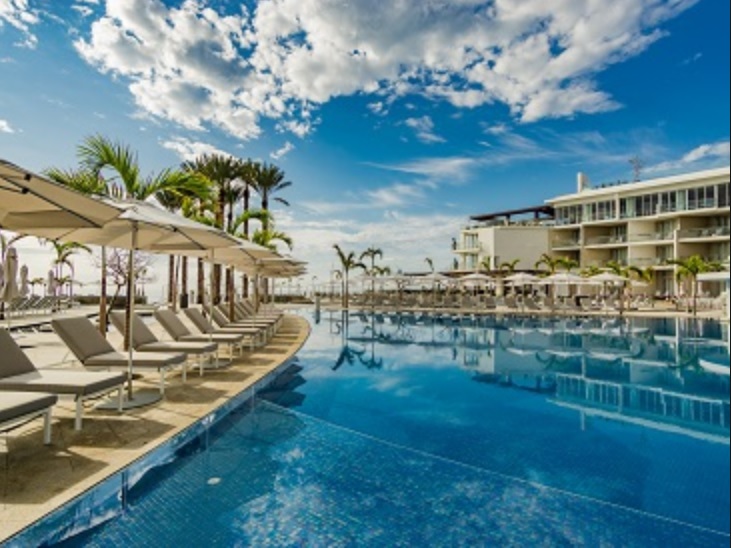 Detailed Ratings
Pros:
The delicious food and boho chic ambiance - it's posh desert living with all the luxuries you could ever want. The butler service here makes you feel so pampered!
Cons:
Like any luxury resort, staying at Le Blanc is pricy, but in my opinion, it's worth it. If you want a luxury getaway where you'll feel pampered and well taken care of, then this is the place to be. On a side note, if you're looking for a live party with lots of on-site activities and loud music, you may want to opt for another resort because this one offers more of a lounging and relaxing vibe.  
There are high-end resorts and then there are luxuriously chic resorts like Le Blanc Spa Resort in Los Cabos, Mexico. If you are looking for an adults-only experience that will leave you feeling spoiled and well-rested, this is the place for you. 
The Check-In Process
Once you exit the airport, Le Blanc's shared luxury shuttle service whisks you away to the resort, which is just an easy 30 minute drive away. 
Upon arrival at Le Blanc, you'll be greeted with a fresh towel, a neck pillow and their delicious welcome drink — a mix of coconut milk and sweetness. Trust me when I say this will become one of many drinks you'll ask for during your stay. It's a blend of delicious richness with a tinge of sweetness and it's so refreshing! The check-in process is easy and if you look around, you'll immediately notice the beautiful boho chic type decor throughout the lobby area. One thing I really loved about the resort is the consistently of the decor throughout — the light colored tones and natural wood pieces are streamlined throughout the property to give you a sense of desert chic with opulent touches. 
The Rooms
The rooms are all ocean-view suites with posh amenities and modern decor similar to what you see throughout the resort. The beds are comfortable and the linens are as soft as can be. The in-room bar is full stocked with snacks and beverages, and you'll even get a beautiful Le Blanc branded bottle of tequila to either enjoy in your room or take home with you. But what I love the most is the attentive personal butler service you receive — the butlers assigned to each floor are thorough, helpful and always there to assist you with your needs. One thing I found truly fascinating was the Le Blanc app that each guest can download onto their phone. This app gives you the ability to communicate with your butler via the app, so you can make request while you're elsewhere — at dinner, on the beach, at the pool or spa, etc. You can request a bath to be drawn at a certain time, ask for their artisanal soap to be delivered to your room, or even ask for an aromatherapy treatment so that your room smells wonderfully fresh and soothing when you walk through the door. At other resorts, I've found  myself declining butler service for things like ironing or unpacking my suitcase because "I can do it myself," but with this app, you can make simple requests that make all the difference in the world when it comes to feeling pampered and comfortable during your stay.
The Food and A la Carte Restaurants
The food here is fantastic — it's fine dining at its best! 
The breakfast buffet at Blanc International offers such a good variety of food that is also beautifully presented — sometimes I felt bad eating something because it was too pretty to eat LOL. Needless to say breakfast here is delicious and service is great. 
On our last day we also ate lunch at Blanc International and enjoyed delicious a la carte dining. Their Pad Thai with flank steak was full of flavor as was their yummy lobster roll and fries. My friend enjoyed a ribeye with salmon and she said it was amazing as well. And again, the service was perfect.
Other places we enjoyed during our stay were Blanc Ocean, where they have delicious tacos and seafood faire, Mezze which offers artfully crafted Lebanese cuisine and flavors, Blanc Asia which filled our bellies with incredible Asian delights, and Lumiere their French fine dining eatery complete with wine pairings throughout the multi-course meal. Every meal was freshly prepared and delightful, if you are a foodie, this is a resort that will not only feed your belly but your soul. 
But can I tell you what is a MUST here? The churro cart that comes out to the pool area everyday in the late afternoon — yep freshly fried churros filled with caramel or served plain. This afternoon snack is to die for — so much so that our group was loudly cheering at the sight of the churro guy by the second day. Yes, these churros are worth the hype, so make sure to try it!
Ordering pizzas from Blanc Pizza while you lounge by the pool is also a must. The pizza is served fresh with a variety of flavors from traditional pepperoni to local flair with chorizo and carne asada. 
Blanc Cafe is their drink and coffee shop that also offers small bites, desserts and pastries from morning to night. It's the perfect spot if you want a quick bite or drink to get you through the day. 
While I didn't get to indulge in their 24-hour room service menu, I was amazed by the offerings which you can see on the television in your room. This is not your basic room service menu, this a culinary splendor served whenever you want it. The dishes are detailed and plentiful — again they take no shortcuts here, everything is first class when it comes to food.
The Beautiful Grounds 
This whole property is filled with lots of gorgeous lounge spaces, the Blanc Fire area is one of my favorites — an ocean-view terrace with comfortable couches and seating areas, a beautiful fire pit and live music into the late afternoon and early evening. It's a great area to chat with others and just relax, while also enjoying delicious drinks from the nearby bar. 
The rooftop terrace area is spacious and equipped with several seating areas with sprinkles of Cabo's desert atmosphere throughout. On the terrace you'll also find a beautiful archway perfect for intimate wedding ceremonies with the stunning Sea of Cortez in the background. While this resort feels intimate and cozy, nothing feels cramped or too crowded. I love that I can go from my room to the pool area in just a few minutes, but yet never feel like I'm having to fight through a crowd. 
The pool area here gives off a modern vibe with chic cabanas and a plethora of lounge chairs and comfortable poolside seating areas. The water temperature is perfect and poolside service is top-notch, we even managed to get cooling eye treatments during the two days we spent poolside. 
If you plan on lounging by the pool, renting a cabana for the day is a must. With your cabana you'll receive drinks and food service along with access to a television in your outdoor suite. It's a great way to relax in luxury.
Activities On-Site
While this resort doesn't offer a party-like atmosphere, it does have some fun interactive activities you can partake in. 
During our trip, we experienced the Guacamole and Margarita making classes, both of which were very hands-on. These unique activities allowed us to immerse ourselves in learning how to make two Mexico cuisine staples while also having a lot of fun. The instructors — a chef and a bartender — were both great and really made the lessons enjoyable. Plus we got to enjoy the fruits of our labor and eat the guacamole and drink the delicious margaritas afterwards!
For those looking for a place to relax and socialize after dinner, Blanc Stage offers a fun space where you can watch live sports on the many flat screen television, listen to live music or play pool. This posh bar-lounge space will keep you entertained while you enjoy a laid-back ambiance and your favorite drinks.
The World Class Spa
The Spa here was simply marvelous! I had an 80 minute massage that included lots of stretching in between, it was unlike any other massage I've ever had. The hydrotherapy circuit was also great and very spacious. The entire spa takes up an entire floor — it truly sets a mood of tranquility and serenity.
If you want to feel like you're living your best life, book a stay at Le Blanc Los Cabos and immerse yourself in all the wonderful pleasures of this beautiful resort -- the food, the ambiance, the service, the spa -- this property has it all!