Dominican Republic
A Beautiful Resort on Bavaro Beach
This is a review of: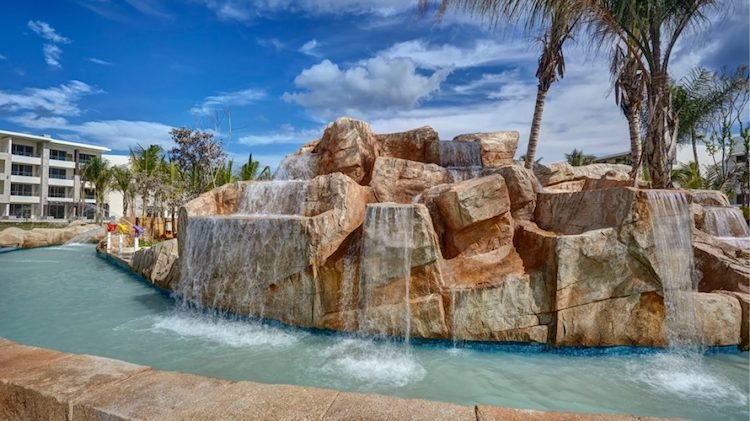 Detailed Ratings
Pros:
Excellent service throughout the resort, great food and the lazy river with a bar grotto is such a fun way to spend the day.
Cons:
The Diamond Club offers the exact same food every single day, at least while we were there. There also isn't a full-service bar in the Diamond Club, more so a cabinet full of liquor so I'm guessing you just serve yourself? Also, when we were in the Diamond Club late one night and wanted a cup of coffee, the machine wasn't working. So it was a bit disappointing. I've become spoiled by resort clubs that continuously change the snacks and appetizers in their preferred clubs each and every day and also have full service when it comes the bar and drinks. That said, the Diamond Club food was the only food I didn't care for on the entire resort, the rest of the resort had excellent dining and drink options.
Royalton Bavaro Resort and Spa is a gorgeous all-inclusive family friendly resort located on Bavaro Beach. While the resort is spaciously designed, it's never too far of a walk to get to any point of the property. This resort offers so much for both singles, couples and families with a great selection of dining options, entertainment and a beautiful setting all around.  
The Food
All the restaurants on this resort offer excellent food and service. We didn't try any of the buffet dining options for dinner, but we indulged in the a la carte restaurants which were all exceptional. 
Most of the resort's restaurants are located in a plaza type area close to the lobby, which is such a beautiful space to spend the evenings people watching or simply relaxing. There are tons of seating options in this plaza type area, so it's a great area to just sit, chat and unwind before or after meal or during a midday snack.
For lunch one day, we tried the BBQ style buffet by the pool area and it offered a plethora of lunch items, including freshly grilled BBQ (pork, beef, chicken), fried chicken, tacos, nachos and delicious side dishes. The smoothie food truck was also nearby with refreshing drink options to keep us hydrated throughout the day. 
We had lunch twice at Score Bar & Lounge -- the resort's eatery that is open 24 hours a day. The food here is much like bar food, but served with the fine quality of a speciality eatery. I had the grilled cheese sandwich and tomato soup one day, and the chicken wrap another day -- both were delicious. And their fries here are awesome!
On our first night we tried Rio Brazilian BBQ, which offers diners the Brazilian churrascaria experience which will leave you stuffed with delicious grilled meats that are brought to your table on stick. The restaurant also has a large buffet spread of salads, sides, soups and desserts. 
On our second night we checked out the Zen Teppanaki and Sushi Bar for some Asian cuisine. Coming from Southern California, where Asian cuisine is served at its best, I'm quite picky when it comes to Asian food. But I was pleasantly surprised here -- the teppanaki dishes were full of flavor, fried rice was great and the ambiance and lively nature of the staff was refreshing and entertaining. This is a great option for a fun night out! To top it off, we had the tempura banana ice cream for dessert and it was the perfect way to close out a delicious meal.
On our final night at Royalton, we went to Hunter Steakhouse to celebrate a wonderful stay. The ribeye steaks here are enormous but cooked perfectly and all the side dishes were savory and delicious. We chose to dine out on the patio, which gave us the opportunity to enjoy the live music nearby and do some fun people watching. Hunter offers a wonderful fine dining experience. 
Royalton guests can also opt for 24-hour room service with no extra charge. We chose to order from the room service menu for breakfast and lunch one day and both meals were served within 30 minutes. The food was delicious and fresh -- sometimes room service can be disappointing and a downgrade from what you can get in one of the eateries, but the meals here were great and they offered huge portions. 
One of my favorite stops each day was at the resort's coffee and dessert shop located near the lobby. Here they serve up an excellent variety of fresh drinks, small portion sandwiches and have both ice cream and desserts offered throughout the day. It's a great little pit stop if you need a little pick-me-up in between the larger meals.
The Rooms
The rooms here are well-appointed a very modern with a very chic design, have good lighting and amazingly comfortable beds. I rested so comfortably here. The balconies are spacious and offer a nice space to enjoy the view. 
If you're opting for a swimout suite and want an ocean or pool view, you will need to ask for a swimout suite that faces the inner part of the resort.  I noticed some swimout suites that were facing the exterior of the resort, which may be a good option for those who want more privacy or want some space for their kids to run around. The outward facing suites also had lots of green space nearby so that's a good option for guests with children. 
The Lazy River
My favorite part of the resort is the lazy river, which is located in the middle of the property so you can't miss it. Floating tubes are located around the river, so you can grab one and jump in at any point or simply walk/swim with the river's flow. It's a good size feature that has lots of fun waterfalls, moves at a good pace and has lots of entry/exit points. There are also a few slides that you can try and a flowrider (simulated wave/surf machine), which seems to be a highlight for the kids. Those with small children can also enjoy the splash pad which is right next to the river. While there is a decent amount of seating around the river, I think they should add more chairs around the green lawn areas to truly give people options. During busy times of the day, it can be difficult to find open seating. But aside from that, the lazy river is a really fun way to spend the day. 
Huge bonus points go to the person who designed the river and created an exit point into the caved Bar Grotto, where you can stop by for a quick drink and then flow right back into the river's pace. We stopped at the grotto a few times to order cocktails or bottled waters -- it's a great way to quench your thirst without having to get out of the water. 
The Diamond Club
Royalton Bavaro offers a Diamond Club, which we had during our stay. As part of the Diamond Club, guests are offered personal concierge service and the staff member who was assigned to us (Liyary) was wonderful. She was attentive, made all our dinner reservations and always checked in throughout the day to see if we needed anything. She really went out of her way to make sure we were always well taken care of. Another perk of having Diamond Club status was the Diamond Club lounge, and this is really the only aspect of the resort that I was a bit disappointed in. Inside the lounge they offer buffet style appetizers, snacks and desserts throughout the day. And during our four days here, I noticed it was the exact same food every single day -- no variety at all. That was a bit disappointing. They also did not have a full service bar in the lounge rather a cabinet with a bunch of bottles of alcohol, so I'm assuming you just serve yourself? It's the one part of the resort where I feel they got lazy and I hope they'll work to improve it because I just don't see the value in it.
Wedding Venue Options
Royalton Bavaro has is a huge property with a lot of wonderful options for wedding ceremonies and receptions. Whether you plan to have an outdoor wedding or a beachside wedding, there are lots of great pockets of greenery throughout to give you that feel of the tropics but never straying too far from the modern chic touches you'll find consistently in the resort. The beach is beautiful with lots of space and there are great options for indoor celebrations as well.  
The Overall Experience
This resort scores high all around -- from outstanding service, to delicious food and beautiful amenities with lots of activities and fun features to keep yourself busy on-site, Royalton Bavaro is an ideal choice for a celebration or vacation in the popular Bavaro area.