Riveria Maya Corridor
They can't follow basic instructions!
This is a review of: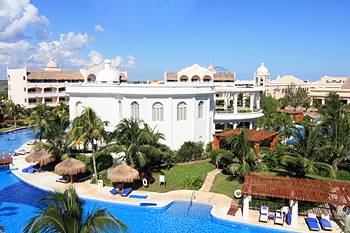 Detailed Ratings
Pros:
The food and the cake were delicious! the waiters were amazing!
Cons:
They need to hire a PROFESSIONAL CERTIFIED wedding planner, sorry but is true!
Just know that your wedding will happen here, just not how you planned it.
We just had our wedding at ERC with our family, it went great and everybody had an excellent time ONLY because our family made it perfect!  I won't waste your time with a long story, just know that no matter how detailed you put information on emails (pictures, bullets, clear sentences) the ERC wedding planner (which apparently changes every year!) is just disorganized in excess! I liked her as a person, she was very nice, but... honestly I don't know what they are thinking by offering weddings. I'll list some examples of what happened to us:
1. COMMUNICATION: My first wedding planner resigned and I found out months latter when I called to complain why I wasn't getting any answer. I found out 2 months before the wedding that I wasn't going to get the singer I initially asked for (because we needed to reschedule our wedding). My complain was WHY?, even when we reschedule with plenty of months of anticipation, why they told me the singer was not available until 2 months prior the wedding???? We eventually found another singer and we loved her!! but the wedding planner delayed the answers soooo much that even if we wanted to change the band, there wasn't just enough time to find another band.
2. COMMUNICATION: Takes weeks to get an answer back, even to basic questions. When you call to get a response they tell you "they are working on it" (working on it for 5 weeks??)
3. DISORGANIZED: They will mix up what you asked for, every time you send a new email you have to summarize in bullets what you already agreed on the last weeks/months (as a reminder to them)
4. THE PLANNER: They will promise you a "planner" with all agreements for your final review. I asked for this file forever and saw it 2 days before my wedding (and of course had the wrong venue, extra charges they didn't mentioned during the past +12 months , and the specs for the ceremony were incorrect!)
5. CEREMONY: We were so tired to dealing with them that we just agreed on lots of things we weren't convinced initially, we were just firm with ONE point only since the beginning: our ceremony MUST be bilingual. They didn't want to do it like that because it was going to be "long". We were firm on that point and told them that was the only reason we were doing the wedding there, why they bring that issue up 2 days before the wedding? Long story short we were promised it was going to be bilingual and in the order we agreed on.... result? the minister did whatever she wanted to do!!! my family listened half of the ceremony in spanish, my husband's family listened the other half in english and honestly we didn't understood ANY of the spanish she was saying! which is absurd, all the employees there were bilingual, why they provided a minister that clearly didn't knew how to enunciate/pronounce anything in spanish? The saddest part is that you can see our >really< pissed off faces in the pictures in the ceremony, we were soooo mad at the hotel and the minister!! My husband spoke with the minister before the wedding and she didn't have a clue she was supposed to say a sentence in spanish, then the same one in english...and even when my husband told her how we wanted it she just didn't do it!
6. DECORATIONS: We paid extra money to bring all the decorations down there, at the end they decided how many decorations they wanted to hang. My mom was really sad because she made a lot of pom-poms by hand with fabric and buy all this other paper flowers to hang and they just didn't put them!! Instead of hanging around 40 pom-poms they just hang 12. I really recommend having your wedding at Las Olas, the wind was amazing even for July and can't beat that natural view of the ocean in the background.
7. CAKE PHOTO: They put the wedding cake topper incomplete. Was one plastic silhouette with us and our last name and 3 silhouettes with our kids (they were all in the same box) well we send them to look for our kids silhouettes, took them 20 mins to find them.
8. The wedding planner gave us an option to move everything 30 mins latter to avoid the sun, which we thought was great...except she obviously didn't told that to the chef, all our appetizers and meals were cold.
9. DINNER: We demanded (as stated in all my emails) not to serve the dinner until the live music ends (cuz we payed a LOT of money for just 45 mins of live music, we wanted to enjoy it) we told them again and again "don't serve the dinner until the band leaves"....they serve the dinner 15 mins after we told them not to!!!!!! The dinner was really delicious and the chocolate lava cake was amazing!!!!
10. MEETING THE WEDDING PLANNER: The first day we arrived to the hotel we planned an exact hour to meet with the wedding planner to discuss the "planner" (that she never sent by mail). The concierge called her to confirm the hour and told us to meet her at the lobby at 5, at 5:00 we were told at the lobby she was busy and will meet us at 6 in another area...at 7:15 pm I was as angry as you can imagine, because was our first day, we wanted to explore the hotel and we missed two really good shows we really wanted to see. Finally she arrives and tells us: "here is the planner I sent you by email" (really??????) And again: the venue was wrong, they charged us for some things which is fine but why she didn't say it during all the emails and phone calls?)
11. WALKING ON SAND: I was worried about walking in the sand with medium heels, the wedding planner told me: "don't worry, we put a carpet from here to the pier, you will only walk few steeps in the sand". Long story short the carpet was in the concrete at the pier, I walked all the way down there in the sand and of course I was steeping on my dress the whole time sinking in the sand.
12. SPA: The jewel of the crown was that they charged to our room TWO spa sessions that my mother in law booked for me and her as a present for my wedding. They mixed up the SPA reservations and put them in our room, which we were charged when we checked out, my mother in law already left few days earlier. And they just said: well you can pay it now and just ask her for the money (wtf?! of course I was not going to do that, that's rude!!!). All they could offer was to take away the two tips for the SPA, which was about $85 dollars! and I was like: why are you charging me for tips for the SPA? we already gave tips that day, and generous ones, besides you are just supposed to pay for the service (which is already expensive).
13. HAIR & MAKEUP: I really liked the stylist, she was really nice and funny....BUT... I ran to the room to take off 4-5 layers of makeup and just re-do it myself, I looked like a clown!!!! And the makeup was like 3 tones darker than my skin color! My hairstyle didn't survive after the wind during the photo sesion
14. CAKE: The cake was amazing! vanilla with strawberry, was suuuuuper delicious!!!
I have more examples but honestly I got really mad again just by typing this review. This is a very nice and pretty hotel to visit and maybe anniversary and honeymoon, but is not worth all your anger and frustration while dealing with their planners. 
Like I said, if you choose to have your wedding at ERC it will happen, our family had a great time because we chose to have a good time at the wedding, but you are about to face a LOT of frustration trying to get answers to your questions/concerns when planning and once you are there finding out they didn't do things the way you wanted.
*** Tip: If you didn't ate the fruit at your room and it stays there for 1-2 days DON'T eat it!!! I grabbed a peach from the bowl and when I turned it to eat it it was full of mold/fungus (really big and green hairy mold!!!) ewwwwwwww!
This review is exclusive for the wedding portion, I have really good comments on the hotel and all the employees that make your stay very pleasant! But I'll put those on TripAdvisor