Riveria Maya Corridor
The perfect wedding in beautiful Riviera Maya
This is a review of: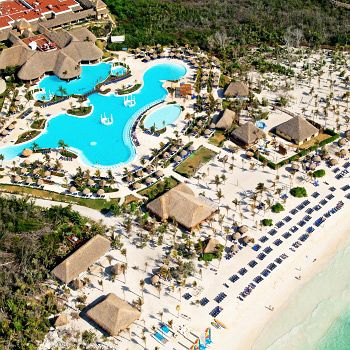 Detailed Ratings
By
bana61
, · 1,653 Views · 0 Comments
Pros:
Beautiful and versatile resort, Great food quality, amazing wedding planner, beautiful photo opportunities on the wedding day
Cons:
Resort size can be an issue given where your guests stay, Cannot book A La cart restaurants in advance
We recently had our wedding in Grand Palladium Riviera Maya Resort. We had around 35 guests flown in from U.S and Canada and our experience was really exceptional. I am writing this review for any future brides considering this resort for a destination wedding.

The Resort:

In terms of natural beauty and layout Grand Palladium is the most beautiful resort I have stayed at in Mexico. The complex is carved out of a mangrove and is extremely eco friendly. Being a massive resort there is plenty of amenities, services and entertainment. There is no shortage of beaches and pools to choose from and there is always some form of entertainment and activity around the resort. We had a pretty diverse group of guests (from college kids to elderly to ones with babies) and they all told us how impressed they were. The quality and variety of the food (both in buffets and A La Cart restaurants) is pretty good which is something I cannot say about many all-inclusives in Mexico so this was also a great plus.
This resort is massive on another scale though and even though it offers many scenic walks and there are trains and golf carts running around the clocks shuttling guests around it is something to consider when planning for a larger group. My recommendation would be to ask all your guests to stay in the same section/hotel within the resort. It goes a long way in planning the meetups and get togethers. The Colonial section (buildings 19-21) are the most central part close to two main pools and lobbies.
The Wedding:

My wedding planner Elsa Del Razo Montiel was amazing! She was punctual in her email responses and answering my questions before the wedding. She helped me book my welcome dinner at the Brazilian A La Cart and accommodated custom changes to our wedding reception dinner menu. She also helped me and my guests book hair appointments at the spa in advance of the wedding day. Once in Mexico we met up in person and she immediately put my mind at ease with her warm smile and attentiveness to detail. She also went out of her way to help my mom with setting up a traditional wedding table at the ceremony site and getting all the special items she needed. On the day of the wedding she was always available and made sure every detail of the wedding was cared for. She even booked us a private driver (with a cart) for the day to make sure me and my wedding party were easily schoeffered between the salon, the room and the ceremony location.

The Wedding was absolutely perfect and beautiful beyond my imagination. We had the ceremony in the beachside gazebo near the white sands villas. The location is beautiful and segregated enough eventhough it is beside a public beach. We had a private reception in the La Laguna restaurant which is next to the White Sands Main pool and a section was closed off for our event. Everyone was very pleased with the quality of the food, cake and the service of restaurant/bar staff. We paid for an extra hour (to keep the venue until 11pm instead of 10) and I highly recommend it, well worth the cost! Also the resort does not offer DJ services so I booked my own DJ (recommended to me by my photographer) and was very satisfied with his services, he really put on a great party for all of us!
Spa/Salon Services:

I had two hair updo appointments at the resort hair salon located inside the spa (1 trial, 1 wedding day). I was somewhat nervous about the quality of work they would offer as I'm really picky about my hair but their services beat my expectations. I had photos and videos of what style I was looking for and they nailed it perfectly. Even my guests that went there without any photos ended up having amazing updos. I also heard they offer great massage services or just use of the spa pool and facility for a reasonable fee but i never had the chance to try it for myself.
Wedding tips:
- Make sure you ask your wedding planner to book at least one group dinner before the wedding for you and your guests. The resort A La cart restaurants do not take reservations (which might be a good thing for last minute planning) but is not ideal for accommodating a large group. Getting seats for over 15 people during dinner hours could easily take up to 1.5 hours. Booking a welcome/rehearsal dinner with your planner guarantees you and all your guests seats without a hassle.
- Make sure you ask you wedding planner for a private cart on the wedding day to shuttle you and your photographer around. My photographer (who works with this resort all the time) recommended this and it was absolutely necessary as there are many beautiful photo locations scattered around the resort and walking between them in high heels and a long dress is not fun!
- Take into account the daylight and sunset times when planning your ceremony and your photo shoot. During the winter months it gets dark around 6pm so make sure you leave ample time after the end of your ceremony to complete all newlywed photos.
- Book hair/makeup appointments in advance. Some of my guests waited till the day before the wedding and the salon was fully booked. They managed to fit some of them in due to cancellations but still its best to avoid the hassle.
- Finally a personal recommendation: the resort offers a newlywed wine+cheese for 2 add-on for $55 USD. I think this was well worth the money, a relaxed time for you after the wedding to enjoy wine and cheese on a beautiful secluded part of the beach.

Final Notes:

As a bride it's easy and natural to be nervous planning a destination wedding in a faraway place where you can only rely on pictures and other people's reviews to make a decision. This is the reason why I wrote this review because reading reviews helped me alot in making my own decision. One thing I have to say is dont get frustrated if at times it takes a while for your planners or your resort to get back to you. They plan many weddings annually and they are experts at what they do. Once you are there in person you'll realize that they have accounted for all details. And on the day of the wedding everything will come together and even if there are minor mishaps (which are bound to happen anywhere) it will still be beautiful. So focus on enjoying yourself and your time with your loved ones. And all the best of luck :)