Photographer Reviews
Wedding at El Dorado Royale Spa Resorts
This is a review of: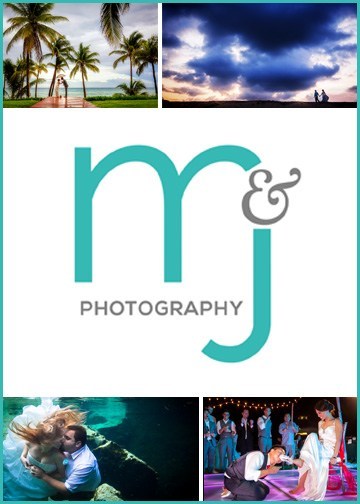 Detailed Ratings
By
mbfitz
, · 477 Views · 0 Comments
Pros:
Stunning photography, excellent communication skills, personable and easy to work with
Advice: Book them.
Now.
Rearrange your budget however you need to, because M & J Photography is simply AMAZING. If I could give them 10 stars, I would. Your photos ARE how you'll remember your wedding day forever. Make them count.
M & J were not our first choice, but they were the BEST choice. Since we planned a destination wedding, we struggled with the decision to either bring our own photographers from Texas or take the chance booking a photographer in Mexico. We knew that the photos were going to be one of the most important decisions as well as the one of the biggest financial commitments of our budget. Our initial photographers backed out on us due to unforeseen circumstances, so we decided to pursue a destination photography team in Mexico … which turned out to be the BEST decision we made. From our first meeting via FaceTime, to their quick responses to my countless inquiry emails, to the knowledge and recommendations other local vendors, as well as tips and hints on how to negotiate with the resort planning staff; Michael and Jennifer made it clear that they were the absolute BEST professional choice.
Despite stormy weather the day of our wedding, M & J were able to capture the natural beauty of the moment with unbelievable ease, confidence, and talent. M & J respectfully reassured us that the storm clouds and overcast conditions were creating the PERFECT backdrop for our beachfront ceremony, and WOW they were right! They both are equally talented artistic professionals with a deep passion for photography that work both harmoniously and complimentary. They're fun and easy going and are both great at making you feel comfortable and natural in your skin. Their photos capture the true YOU and not a bunch of awkward or forced smiles and poses. During our wedding, M & J were in the background just enough that they captured so many great candid moments, but were also confident enough in our shared vision of what we wanted for the night to be able to step in and say, "We need you to do this for just a moment" or "Can we get a shot of ...." without interrupting the flow of the night.
After the wedding, they were able to quickly provide preview images for social media for all of our family and friends to enjoy that could not make the trip. In addition, a full online gallery was provided for easy ordering for us as well as our guests. Upon sharing the photos with friends and family, the unanimous responses were "WOW!!!" "I feel like I was there!" "I have never seen such beautiful wedding photos!" "Everyone looks fabulous!" "These could be published in a wedding magazine!" "The clouds! The water! That dress!!" "Unique and masterful eye for detail."
We can look through our AMAZING album and it instantly brings us back to that day because through our photos we can see and feel all the emotions of everyone that took part in our special day. That is the simple magic the M & J gave us for the remainder of our lives.
Bottom line: If you're looking for amazing photographers that will capture the best imaginable version of your wedding day, then look no further --- M & J Photography!!!!