Dominican Republic
Perfect service/location for a destination Wedding
This is a review of: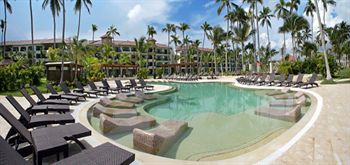 Detailed Ratings
Pros:
Great Service, attention to details.
I got married about 1 week ago at the Now Larimar in Punta Cana, and it was a great experience. I live in the US (north east) and I started to plan my wedding in February of this year. We chose this hotel because the rates were reasonable and it was family friendly (we had about 7 nieces and nephews that were attending to the wedding). Our initial contact with the Wedding team was with Mercy Aquino, she was very cordial and assigned us our wedding Planner Yeomadry Collado. Our wedding was large for a destination wedding ( 60 guest) but Yeomadry worked with us all the details to accommodate everyone. We selected a lot of the services offered, we chose a catholic ceremony at the fountain, we selected full decoration of the location, everything was perfect, the flowers the chairs, the isle decoration and we choose the Violinist for our procession and it was outstanding. At the cocktail hour we selected a Caribbean trio that played for 1 hour and it was perfect. Just before our wedding there was a tropical storm and there was 70% chance of rain the day of, so that morning Yeomadry gave us the option to move it indoor and even though it was tough to make it ( we were going to have the reception at one of the pools) we moved it and it was the best decision ever. The room was decorated perfectly, tables, flowers, chairs and Yeomadry coordinated everything, I didn't have to do anything. We had a DJ and a full international band ( 8 members) and it was great. Also, the master of ceremony was perfect, the party was organized and ran smoothly. All our guest complemented us on the Food (honestly I didn't eat much), the dessert was outstanding and the wedding cake that i did tried was very good.
We hired the photographer that the resort had in house WBA and they were great as well. Ana Maria coordinated everything and the accommodated the package to our need, they pretty much customized d it for us. Claudia the photographer was very professional, friendly and follow all our directions, I highly recommend her!!
I got my hair and make up done at the spa, and they follow all my directions, and I was extremely happy with the end result, they made me look beautiful. I sweat a LOT and party until 5 am of the next day and my hair and make was perfect until then. My mom, mother in law, aunt and cousins got their hair and make up done there as well and they all were very happy with it
In general it was perfect, the service at the hotel it's outstanding, all of our guest were very happy. Yeomdry (my wedding planner) gave me great advises, she was truly looking for our best interest, didn't let me spend money on unnecessary things. I got to know the rest of the planners and they all help out with their opinions when I asked them.
In general, It was MY DREAM WEDDING, I highly recommend the NOW Larimar in Punta Cana for a destination wedding.
If anyone has any questions, or wants more details please feel free to contact me, I know it is tough to chose a venue without knowing it, but I feel that the reviews help a lot.