Cancun
DRC North Beach Wedding Review
This is a review of: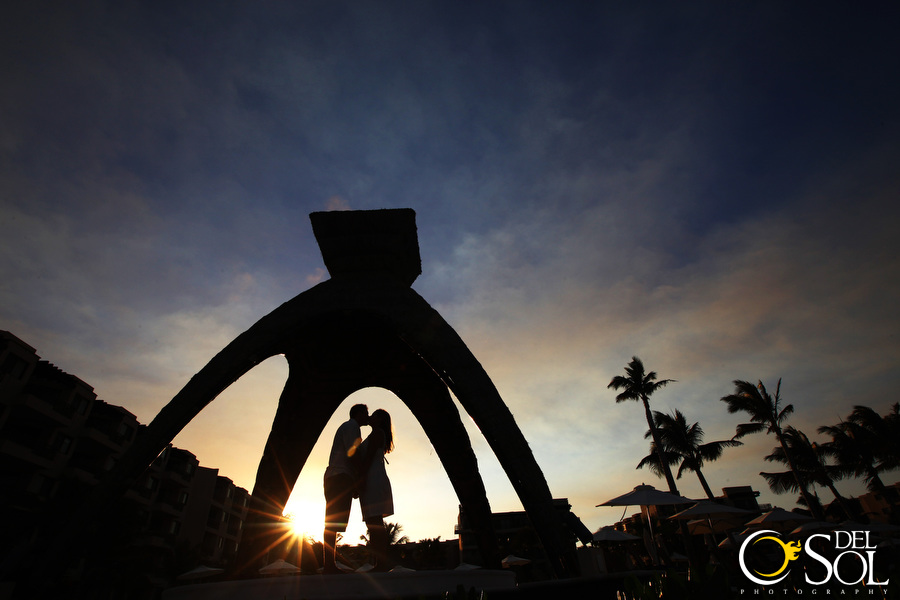 Detailed Ratings
By
pddcmc
, · 1,834 Views · 1 Comment
Pros:
Gorgeous resort and accommodations. Beautiful Ceremony!
Cons:
Wedding Coordinator
We had the Dreams of Love Wedding package on April 17th with the ceremony at 5:30 pm on the North Beach, cocktail at the Jacuzzi, and reception at the deck.
Travel: We flew with Apple vacations/Frontier Air. We had no problem taking our wedding outfits on the plane (the biggest pain was carrying it through the airport!) We got a private overhead compartment to lay our clothes down in. No problem with customs. We were over-weight with all three pieces of luggage, but when we checked our bags, the person at the counter let it "slide" because it was for our wedding (I think wearing a "Bride" shirt helped ;)).
Arrival: We arrived to DRC and we were greeted with cool towels that smelled amazing. We were then taken to the preferred club to check-in and provided champagne. Our wedding coordinator met us there and walked us to the wedding office (more on that later). In the room we had a flower arrangement, champagne, and fruit, and a welcome letter waiting for us. We were in room 1551, which had an AMAZING view with the largest deck in the building.
The view from our balcony
Pre-wedding meeting: Our meeting with Maira (wedding coordinator) occurred immediately after checking in. I will say this – I was extremely disappointed. Maira did not have the most current Wedding Planner form (I should have trusted my instincts and brought a print out, but in an email she told me she would take care of it), so that made things a little challenging. But, I remained calm and positive, until… we started discussing the events of the wedding day. She said, "You didn't tell me you were having a first look." *Um, what?!* We had corresponded several times about this. So, by then I started to panic a little because it became apparent that she was not with it. Also, in an email, she told me she would cancel the bridal appointment with the spa (I hired outside stylists), well she didn't. So, in the meeting I had to remind her of this. She then wrote herself a note to cancel the appointment. Unfortunately, the day of the wedding, the spa called my room and said that I was 9 minutes late for my appointment! Luckily, my MOH had answered the phone and let them know that the coordinator was supposed to contact them the previous day.
During the pre-wedding meeting, my fiancé also noticed that the WC was not on the ball, which says a lot because he is a very calm, easy-going guy. What I am trying to say is this proves that I was not over-reacting. Basically, I had my MOH and girl friends take charge – the day went perfectly.
I honestly think that Maira was new, and her English is rather lacking. Luckily, my husband's first language is Spanish, so he did quite a bit of explaining and clarification. I will say that anyone who has Claudia is very lucky. She helped us with our pre-wedding appointment when Maira was having trouble.
Rehearsal: Rehearsal was at 5:30 pm the following day. This was fantastic because it was the same time as our actual ceremony. So, I was able to see what the sun and temperature would be like. Well, it was PERFECT. The sun was just behind a building, some there was some shade and a light breeze.
After the rehearsal, Maira informed us that she forgot to order frames for the table numbers. Although, in retrospect, this is a minor detail, it was still unsettling that there was another thing that she had dropped the ball on. Luckily, she got it taken care of.
Complimentary Room: Husband checked-in to his complimentary room @ 3pm on Thursday and was required to check-out on Friday @ 12pm. He got ready in a friend's room. No problems here.
The Best Moments: I was VERY happy with my hair and make-up, as well as my MOH and mother's looks. I do recommend them, but I will say that I had a few communication issues with Martina at the beginning, but everything worked out wonderfully. For a little more detail, see my review under the Vendor Reviews section.
WEDDING DAY – The Best Moments: Natacha (hair) and Caral (make-up) arrived 12:30. They were so sweet and fast! My mom, MOH, and I were finished by 3 pm, which was perfect. It gave us enough time to just relax and visit with each other.
Del Sol Photography: Debora arrived to my room at 4 pm and her assistant (Jorge) went to my husband's room for getting ready photos. Debora was FANTASTIC!!! I have yet to see photos, but she was so fun, outgoing, and full of life. In fact, even my guests commented on how great she was! For more info, see my review under Vendor Reviews.
Getting ready robe from etsy - it photographed very well and was very comfortable!
Ceremony: We had a symbolic ceremony (legal wedding at home before). We had a man who was very nice, but did have a heavy Mexican accent that made it a little hard to follow what he was saying. On the plus side, we had a bilingual ceremony, so it worked out. However, I did feel like he didn't read our preferred ceremony script before the actual ceremony. Oh well.
My husband's cousin and uncle performed the processional. It was PHENOMENAL. They played "A Love Idea" by Mark Knopfler. Jose walked down the aisle playing this piece on his violin and Uncle Gus played the accompaniment on the electronic piano on the left side.
Our guests tossed mini beach balls as we walked down the aisle as husband and wife.
Décor: I brought fans, mini beach balls that were in two baskets, a chalk board, and starfish garland. The resort decorated the arch with white and coral.
Honestly, the fans were not needed. There was a nice breeze blowing and the ceremony time we had chosen was perfect – it was not hot at all and the sun was not in our eyes. But, it was a nice touch for color because we didn't have chair bows (I can't stand them).
The sound system we brought was PERFECT – everyone could hear without a problem (best $150 I have ever spent).
I didn't upgrade my bouquet, but I thought it was beautiful. And, man, that sucker was heavy!!
Yes, there was quite a bit of seaweed on the beach. But, the resort tries to keep it clean. The thing is, it's the season for the seaweed to get washed up...but it's the ocean, what do you expect? lol
Cocktail Hour: We didn't get to enjoy too much of this, but of what food I had, it was delicious! My only complaint is that the cocktail was held at the South Jacuzzi... our ceremony was on the North Beach and the Reception was on the Deck, right next to the North Beach. Really, it's not a big deal..it was just a little confusing to everyone as to where to go.
Reception: We were on the deck and it was gorgeous. We had the Mexican Buffet and the food was amazing…The best food all week. There was food featured that wasn't available at any of the restaurants. We brought the cake topper and we had a marble cake. You can't take the cake home with you or back to your room because it's sitting out for so long.
Rather than pay for an extra hour of reception dancing, we went to the disco and danced. This was fun because I went in my dress and people were so nice and complimentary B).