Photographer Reviews
mag·nif·i·cent: impressively beautiful, elaborate, or extravagant; striking.
This is a review of: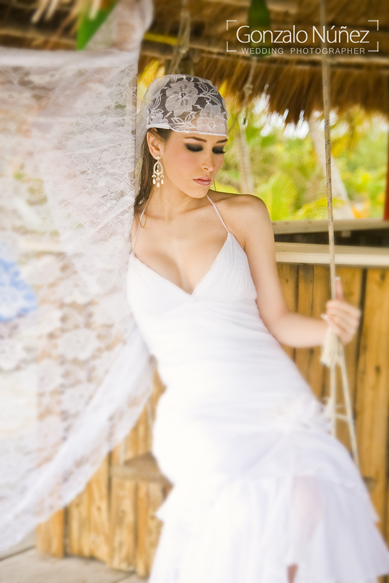 Detailed Ratings
Pros:
Stunning work, extremely friendly, responds quickly
My wife and I got married on May 26, 2014. We were extremely lucky to be blessed with the presence and services of Mr. Gonzalo Nunez. Obviously, one of the most important parts of planning a wedding is selecting your photographer. After much deliberation, we decided to utilize Gonzalo. However, it should have been a no-brainer and he should have been the first and only pick.
Not only did Gonzalo arrive early to review the day's schedule, we chatted about some ideas that he had. My wife and I had an idea for a picture or two, but then asked him to take charge and direct us. As we both prepared in our separate rooms, Gonzalo arranged an impressive array of shots that would allow us to see each other's preparations once we received our photos.
Following the ceremony, he began the photos of the wedding party, family and even a few pics of all 65 of us. All while directing every single picture and everyone involved. Then my wife and I followed his direction as he led us around to some beautiful photo locations. Anytime we would get "distracted" or "slow down", he would plead with us to trust and push on as we were losing time and sunlight. I'm so glad that we followed his lead because he delivered the MOST BEAUTIFUL PICTURES that I've ever seen of a newly married couple.
At the reception, he was always close-by and asking if we want anything in particular. It was outstanding.
It was sad to see him depart at the end of the evening because he was so kind, polite, friendly, funny, and so much more.
Upon receiving my photos, I'm not afraid to say that I cried with my wife as we relived our special day. He brought so many memories back through his vision. As we have begun to share them on social networking sites, friends and colleagues have continuously approached me about our pictures. "Where did you get that idea?" and "How did you set that picture up?" are just a few of the questions that I've been asked.
If you are considering utilizing Gonzalo, DO IT! His time, his services, and his vision are worth every single penny.
Thank You Again, Gonzalo!