Riveria Maya Corridor
My rustic amazing dream wedding at Al Cielo
This is a review of: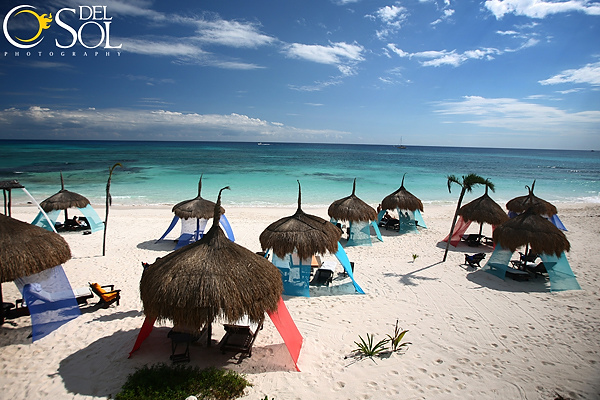 Detailed Ratings
I got married on April 28 at Al Cielo beach club/restaurant. It's a small beach bungalow hotel with an amazing open air restaurant. Our wedding was about 70 people, most of us in our early 30's. What I wanted most was the exact opposite of a stuffy reception hall wedding, and that's exactly what I got. It was beautiful, rustic, outside and it was a killer party.
Al Cielo A +
I didn't want a big resort where there was more than one wedding a day. Nor did I want a bunch of outside spectators in speedos. Al Cielo is rustic and on a pretty secluded beach. People say it's one of the most beautiful beaches in the Riviera Maya. Andres, the owner was fantastic to work with. He was responsive, and went above and beyond to ensure everything went smoothly and we had the wedding of our dreams.
Because the hotel is small with only 6 beach bungalows, we stayed at a bigger al inclusive hotel in Playacar (Iberostar Tucan) and we shuttled everyone to and from the wedding. Although this was an extra step to plan, it was definitely worth it.
The other great thing about Al Cielo is their amazing food. My husband and I are from New York and totally foodies. After visiting several hotels our expectations weren't that high. Al Cielo is a hidden gem in that department. The food is fantastic. Everyone said it was the best food of their trip.
Wedding Coordinator, A+
Gina was amazing. She made sure everything went smoothly and nothing went off track. She stayed throughout the entire night, made sure we always had a drink in our hand, and was just truly wonderful. During the planning process when I wanted chalkboards, she drove all around Cancun looking for them. She also gave us logistical advice that helped everything (throughout planning and the night) go as smooth as possible.
Flowers/Decoration Concepta Rosa, A!
Emma and Mayalen executed my vision and beyond. I attached a couple pictures to give you a taste. They were very responsive and easy to work with. The hupa looked way better than I even imagined, and the centerpieces looked exactly as we discussed. There were also way more flowers than I thought there were going to be. The bouquets were amazing. Mine was exactly what I wanted. They also put giant arrangements on the bar and in the bathroom. I would DEFINITELY recommend them over Euphoria (who I communicated with a little in the beginning). We also got the light up dance floor through them, which was TOTALLY worth the extra cost. All their prices are very competitive. The only thing that seemed a little pricey was the dinner lighting. But, they totally made up for it with the flowers.
DJ Doremixx, A
He was great. Honestly, no one left the dance floor. We gave him a big list of songs, but told him to use his discretion about what to play when. He did his job wonderfully.
Minister -Beauty Weddings, B++++
Pam was really nice and very professional. The only reason it's not an A was because she was a little hard to hear (probably a combo of the wind and her accent). We had my brother do part of the ceremony, so it was a little more personal to us as well (which I would definitely recommend), but she coordinated everything nicely. Overall she did a fantastic job.
Transportation -Paradise Tours A
We worked with Stuart, who was a pleasure to work with. He coordinated airport transportation for all of our guests, as well rehearsal transportation and wedding day shuttles. Overall he did a fantastic job. A few of our guests missed their flights, and he was able to adjust accordingly. There was only one small glitch with one of his drivers. Apparently on wedding day the driver refused to drive all of the groomsman (who were leaving in an earlier van). He said he could only take 6 people. Stuart was there to handle the situation (and yell at the driver -who still refused), but in the end everything worked out. And I'm pretty sure that driver doesn't have a job with them anymore. Everything else went perfectly smooth. Stuart oversaw everything personally and his prices were way cheaper than other company's we contacted.
Cake -Zaida Marcos -B
We had a couple communication lapses, but in the end all worked out well. Her prices were wonderful and in the end the cake looked exactly as I imagined. The cake was good too, not anything mind-blowing, but tasty.
Mariachi
Aquilas de Mexico -Carlos Lopez A+
They were great! They showed up early, were very professional, and were fantastic. Worth every penny.
Ceremony Music -Arparson A
Arprason was great. They are very versatile. We had them play classical versions of modern songs for our ceremony (Metallica, etc.). They can honestly play anything. The only thing I wish is that they were louder, because they were so awesome.