Dominican Republic
Wedding at Bluebay Villas Doradas
This is a review of: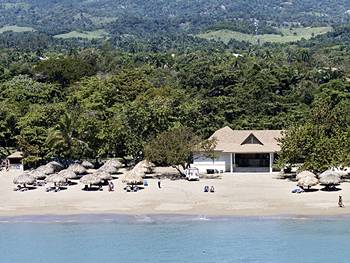 Detailed Ratings
By
antz21
, · 417 Views · 0 Comments
Pros:
Adults only, All inclusive, Value for money, Small/intimate resort
Second time at this resort. This time round it was for our wedding!
Great all inclusive, adults only hotel. It's a smaller resort which is great if you are there with a group of people like we were for our wedding. There was 25 of us all together and you didn't have to search around too long to find anyone you were looking for! There are 3 pools - one quiet pool by the spa, one noisy pool with a swim up bar, and then another pool that is used mostly for activities such as pool volleyball.
There's a buffet restaurant serving breakfast, lunch and dinner with a good variety, also with stations that you can have different foods cooked fresh at (eg. eggs at breakfast, pasta at lunch/dinner, meat at dinner). There are also 3 restaurants you can ''book'' a dinner at throughout the resort. One is Oriental, one is Seafood and one is Grill. We ate at the Oriental which is very good, and then our wedding dinner was at the Grill restaurant which was also very good!!
Rooms are basic, we were upgraded to a villa/bungalow type room which had a king bed and a jacuzzi style bath and then a small living area with chairs and a table, there was also a small sheltered patio outside our door with a table and chairs too. We paid $60 per night per person for our all inclusive stay at Bluebay, so it was very good value for money. You don't fly all the way to the Carribbean to spend all your time in the room!!!
Grounds, hotel and rooms were kept clean. Of course there are a few bugs here and there - once again, it's the Carribbean, I am very well travelled and have stayed in some 5* hotels and you still can find a cockroach here and there ;)
Unfortunately the weather was a little rainy whilst we were there but that can't be helped.
The beach is ok. Not the white sand turquoise waters you will get on a Thai island but none-the-less it was perfect for our stay and wedding.
Staff are very friendly, but it is the Dominican so they can be very laid back and things are slower paced than in other countries! Just relax and go with it!
You can tip but you don't have to. We left a little bit for the maids every couple of days.
We got our hair done at the spa for the wedding - I wouldn't neccessarily reccommend this, but it turned out ok.
I would recommend people to come here, everyone in our group had a great time. The hotel itself is great value for money as long as you can find an affordable flight to get there! Only a $35 cab ride from Puerto Plata airport.