Written by Sakurako Yakushiji the COO and Master Florist & Decor Expert of LATIN ASIA
One of the most challenging parts of the wedding planning process is selecting your decor, not only because you may not not have a clear idea of what you want, but also because you may come across "surprises" when it comes to setting aside a decor budget.
These days there are so many inspiration photos on Pinterest, Flickr, and Facebook, that brides fall in love with so many ideas, however, your budget may be overwhelmed if you're not well prepared or have the right advice. Therefore, having a professional decor and styling team to assist you through this planning process is a great idea.
Here some important factors to keep in mind when it comes in setting your decor budget for your destination wedding in Cancun or the Riviera Maya. Make sure to take some notes!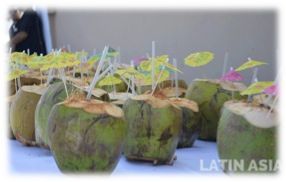 - Natural flowers in tropical weather
As we all know Cancun and the Riviera Maya have warm weather most of the year, which is the reason why just a few flowers are cultivated and grown in this region. Therefore the decoration companies have no other choice but to buy the flowers from a wholesaler and they transport the flowers from other cities with more suitable weather, so it can be costly. Having said that, flowers like roses, alstroemerias, lisianthus, daisies, carnations, are affordable and available all year.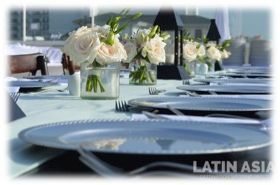 On the other hand, there is another group of "deluxe" flowers, like for example: dendrobium or phaleanopsis orchids, peonies, Davis Austin roses, Calla lilies, hydrangeas, etc. These could be way more expensive because they are imported, plus they have unsteady availability and are only available on specific months of the year. You may find these flowers in your country accessible and affordable but not in Cancun-Riviera Maya, so don't be surprised by the costs and availability if you request these type of flowers.
- Banquet room or beach wedding?
Location and decor go hand in hand. The truth is that the majority of the banquet rooms at the resorts in Cancun and Riviera Maya are very plain, and decorations are a must. But couples are often surprised they see these banquet rooms in person. First of all, most of them have carpet, and lot of brides don't find the carpet appealing, since they have an old look that doesn't fit their décor concept and style. Another issue with the banquet rooms is their walls and ceiling, again, they can be considered plain and boring. The real problem comes when you want to decorate the walls, ceiling and floor -- draping is not cheap and is a deluxe decoration that will for sure be the most expensive in your decoration purchase order. Because of the quantity of fabrics you need, the staff to set up and the effort, hours and work that it takes will require a sizeable budget.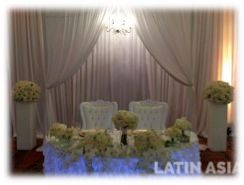 Now let's talk about the outdoors venues; a lot of brides love to have their reception on the beach, because they are on the Caribbean! But, they also want to be safe of the rain and wind. If this is the case, then you may want to consider a tent, which can be middle range expensive.
If you want tall centerpieces on your beach reception or terrace, you should consider size. If the wind around here is really strong, it can pull over taller flower arrangements -- these are better for a banquet room, and they look more elegant.
Another item that you need to consider for an outdoor venue is the ambiance illumination; the hotel normally can provide you with big lights for the area, however, these lights are not for any décor purposes, therefore, you will need hanging lights or lanterns. For an outdoor venue, lighting can be the WOW factor you need for your guests.
- Fees for delivery, set-up and transportation
Big companies that offer décor for a living and have experience in the market, will often have a warehouse outside the resort to store their inventory. Having said that, all the décor companies have delivery and set-up fees that are applied according to location, size of your wedding and amount of labor charged per trip, since they are not based inside the hotel. Even if the hotel introduces this company, they will charge you.
- Outside vendor fees
And last but not least, vendors who are not preferred vendors or "in-house" vendors at your resort, may have to pay an outside vendor fee to provide their services at your resort. So when you contact a decoration company be sure to ask them if they are in-house at your resort, and if they don't then you must determine the outside vendor fee with the hotel. Without paying this fee, your vendor won't be able to get into your resort and this can really be a mess, so be sure to ask both parties -- your vendor and your hotel -- about this detail.
Now you have some tips for setting your decoration budget, look for your concept and style and start to have fun planning your décor!
For more information on LATIN ASIA's services, visit their website at: www.weddingcancun.mx or contact the team directly at latinasia.flowers@gmail.com
- - -
Sakurako Yakushiji, COO, Master Florist & Decor Expert of LATIN ASIA, has impeccable logistics knowledge, extraordinary floral design skills with a Masters degree and international license in Japanese floral art. Having her own Hindu wedding ceremony at Agra India, she and her team understand the deep meaning of what it takes to create a dream Destination Indian wedding regardless being Hindu, Sikh or Ismaili Muslim. Saku has trained people from scratch not only to execute great performances, but to make every member of LATIN ASIA a better person creating new opportunities every day.
---